NFT (Non-Fungible Token) is a concept that has made a name for itself since 2015, and you can evaluate your digital assets or acquire new collections for yourself with NFT.
Also, the difference between NFTs and digital currencies is that all NFTs are unique works of art designed differently from each other, which makes them extraordinary and immutable. If you are interested in NFT, we have listed the best NFT apps for you that you should try, here are the best ones!
OpenSea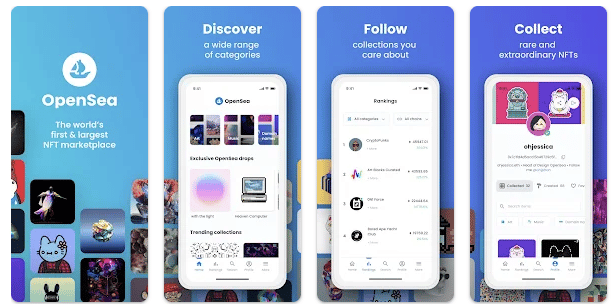 Price: Free
OpenSea NFT is the easiest way to track your collection and discover new assets from the digital marketplace for cryptocurrencies and non-tradable tokens (NFTs). You can view the items you have collected before by pairing your profile with OpenSea. OpenSea lets you discover new NFT releases from a variety of digital artists and creators.
In addition, the app offers the ability to search and filter by collection, creator, and other features, and saves your favorite asset in a tab of your profile page, with the option to save to favorites. OpenSea also offers app users the chance to view the latest market activity around a collection or item to stay up to date and is one of the best NFT apps.
---
Also Read: The Best Crypto Wallets for Android and iPhone
---
8bit Painter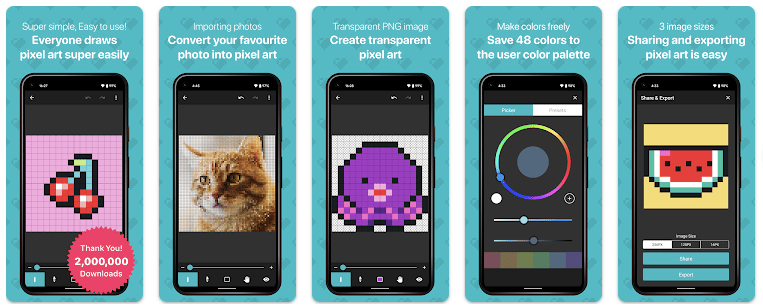 Price: Free
Focusing on ease of use rather than the wealth of features, 8bit Painter is an excellent app for creating NFT art. This app helps you convert your favorite pictures into pixel art.
Furthermore, the user can save up to 48 colors in the "Color Palette" and use the "Preset Color Palette" which has 96 colors in the app. 8bit Painter has nine different canvas sizes, a minimum of 16×16, and a maximum of 192×192.
Plus, 8bit Painter is an indispensable app for pixel art beginners and those who love creating NFT art.
GoArt
Price: Free
GoArt is among the best NFT apps that help you create your NFT painting in a few simple steps. You can color your photos like the works of Van Gogh, Monet, Picasso, and other painters with GoArt's powerful AI-Intelligence technology.
In addition, the application has many different styles and types of artistic filters that meet all your creative needs, such as Impressionism, Van Gogh, Ukiyoe, and more. GoArt supports the export of HD images, and you can print your quality works on t-shirts, wallpapers, etc.
Nifty Gateway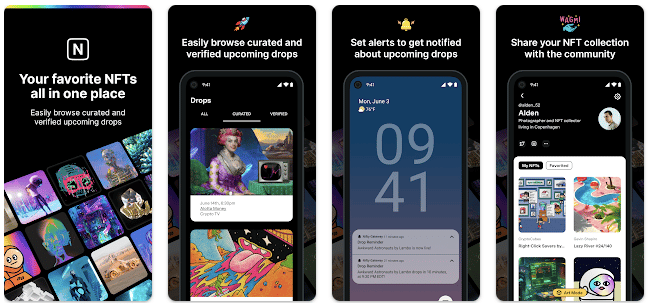 Price: Free
Nifty Gateway, which has a very easy-to-use interface, manages to attract the attention of users with its impressive and stylish design. Also, Nifty Gateway works with top artists and brands to create collections of high-quality NFTs.
Nifty Gateway on the App Store
token.art

Price: Free
token.art provides support for hundreds of thousands of NFT collections across Ethereum (ETH), Solana (SOL), Wax (WAXP), Cardano (ADA), Counterparty (XCP), and Dogeparty (XDP) It allows you to see it in one place. The app deserves to be one of the best NFT applications with the features it provides to its users. Also, token.art is a multi-address, multi-chain NFT portfolio and window display app made for collectors.
In addition, with shareable showcases, token.art offers its users the ability to create curated galleries containing their favorite NFTs and share them on mobile and the web.
Furthermore, token.art has the ability to search and filter by collection, rarity, type and more, and allows the app users to view the estimated values ​​of their NFT collections. The app displays prices in more than 30 international currencies and provides collection statistics such as percentage completed.