Fitbit is a company that was founded in California, USA in 2007, and the company produces intelligent and wearable technological objects such as Fitbit Versa, Fitbit Ionic, Fitbit Charge 2, Fitbit Alta HR, Fitbit Ace, Fitbit Alta, and Fitbit Flex 2.
Moreover, Fitbit is the most popular wearable intelligent accessory brand of recent times and is frequently mentioned. If you're considering owning or already owning a Fitbit, read on. We have reviewed and listed the most functional Fitbit apps for you on the Fitbit Gallery. Here are the best Fitbit apps!
SpO2 Tracker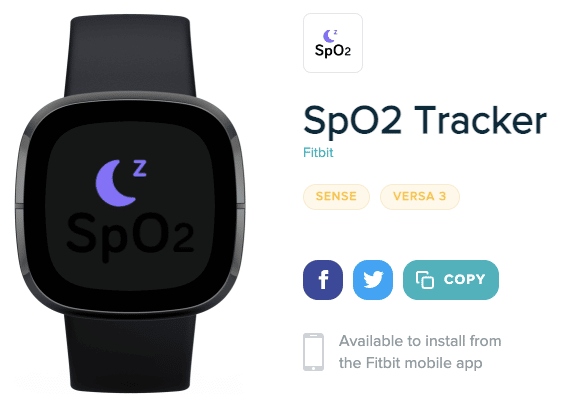 Price: Free
SpO2 Tracker is an app that runs in the background and monitors your blood oxygen saturation. SPO2 aims to help you manage your health. The app provides information about metrics such as your heart rate, sleep, SpO2, and blood oxygen saturation levels. SpO2 data appears in the Health Metrics tab. It is possible to see a SpO2 value on the wrist by selecting one of the watch faces from the SpO2 category.
Also, Fitbit SpO2 does not measure SpO2 values less than 80%, and any reading less than 80% will be displayed as "<80%". This feature is not intended to diagnose any medical condition.
SpO2 Tracker on Fitbit Gallery
Barcodes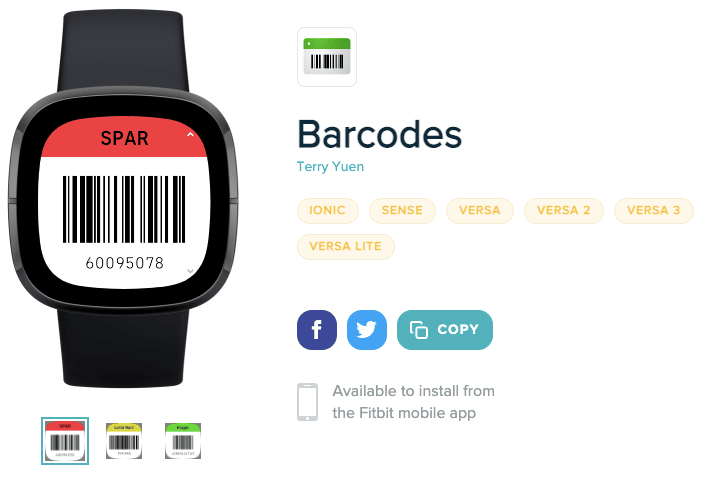 Price: Free
Barcodes app is among the best Fitbit apps for its efficiency and usability. The application supports EAN-13, UPC-A, Code-128, and Code-39. Barcodes can be for anything, including gym cards, supermarket cards, and price tags. Also, the app allows you to store up to 7 barcodes on your watch for easy access.
C25K Trainer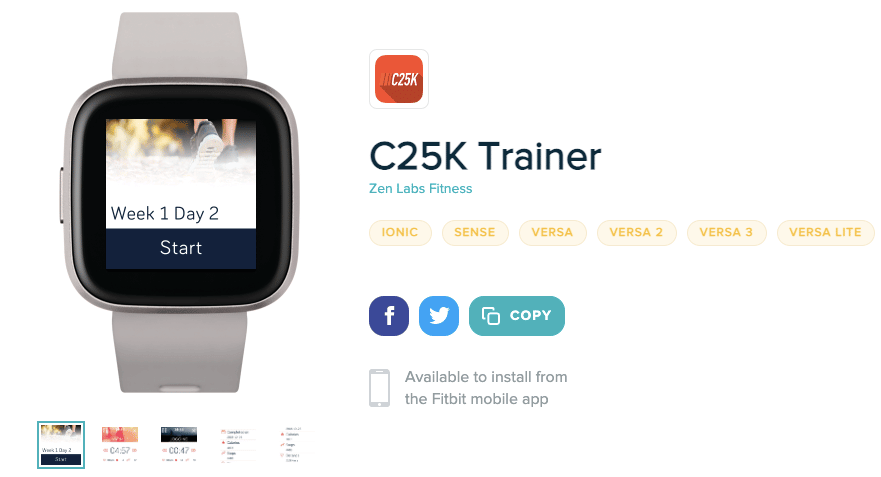 Price: Free
C25K Trainer is one of Fitbit's indispensable apps to stay fit. The practice starts with a mix of running and walking, gradually helping you build strength and endurance. Whether you're sporty or just starting, this app appeals to people of all ages. The plan dynamic of the C25K Trainer prevents the new runners from giving up and motivates them. The highly efficient C25K Trainer is among the best Fitbit apps.
C25K Trainer on Fitbit Gallery
---
Also Read: The Best Running Apps for Beginners
---
Spotify – Connect & Control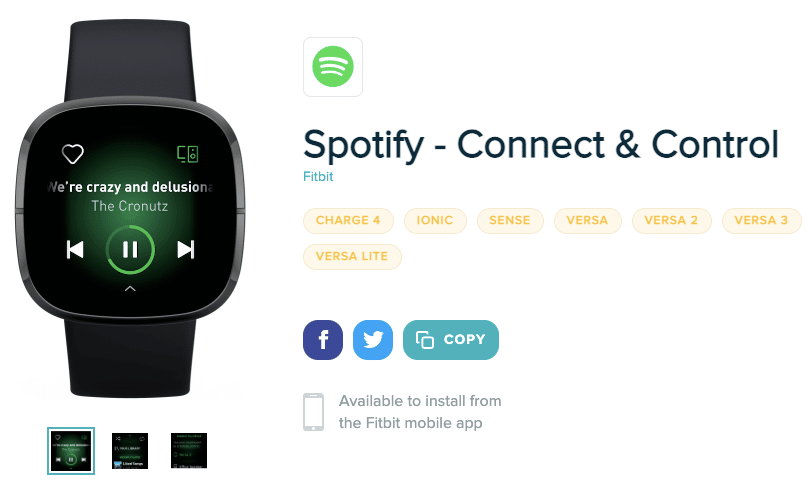 Price: Free
Spotify on Fitbit is an app that lets you control your music and podcasts from your wrist wherever you go. Fitbit's Spotify app provides you control of song and volume and access to playlists.
Moreover, if you're trying to connect to your PC, PlayStation, phone, or Connect-enabled speakers, the app also lets you change the device you're using directly from your watch.
Spotify – Connect & Control on Fitbit Gallery
Home Connect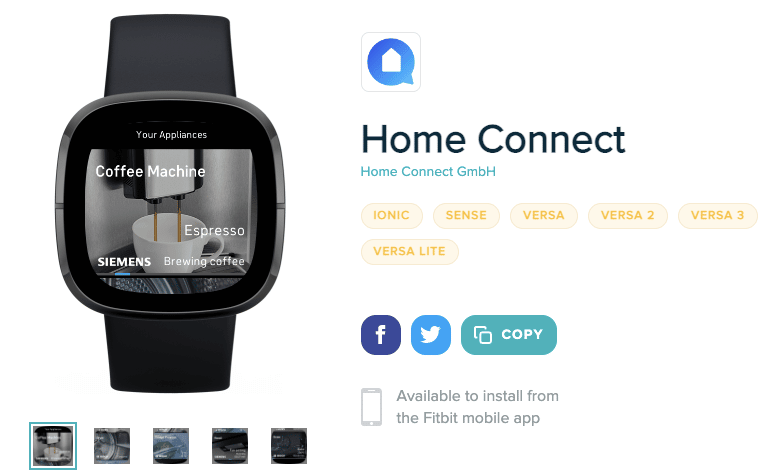 Price: Free
Home Connect, a magnificent app for monitoring your home appliances, is a pretty handy app and deserves to be one of the best Fitbit apps with the features it offers. You have guests for the evening, and you found out at the last moment? You can remotely heat your oven without leaving work and heat your frozen ready meals as soon as you get home, without having to wait with Home Connect. You can check the status of your washing machine and prepare your coffee remotely, without getting up in the morning. Home Connect gives you a complete Smart Home experience.
In addition, the app is an open platform that brings together white goods brands such as Bosch, Neff, Siemens, Gaggenau, Thermador, and various partner services.
Home Connect on Fitbit Gallery
Tic Tac Toe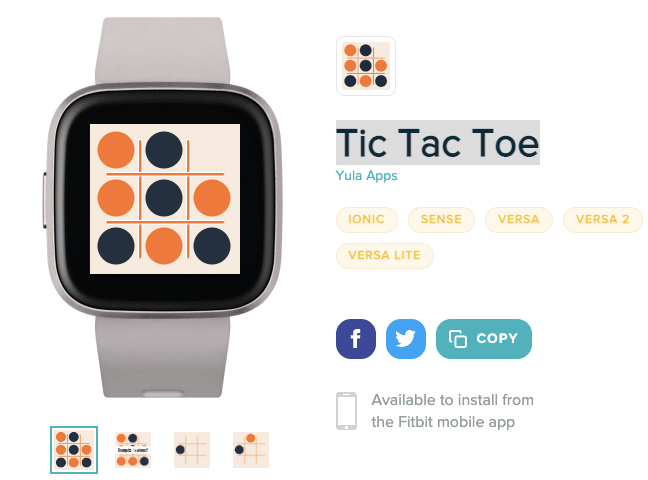 Price: Free
Do you have a low phone charge and need to kill time? In such a case, Tic Tac Toe from Fitbit game apps can be a fun time-killing option. It is pretty simple, and the game can be reset with the side buttons.
---
Also Read: The 7 Best Health Apps for Apple Watch
---
TRX Training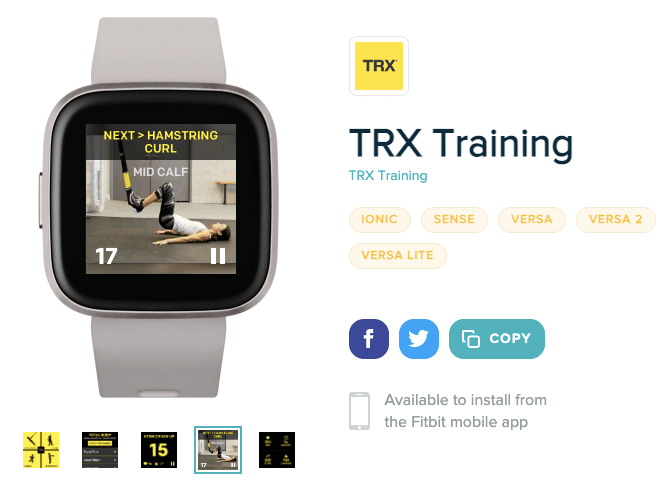 Price: Free
TRX Training Fitbit App is an indispensable app for TRX lovers. The app has four different workouts. TRX lovers can view the exercises before they begin by clicking on the videos for an example of the move.
Furthermore, TRX Training sends notifications (buzz) to inform users when a training session has started and during break times.
TRX Training on Fitbit Gallery
Uber by Fitbit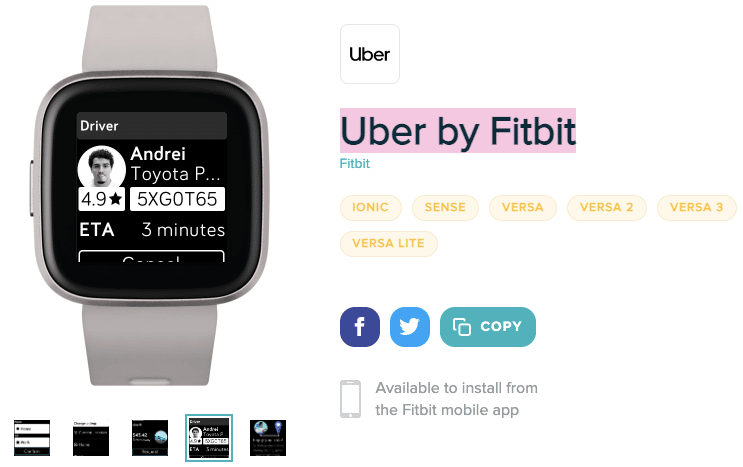 Price: Free
Fitbit's Uber app is a legendary handy app for Fitbit users. Instead of searching for your phone in your bag while trying to deal with your suitcases and bags, you can easily use Fitbit Uber.
Also, the app offers possibilities to view driving forecasts and details. Fitbit's Uber is as functional as calling an Uber from a phone.
Uber by Fitbit on Fitbit Gallery