With the unique synchronization of music and gameplay, rhythm games are a good option for boosting energy and mood. This type of music, which has been very popular lately, is indispensable for music lovers. Who wouldn't want to play this mod booster fun game genre? We have reviewed and listed the best rhythm games for Android for you. Here are the best!
OverRapid
Price: Free
Featuring V-shaped stripes designed for ease of use and comfort, OverRapid stands out among the best rhythm games for Android. The game comes with Random, Mirror, and Hard Mode support. OverRapid is admired by music lovers with its dynamic gameplay with four lanes and two scratch lanes for DJ action.
Also, the game has impressive BGE and BGA features. Players can play step by step with the song unlock system. Your only opponent is yourself, and you can play against your record with the Best Mode in OverRapid.
---
Also Read: The Best 10 Parking Games for Android
---
Ravon
Price: Free
Providing a high-quality audio experience with interactive visual effects, Ravon has a wide variety of difficulty levels for you to improve and challenge your skills. The game offers players the experience of traveling between stars and attending a DJ party. Also, the game allows gamers a unique musical experience with a collection of soundtracks made by various talented artists, including from Japan, Hong Kong, Korea, America, and more.
Deemo
Price: Free
Developed by the original Rayark team created by the team that brought Cytus, Deemo is one of the best rhythm games for Anroid and piano rhythm games. The Game is about the chance encounter between Deemo, who plays the piano all alone in the tree house world, and a girl who has fallen from the sky and lost her past.
Furthermore, Deemo features over 60 free songs, including over 220 songs in the story mode. The Game comes with many original piano songs in various genres composed by famous composers. You can unlock more parts with this stunning modern fairy tale that accompanies Deemo. Deemo can also be played offline with the standalone game mode.
---
Also Read: The 5 Best Android Racing Games
---
Lost in Harmony
Price: Free
Lost in Harmony is a catchy musical runner game. The Game gives the music a new form in its combination of rhythmic touching and choreographic running. Lost in Harmony offers a gaming experience with music by famous composers and singers such as Wyclef Jean, Onoken, Tadayoshi Makino, Fumitake Igarashi, and Godspeed Vivix. The Game has 10,000+ levels and allows players to create their own levels, share them with friends and play. Also, Lost in Harmony is one of the best rhythm games for Android with stunning visual effects and breathtaking graphics.
Lost in Harmony on Google Play
Arcaea
Price: Free
Offering a challenging, unforgettable rhythm game experience featuring artists from Japan and around the world, Arcaea features more than 160 songs from over 100 artists. The game comes with an expanding music library with content updates, and there are three rhythm difficulty levels for each song. Also, Arcaea is about two young girls and the melody of the past addressing the girls.
---
Also Read: The 10 Best Idle Games for Android
---
Lanota
Price: Free
Lanota is among the best rhythm games for Android with dozens of enormous music tracks and fascinating boss scene features. The game keeps the interest of rhythm lovers sustainable with its different charts and difficulties. The game allows players to explore places on the map, read a beautiful handmade picture book and collect items on the way as souvenirs.
Cytus II
Price: $1.99
Cytus II, a music rhythm game created by Rayark Games, is the sequel to "Cytus". Players can easily immerse themselves in the songs with five different note types and a judgment line that actively adjusts their pace to the rhythm. Cytus II includes songs from composers from Japan, Korea, the USA, Europe, Taiwan, and more, and a total of 100+ high-quality songs (35+ in base game, 70+ as IAP). In addition, the game has more than 300 different graphics, from easy to hard.
PS: Cytus II contains mild violence and vulgar language and is suitable for users aged 15 and over.
---
Also Read: The 10 Best Fighting Games for Android
---
Dynamix
Price: Free
Dynamix is a mobile rhythm game that offers music lovers more than 100 tracks from composers from all over the world, including Taiwan, Japan, South Korea, and Hong Kong. Game J-Pop, Trancecore, Chiptune, New Age, etc. Dynamix comes with a wide variety of music options, including
Furthermore, Dynamix offers a choice of 5 levels according to the level of the players. More than 20 tracks are available in the free version of Dynamix, and songs are added to the event system every week.
VOEZ
Price: Free
VOEZ offers players new songs monthly, and The Game aims to be the rhythm game with the largest music collection. Updates to the game include a wide variety of new free and paid song packs. VOEZ has a Leaderboard and offers the opportunity to compete in real-time with other players around the world.
The Story of the Game
Chelsea, who loves to cook and sing, due to an unexpected event, decided to follow their dreams with their Lan Kong High classmates, and this led to the birth of the VOEZ group. VOEZ face obstacles and tackles challenges together so the world can hear their voices.
---
Also Read: The 13 Best RPGs for Android
---
Rhythm Hive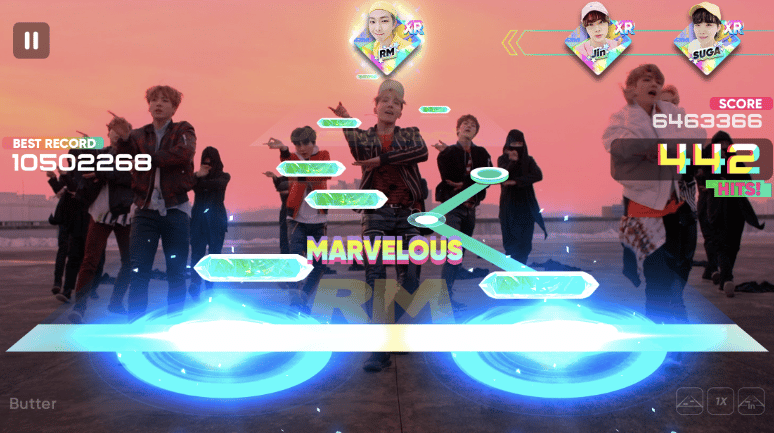 Price: Free
Rhythm Hive is just one of the best rhythm games for Android that lets you create your diary with your favorite artist. The game allows you to create your unique Diary theme using stickers of album covers.
In addition, music lovers can get Performance Cards with various raffle tickets in Rhythm Hive. From the debut of their favorite artists in the game, players can browse our extensive collection of cards and collect cards to level up.