If you're one of those people who want to learn to code but don't know where to start, you're not alone. If you want to continue your learning with your phone without slowing down, don't forget to check out our list of the best apps to learn coding!
Programming Hub
Programming Hub stands out as one of the best apps to learn coding for both iOS and Android. Using the app, which offers a large collection of more than 5000 programs in more than 100 programming languages, you can learn to code with HTML, Javascript, C, C++, C#, Swift, Python, R Programming, Java, Artificial Intelligence, CSS, etc. for free.
Programming Hub on the App Store
Programming Hub on Google Play
Codecademy Go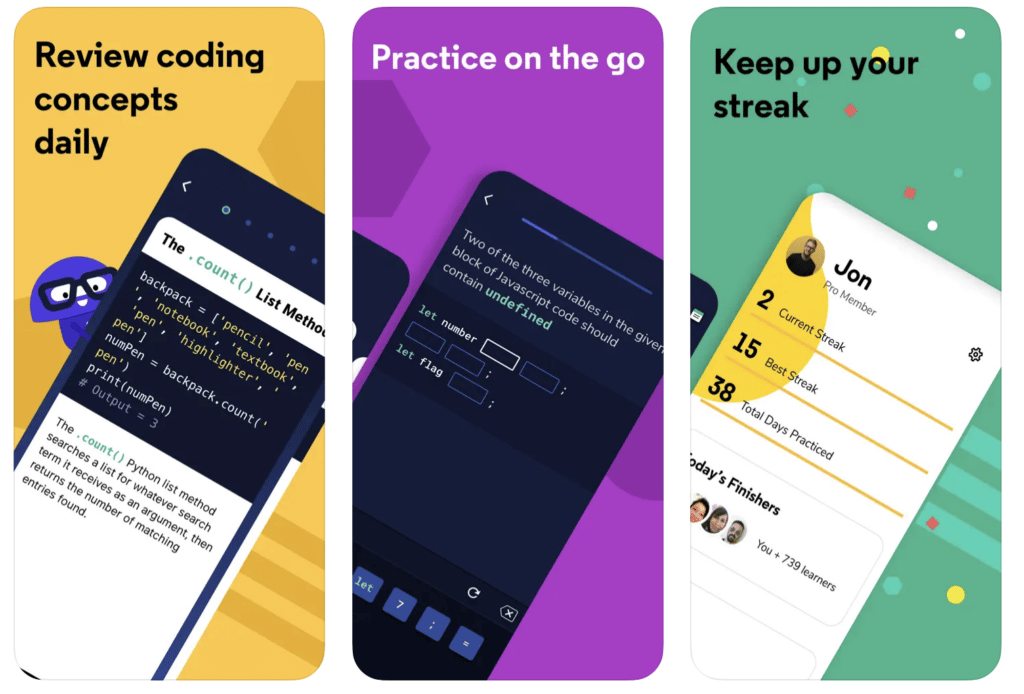 Helping you learn many programming languages such as JavaScript, HTML, CSS, Python and SQL, Codecademy Go also helps you gain knowledge in areas such as computer science and data science. The application, which makes it easy to remember with daily flashcards, also offers features such as advice from industry leaders and progress tracking.
Codecademy Go on the App Store
---
Also Read: The 7 Best Flashcard Apps for iPhone and Android
---
Sololearn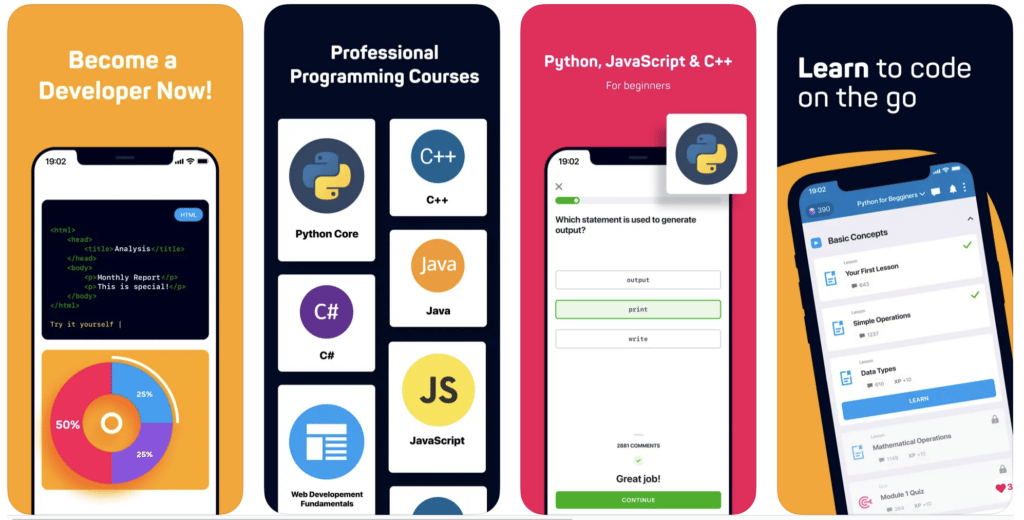 The Sololearn app serves as a coding platform with basic to advanced courses for more than 20 programming languages, including Python, JavaScript, HTML, CSS, SQL, C#, Java, SWIFT, Go, and C++. It offers basic and concise tutorials for beginners, including traditional elements such as lessons and quizzes.
Grasshopper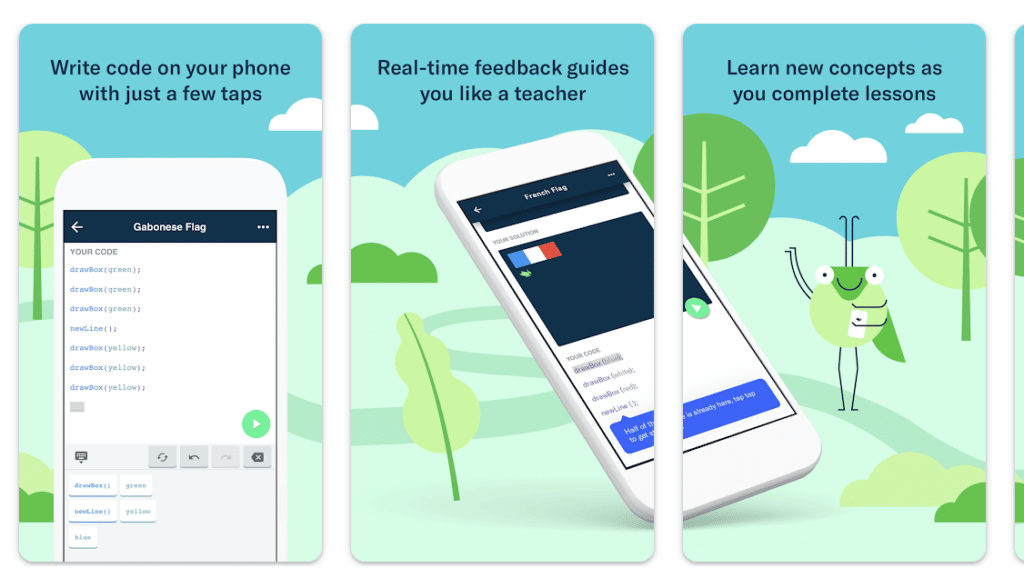 As one of the best apps to learn coding, Grasshopper teaches how to code by solving JavaScript puzzles. The app, which includes real-time feedback guides and visual puzzles is only available for Android devices.
---
Also Read: The 6 Best Educational Apps
---
Programming Hero
As one of the best coding apps for beginners, Programming Hero features more than 100 coding problems with their solutions and explanations, learning materials for data structures, different types of OOPs such as encapsulation and polymorphism, game development basics, and databases. Using the app, you can learn and practice coding on Python, HTML, JavaScript, and CSS.
Programming Hero on Google Play
Programming Hero on the App Store
Enki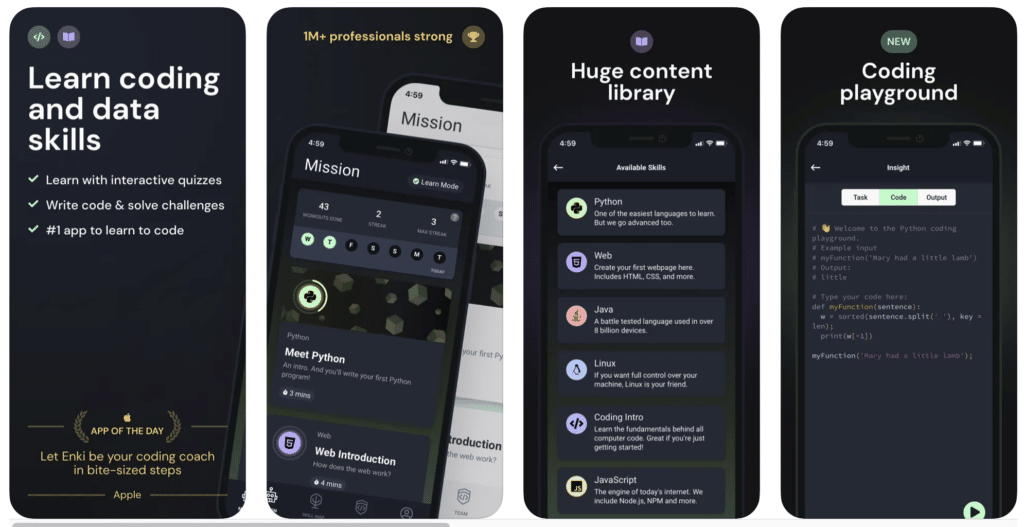 A more suitable app for people with basic coding knowledge, Enki can personalize your learning process and accelerate your learning with workouts and community and mentor support. With more than 1500 lessons in more than 20 skills such as Python, React, Regex, MongoDB, Blockchain, Data Science, and Git, the popular app already has more than 1 million users.
---
Also Read: The 7 Best Science Apps for iPhone and Android
---
Easy Coder
Easy Coder, which is an ideal app for those who want to learn Python, aims to help you learn this programming language step by step. The app, which you can start using even without basic Python knowledge, includes Python code examples, a code editor with syntax highlighter, and quizzes that you can test yourself.
Mimo
It is one of the best apps to learn coding designed with multiple learning paths focused on what you want to do with real-world projects. It has a simple and friendly interface and small lessons that you can take on the go.
Codemurai
Offering a wide selection of courses, Codemurai has materials in languages such as HTML, CSS, Java, JavaScript, C#. In addition to mobile programming lessons, Unity 3D lessons are also available on the app.