Planning dozens of different actions in a 24-hour period in life where work and daily life have become a marathon can cause both mental fatigue and inefficiency. An effective calendar app can act as a real lifesaver to plan your day and keep an eye on important actions.
In the App Store, it is possible to find many paid and free calendar apps that are designed based on the needs of the users and stand out with their different features. We've put together the best calendar apps for iPhone for our readers who don't want to get lost in this diversity.
Calendars 5 by Readdle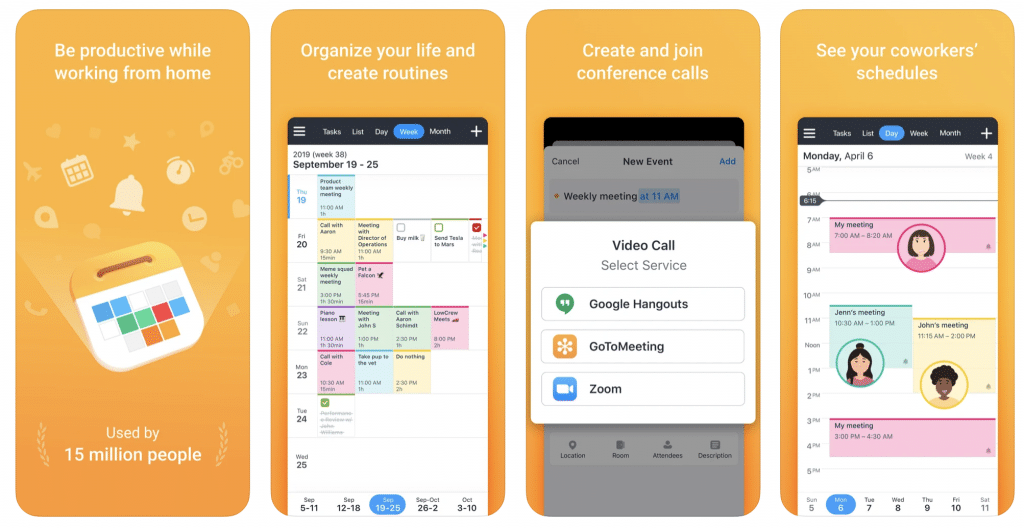 Price: $29.99
Calendars 5, which has a very successful interface in terms of both functionality and user experience, is one of the most popular and best calendar apps for iPhone with more than 15 million users.
Having synchronization with iCloud Calendar, Reminders and Google Calendar, the calendar app helps you create tasks and events and also provides a natural language input feature that understands texts like "Meet Maya at Starbucks on Saturday" and creates the event accordingly.
In this day planner app that offers day, week and month view modes, you can also assign special icons to events and tasks.
In Calendars 5, which can also work offline, you can create recurring events, reminders, custom alarms, and invite other people to your events. Another beneficial feature of this calendar app is that it allows you to create and join conference calls via Hangouts, Zoom, and GoToMeeting.
The only drawback of the app is its high price. If you think the price doesn't matter, besides making your life easier, you can give Calendars 5 a chance.
App Store: Store Link
---
Also Read: Must-Have Apps for iPhone
---
Any.do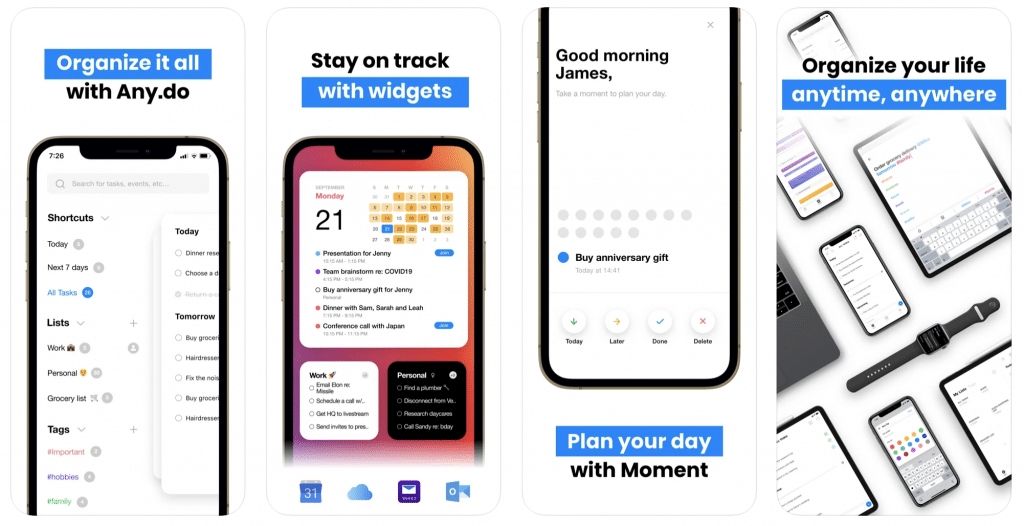 Price: Free to download / Monthly Plan: $9.99 / Six Months Plan: $26.99 / 12 Months Plan with 7 Days Trial option: $59.99
Any.do, which has been used by more than 30 million people and featured in places such as WSJ and NYTimes, is among the best calendar apps for iPhone, with a combination of to-do-list, reminder, and calendar features.
The scheduling app, where you can manage many life and work related tasks from making a shopping list to creating a business event, has many features including setting up reminders with voice entry, creating location-based reminders, file attachment, and Google and Apple calendar integration.
Any.do, which you can use as a day planner app, also has widget support for iPhone and Apple Watch. Thanks to mobile, desktop and tablet synchronization, you can access your calendar, reminders, to do lists and calendar from anywhere. In addition, you can share your calendar, tasks and reminders with your family members or friends.
App Store: Store Link
---
Also Read: The 7 Best To Do List Apps for iPhone
---
Google Calendar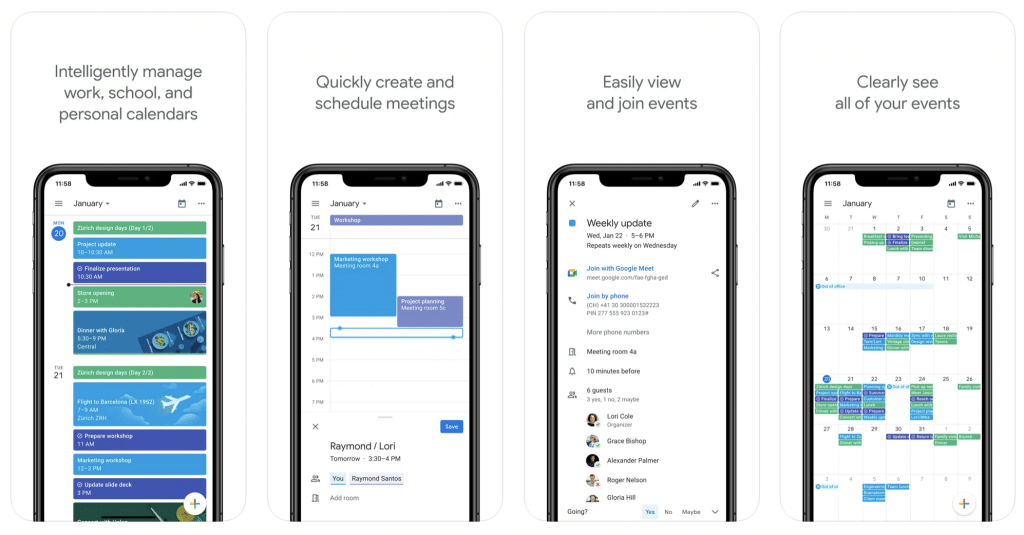 Price: Free
Google Calendar, one of the most popular calendar apps and one of the best Google apps for iPhone, can be referred to as the digital and slightly improved version of the desktop cardboard calendars we used before the calendars were fitted to mobile devices. If you're looking for the best free calendar app, Google Calendar offers a highly detailed environment for planning your days and work at no cost.
Google Calendar, which allows you to quickly add flight, reservation, concert and hotel information to your calendar with the calendar invitation sent to your Gmail, provides a simple interface with daily, weekly and monthly view options.
In the calendar app where you can create events and tasks very quickly, it is possible to set up a video conference and add it to your calendar in no time.
App Store: Store Link
Fantastical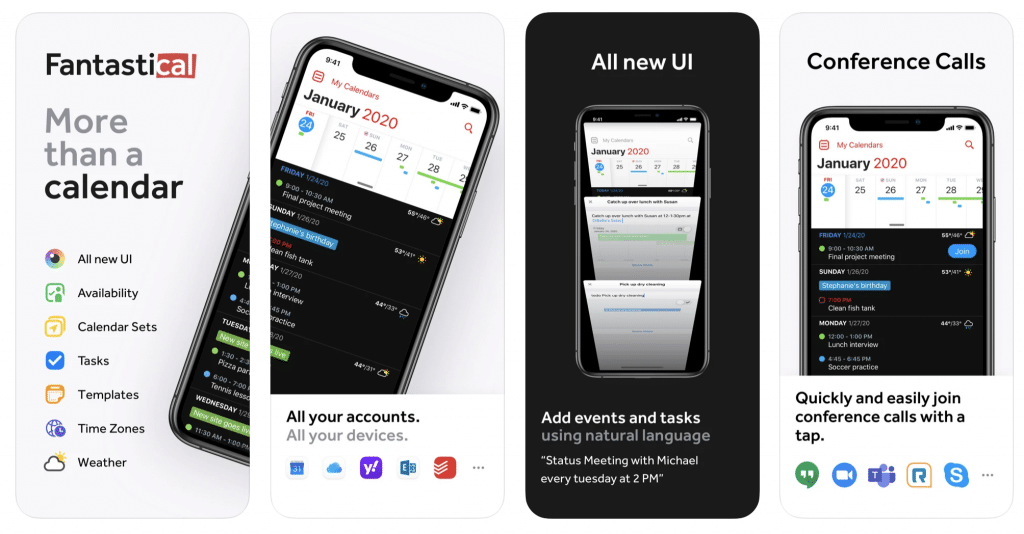 Price: Free (14 day free trial for Flexibits Premium) / $4.99/mo / $39.99/year
Next in our list of the best calendar apps for iPhone is Fantastical, with its advanced and distinctive features and simple interface.
Using Fantastical, you can plan your events based on its weather forecasts, browse and subscribe to interesting calendars such as TV shows and sports, integrate multiple calendars, create location-based events, utilize task and event templates, create events with natural language parsing feature, and while creating an event, you can propose multiple dates to the people you will do the event with.
In the app, which you can try for free for 14 days, you can also schedule task planning thanks to integrations such as Todoist and Google Tasks.
Last but not least, the app also allows you to manage your Google Hangouts, Google Meet, and Zoom events from one place.
App Store: Store Link
---
Also Read: The 8 Best Utility Apps for iPhone
---
Tiny Calendar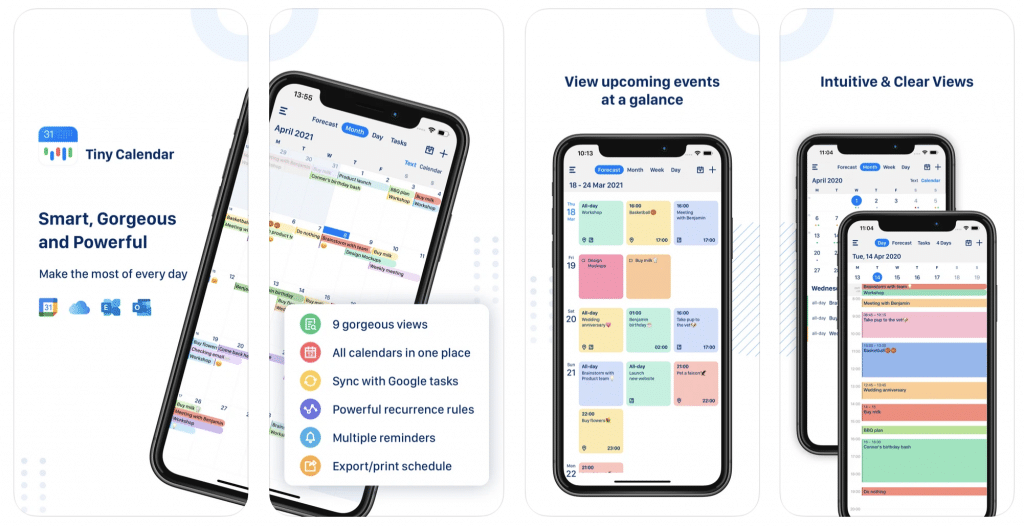 Price: Free to download / Lifetime Premium: $14.99 / Monthly Subscription: $2.99 / Yearly Subscription: $9.99
Tiny Calendar, where you can manage both tasks and calendars, allows you to quickly create events and tasks with its advanced features such as nature language input and drag and drop as well as its simple interface.
The app offers 9 different view modes including forecast, day, month, 4-days, year, mini-month, week agenda and it supports Apple Calendar, Google Calendar, iCloud and Exchange integrations.
Allowing you to create and organize events offline, Tiny Calendar also lets you set reminders via push notification, or email for all events.
App Store: Store Link