How about managing your day effortlessly? Most of us can miss special days, appointments, etc. because of our busy work schedules. We usually take notes in our notebooks or sticky notes to avoid this. Well, is it enough? You should try using a personal calendar app to avoid these problems and organize your life better. You will feel that your quality of life has increased thanks to these calendars. We have listed the best calendar apps for Android for you to enjoy reading while drinking your coffee. Here are the best ones!
DigiCal Calendar Agenda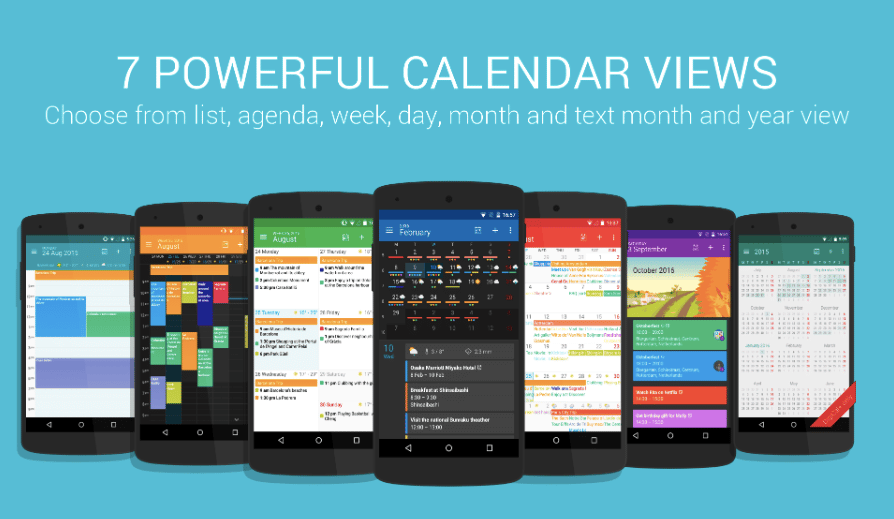 Price: Free
DigiCal Calendar Agenda is flexible and customizable, making it one of the best calendar apps for Android. DigiCal Calendar Agenda can be synced with Google Calendar and has seven powerful and clean agenda views. It's an easy planner that offers a view of all your events by day, week, month, special day, and year.
In addition, the app has easily customizable calendar tools like list, grid, day, day list, and month widgets. Users can add more than 560,000 worldwide public holidays, sports, and TV programs to this unique calendar, and the weather information is displayed in detail in the planner.
The app has a dark theme for night visibility and energy saving. For more colorful and personalized calendar lovers, the app has 42 colors. Plus, DigiCal Calendar Agenda has a website and you can visit the app's website for more detailed information.
DigiCal Calendar Digibites on Google Play
---
Also Read: The 5 Best Reminder Apps for iOS and Android
---
Google Calendar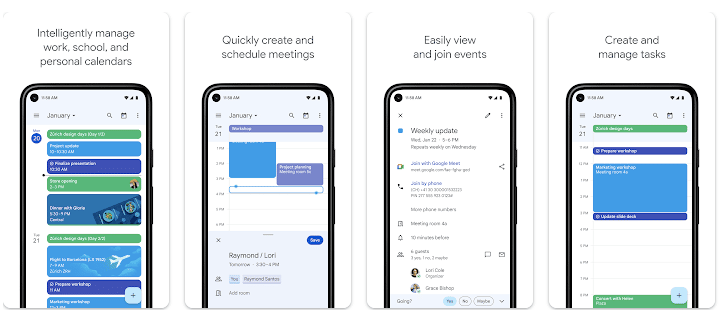 Price: Free
The official Google Calendar app, part of Google Workspace, is a calendar app that helps you save time and plan daily. The app offers quick switching between day, week, and month views. It reflects your events such as concerts, restaurant reservations, flights, and hotels to the calendar via Gmail. See and manage your tasks on the calendar with the Tasks section. Thus you can increase your daily productivity. Google Calendar can work with any calendar on a phone or tablet. Also, you can share your calendars with your loved ones, so they know when to reach you!
Google Calendar on Google Play
---
Also Read: The 10 Best Note Taking Apps
---
Calendar Notify
Price: Free
Calendar Notify is a complementary app to your current calendar, and the upcoming calendar schedule shows your events on the lock screen, status bar, and a widget. Access your agenda, schedule, list, and meetings at a glance with this app! Calendar Notify has simple and advanced built-in designers that allow you to customize, and it is possible to highlight events with beautiful designs. Compared to other apps, Calendar Notify offers superior control and filtering to select only the events you are interested in. Calendar Notify deserves to be one of the best calendar apps for Android with its advanced features.
Calendar Notify on Google Play
Business Calendar 2 Planner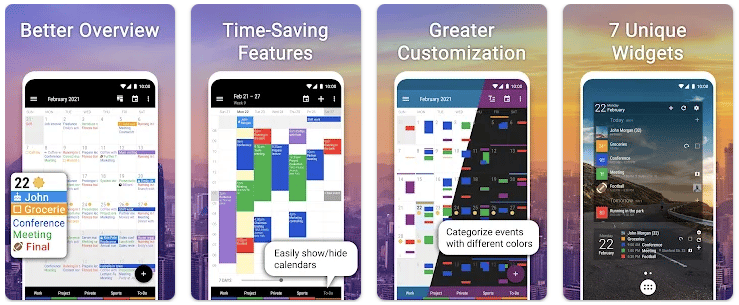 Price: Free
Business Calendar 2 is an easy-to-use calendar app that has everything you need. In the app you can manage your appointments and tasks, add birthdays and public holidays to your calendar and share your schedule with colleagues, friends, and family.
The app also allows you to create events faster with smart suggestions, add appointments to your schedule with two taps, and add event details with the voice input feature. Also, users can colorize agenda items, customize over 600 phrases, and add files and photos to the calendar. The app comes with seven professional calendar widgets.
Business Calendar 2 Planner on Google Play
---
Also Read: The Best Apps for Productivity
---
Calendly Mobile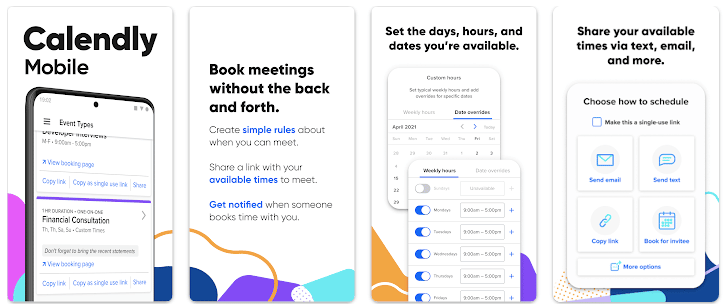 Price: Free
The Calendly Mobile works in sync with Google, Outlook, Office 365, or iCloud calendar. The app allows setting buffer times between meetings. Thus last-minute meetings can be avoided. In the app, you can automate tasks with Zoom, Google Meet, Salesforce, Zapier, GoToMeeting, and more. Additionally, for more info, you can browse Calendly Mobile's website.
Any.do – To-do list & Calendar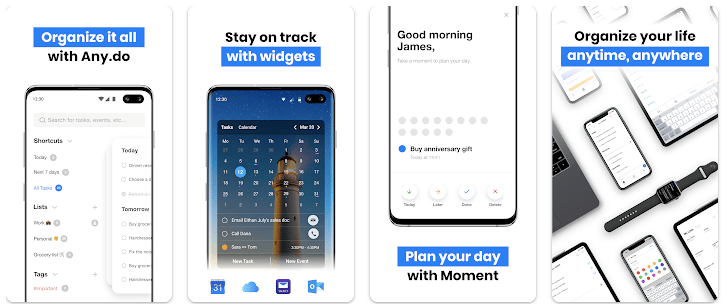 Price: Free
Any.do is among the best calendar apps for Android that helps you organize your life in seconds. Sync your app with other apps like Google Calendar, Outlook, WhatsApp, Slack, Gmail, Google Tasks, Evernote, Trello, Wunderlist, Todoist, Zapier, Asana, Microsoft to-do, Salesforce, OneNote, and Google, so you don't miss events. Don't forget any event with one-time reminders, recurring reminders, Location reminders, and voice reminders! In addition, Any.do is suitable for use in many areas such as a to-do list, notebook, checklist, and task list. Plus, for more detailed information, check the website of the app.
Any.do Calendar on Google Play
---
Also Read: The Best To Do List Apps for Android
---
aCalendar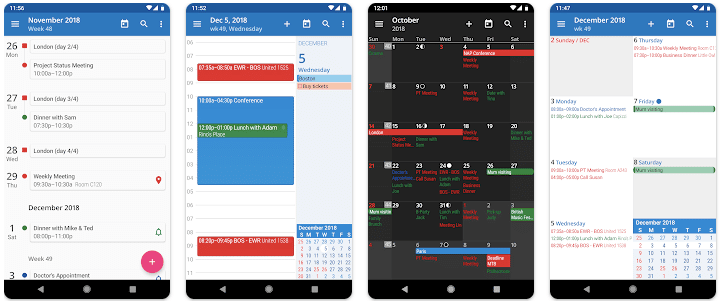 Price: Free
aCalendar is a personal calendar app with lots of design and appearance customization. The app provides intuitive navigation between day, week, month, and agenda view. aCalendar has to export and print features as ICS or CSV. You can also customize the app with theme/UI colors, background colors, calendar colors, and event colors. Being an ad-free app and translated into more than 30 languages, it attracts the attention of users.