Medicines and vitamins are indispensable for most of us in daily life. In addition, most of us have used drugs regularly at some point in our lives. Medicines, antibiotics, gynecological pills and vitamins used for chronic diseases always require regular use. But is it easy to keep up with this order? Due to the intense work tempo and the hustle and bustle of life, we cannot use our medicines in the necessary order. Have you ever tried pill reminder apps to avoid this? Most of these apps guide you and send notifications by taking your personal health information and the information about the drugs you will use. Those who want these apps that can be used by people of all ages can also use them for their pets. In this list, we have listed the best pill reminder apps for you. Here are the bests!
MediSafe App
Price: Free
MediSafe is one of the best medication reminder apps that takes almost full control of medication management. It is an app that can be used by people of all ages. The app has pill reminders and alarms for all medication needs. It offers safe drug consumption to its users with its drug-drug interaction controller.
Also, this medication tracker provides support for complex dosing schedules. The app allows you to create a medication diary by adding medications, vitamins, and supplements. MediSafe offers a full line of OTC and RX medications and daily, weekly, and monthly medical reports to share with your doctor.
Moreover, MediSafe helps you track health metrics for various medical conditions (diabetes, cancer, hypertension, depression, anxiety, HIV, multiple sclerosis, MS, and leukemia). Plus, the premium price of the app is $4.99 per month, $39.99 per year.
Furthermore, MediSafe has automatic time zone detection with customizable reminders and time settings in this app. Users can easily customize pill reminder notifications.
Plus, check out the app's website for more information.
---
Also Read: The Best Apps for Productivity
---
Dosecast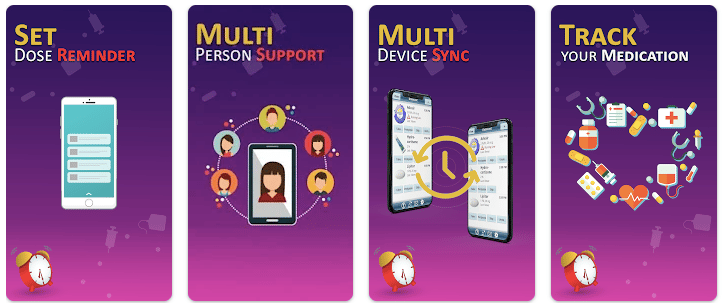 Price: Free
Helping to manage your medications, vitamins, or birth control pills on time, Dosecast is among the best medication reminder apps. Dosecast reliably sends dose reminders to your phone or tablet and allows users to snooze. The app sends notifications until you respond to ensure you take the medicine.
Also, the app updates your reminder times for changes between time zones. The app has a daily/weekly/monthly programming feature and prevents dangerous overdose by determining the maximum number of doses allowed per day. When users enter expiration dates while entering drug information, the app also tracks this.
In addition, users can use Dosecast as a medicine reminder for their loved ones and pets thanks to the multi-personal support of the app. Users can follow the drug and dose histories and use the app as a regular drug follow-up diary. The app also offers the feature of adding photos for easier identification and remembering when adding drugs. Plus, the premium price of the app is $2.99 per month, $27.99 per year.
---
Also Read: The 7 Best Health Apps for Apple Watch
---
CareClinic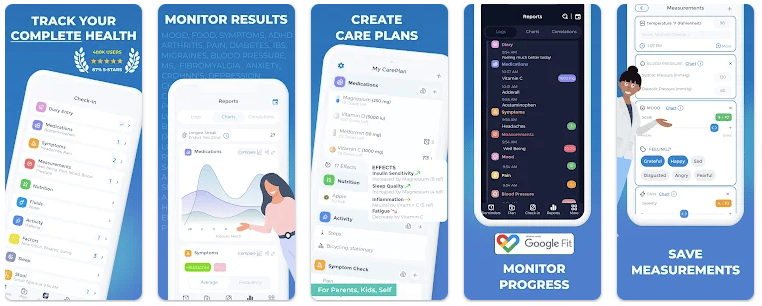 Price: Free
You can take control of your health with CareClinic. The app allows you to manage your treatment or health goals simply, and quickly. The app comes with customizable reminders for your medications, appointments, and pills, and features to record symptom severity and measurements. CareClinic provides users with features such as internal medications, symptoms, supplements, exercises, and measurements (in units) DB. You can add features such as weight, sleep, blood pressure, energy, efficiency, mood, pain, heart rate, and temperature to your medication diary with the app.
Also, CareClinic works well for tracking flu, COPD, epilepsy, psoriasis, fibromyalgia, IPF, PMDD, and other disorders. Get more robust data with the mood tracker in the app.
In addition, the app offers a monthly subscription of $ 6.99 and an annual subscription of $ 59.99 to access more features. Visit CareClinic's website for more information.
---
Also Read: The 7 Best Water Reminder Apps
---
Lady Pill Reminder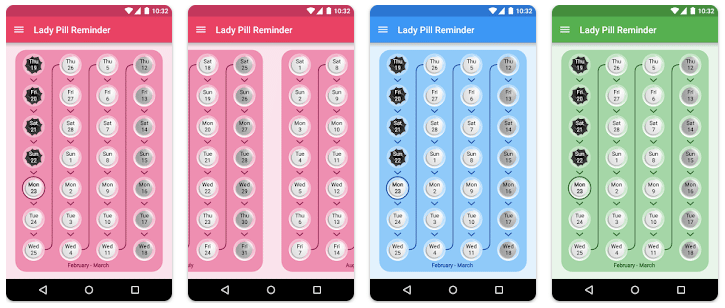 Price: Free / In App Purchase: $0.99- 13.99
Lady Pill Reminder is a pretty simple app to install and use, unlike other applications that only track birth control pills. Users can start using the app by entering the type of birth control pill, the number of pills, and the duration of use. Lady Pill Reminder prevents you from forgetting your pills with daily reminder notifications and provides information about the number of pills remaining in the current pill pack. The app warns you towards the end of the pack, so your medication program can continue uninterrupted.
Lady Pill Reminder on Google Play
Lady Pill Reminder on the App Store
Care4Today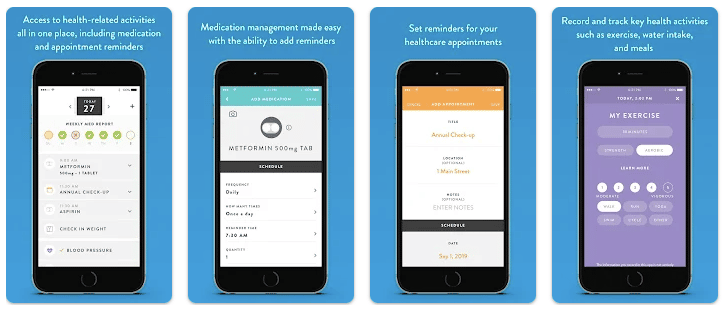 Price: Free
Care4Today is an app where you can collect all health information in one app and is just one of the best pill reminder apps. The app is owned by Johnson & Johnson Health and Wellness Solutions, Inc. and consulted with patients and healthcare professionals during the formation process. The app provides information about blood pressure, exercise, mood, etc. Care4Today saves the information you enter such as and provides medication, medication refills, and appointment reminders. The app allows users to share data, graphs, and trends with their doctors.