Have you ever encountered a situation where you needed a tape measure to measure distance? You don't have to worry about that anymore because in this article we are going to bring together the best distance measurement apps. The best thing about these distance measurement apps that work by using AR, GPS, and motion sensors to calculate the distance between two points is that you can easily use it by moving your phone from one point to another.
In this article, we have listed the best apps to measure distance with iPhone and Android that will provide you with accurate measurements. 
The Best Apps to Measure Distance
AR Ruler App
AirMeasure
TapMeasure
EasyMeasure
Ruler App
Moasure
AR Ruler App
AR Ruler, which is available both on the App Store and Google Play, lets users tape measure linear sizes in cm, m, mm, inches, feet, and yard. You can also use the app to tape measure distance from your smartphone's camera to a fixed point on the detected 3D plane.
AR Ruler app also allows you to calculate polyline and measure volume, measure perimeter, area of the room, height, and corners on 3D planes.
AirMeasure
Price: $0.99
The distance measurement app, which measures not only the height of things, but also the angles, even shows how a piece of furniture you like on the Internet can look like in your home.
To measure the height of a mirror you like, you can set the app to the right mode so you can measure the height easily by pointing your phone at the mirror. In addition, thanks to the app, you can draw the floor plan of the house you will buy and measure the surfaces easily. It is easy to measure your child's height in the app, as well as you can measure whether the pictures you will hang will be at the same level. 
---
Also Read: Top Must-Have Android Apps
---
TapMeasure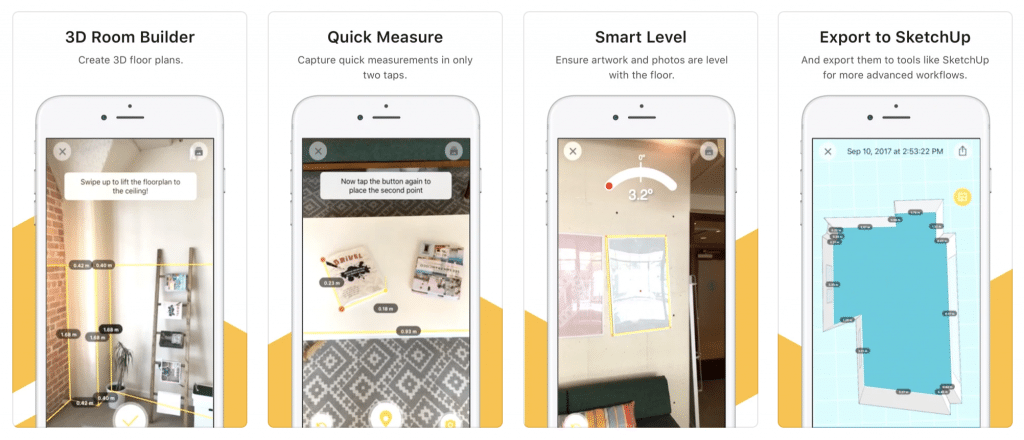 Price: Free
If you want to measure distance with iPhone, TapMeasure describes itself as the fastest way to measure. The distance measurement app, which states that it is enough to tap your phone twice to measure anything, comes up with 3 options. With the first of these, "3D Room Builder", you can scan the room from floor to ceiling and include important points such as windows and doors in this scan. TapMeasure, which presents your home in a 3D plan format after the scanning process is finished, also allows you to see this 3D plan from a bird's eye view.
In the Smart Level option, besides understanding the level of the pictures, you can also measure whether they are trapezoidal. The Quick Measure acts as a virtual tape measure. Last but not least, with the SketchUp Export feature, you can export your 3D model as an .SKP file to view and edit.
---
Also Read: The Best Calculator Apps for Android and iOS
---
EasyMeasure
Price: Free
"EasyMeasure" works by showing the distance of objects through the camera lens of your Android or iOS device. It will show you the distance to that object at the top of the camera view. The best part of this app is that it allows you to make a snapshot of the image with the distance and save it for later use.
It also allows you to measure the height and width of the object if you purchase a subscription that costs $3.99. 
Ruler App
Price: Free
Using Augmented Reality as an app to calculate distance, Ruler App allows you to measure volume, angle, height, distance,and linear sizes in cm, m, ft and yd.  As one of the most popular distance measurement apps, Ruler App is designed to accurately tape measure the size of any object by either taking a picture of it or measuring, it on the screen.
---
Also Read: The Best Interior Design Apps
---
Moasure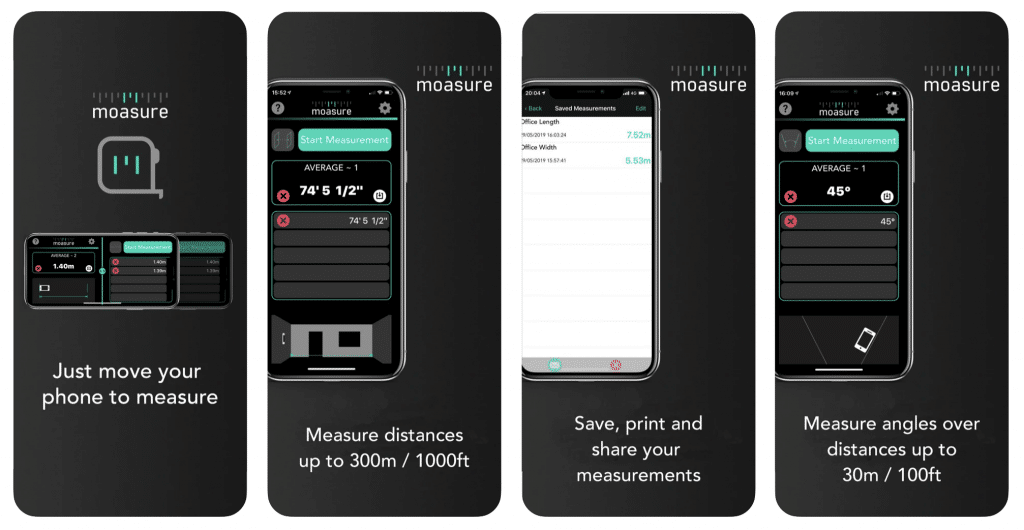 Price: Free
Moasure is a 300m/1000ft tape measure, ruler, protractor and a goniometer (angle measurer) app, which allows you measure length, width, and height of objects as well as internal room dimensions and inter-room dimensions.
By moving your Android or iOS device from one point to another, Moasure lets you display the distance or height difference between the two points, or the angle between them.
---
Also Read: The Best Compass Apps for Android and iPhone
---