Within the scope of distance learning, there are hundreds of highly functional applications that you can use during study, exam and homework time. We will talk about 7 useful apps that make distance learning easier in these challenging times.
CamScanner
CamScanner, which provides convenience in scanning documents during homework and exam times, has many features. Thanks to the mobile app developed by INTSIG, you can scan and color multiple documents, change the size, quality and extension of your documents, as well as share instant sync.
You can easily share the documents you scan via the mobile app either from your social media accounts or via e-mail addresses in PDF and JPEG format.
---
Also read: The 5 Best Document Scanning Apps for Android
---
You can also remove your documents later, or the system will automatically delete them from the cloud service within 48 hours.
Scanned documents can be extremely important to users. Thanks to the feature included in the scanning app, you can put a password on the documents you scan and maximize security.
The free to download scanning app is ad-supported and contains in-app purchases to access advanced features including OCR, extra 10G cloud space, ad and watermark free experience, and more.
Google Play: Store Link
App Store: Store Link
PhotoMath
Photomath, one of the best math solver apps, aims to solve one of the students' biggest problems, mathematics. The app, which is completely free, can also work without an internet connection. When you take a photo of the math equation in a textbook or a handwritten notebook and upload it to the app, the system automatically digitizes that equation and explains its result in detail. A wide range of questions can answer your questions on all math topics.
With millions of downloads worldwide, Photomath has become one of the most useful apps for distance learning students who need math help. 
PhotoMath can also solve relatively complex problems. In other words, it can overcome problems involving multiple operations and square root operations. The team was continuing to work so that more complex problems could be solved by the application.
One of the most striking features of PhotoMath is its 'Steps' feature. This feature appears at the bottom of the screen when the result is calculated and shows you the steps followed while reaching the result.
Google Play: Store Link
App Store: Store Link
Microsoft Math Solver
With the Microsoft Math app, you can reach the solution by writing or drawing your math questions. With Microsoft Math, which shows similarities with the Photomath, you can reach the solution of equations that are printed out or handwritten.
By application; You can solve simple, pre-algebra, algebra, four operations, trigonometry, number theory, probability, volume, surface area, basic calculus and statistics problems. The application can also show the solution of the problems step by step.
The math app also helps you visually see the result by creating graphs for the problems that include equations. Microsoft Math can even offer extra learning materials in the form of instructor videos. The app seems to make learning math a nightmare.
Among the languages ​​supported by the math app, there are many languages ​​such as English, Chinese, French, German, Hindi, Italian, Japanese, Portuguese, Russian and Spanish.
Google Play: Store Link
App Store: Store Link
---
Also Read: The 5 Best Homework Planner Apps For Students
---
Post-it
Post-it, one of the note taking apps that you can use for distance education, offers users a different environment with its colorful interface. Developed by 3M Company, by using Post-it, you can take notes with your own handwriting and transfer them to the app with your camera.
You can also edit the notes you have created and share them in different formats. Its feature that differs from other note taking apps allows you to take colorful notes.
Google Play: Store Link
App Store: Store Link
---
Also Read: The 10 Best Note Taking Apps
---
Kahoot!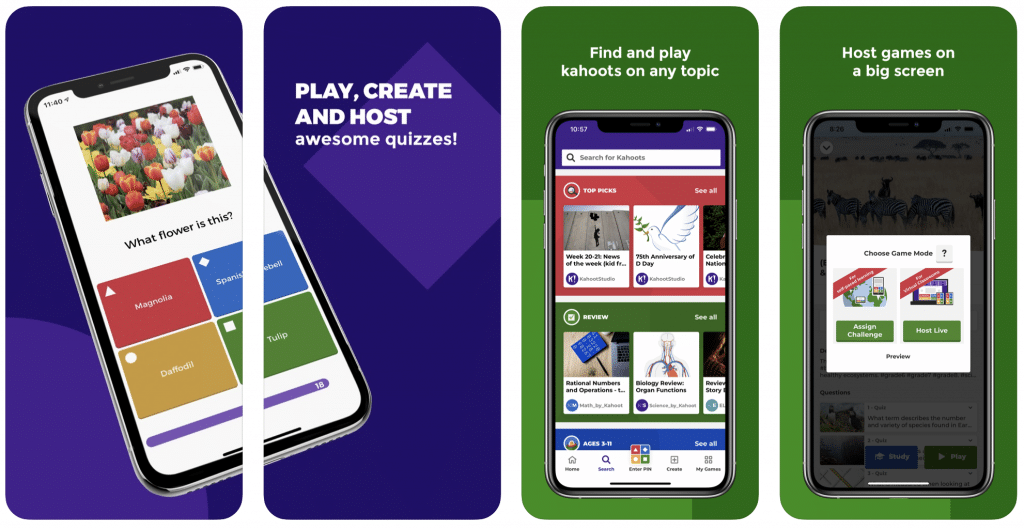 Kahoot! is a game and entertainment based learning app that teachers and students can use. Free access to the Kahoot app can be made through any device with an internet connection.
You can measure your knowledge with your friends online in virtual classrooms created in this app, whose general logic is based on questions and answers. Not only students but also teachers can do instant question-and-answer activities with the app. Moreover, the app, which offers tests on various subjects, combines education and entertainment.
Google Play: Store Link
App Store: Store Link
Adobe Acrobat Reader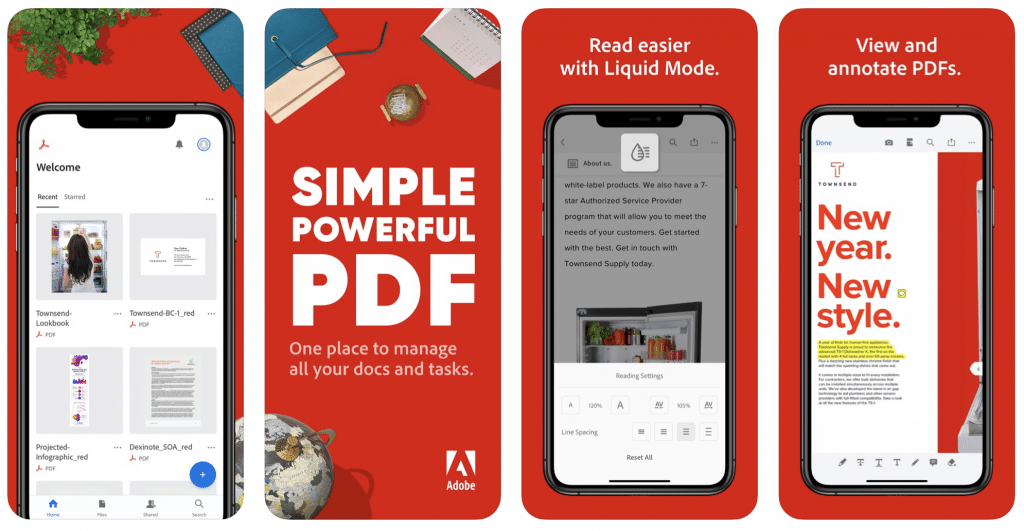 When it comes to distance learning, one of the first things that comes to mind is the lecture notes. These notes are usually shared in PDF format. You can manage all your documents from one place with Adobe Acrobat Reader, which will help you organize your lecture notes as you wish.
You can quickly add or change text and images to your PDF from any device, without the need for a source file.
In addition to editing your documents, adding annotations, you can protect your eyes with dark mode.
The app also allows you to fill and sign PDF forms electronically quickly and easily, even while using your mobile device. Using the app, you can write text in the fillable fields and electronically sign with your finger or stylus.
Google Play: Store Link
App Store: Store Link
---
Also Read: The 12 Best Apps for Students
---
Coursera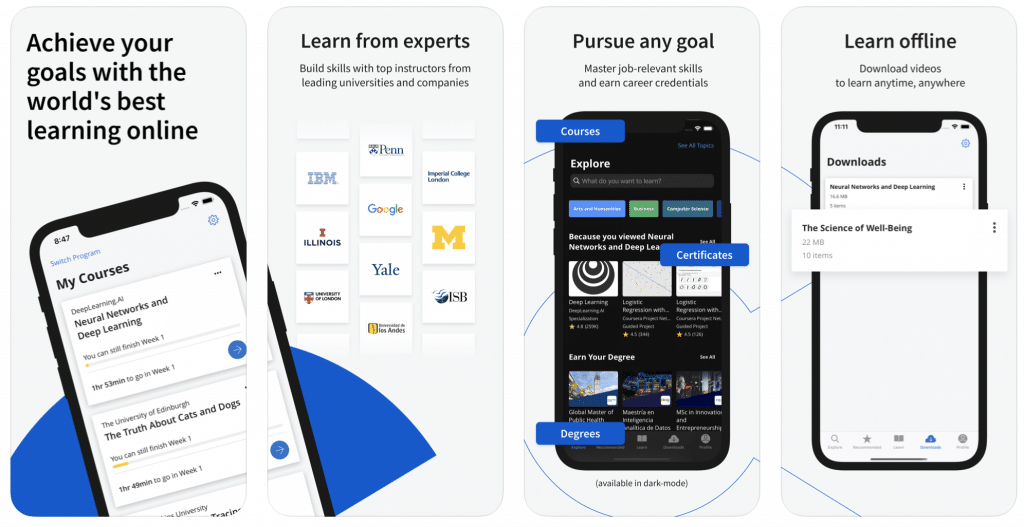 Coursera is a North American education technology company founded by Computer Science Professors Andrew Ng and Daphne Koller. Coursera, headquartered in Mountain View, California, USA, and in partnership with the world's top universities and educational organizations, offers online courses in a variety of certified interests.
Using the Coursera app, you can get certificates from world-class universities like Yale and industry-leading companies like Facebook and Google. In this way, while improving your knowledge on a field or subject, you can get certificates from well-established universities and organizations.
If you are one of those who say "I do not want a certificate, I just need to pass a course", Coursera also offers online in-depth training in many areas from software development to digital marketing.
Coursera's application includes many free courses as well as paid sessions. If you want to try paid courses before enrolling, you can check out the free courses
We can say that Coursera, which has been downloaded by millions of people worldwide, provides one of the best mobile apps for distance learning.
Google Play: Store Link
App Store: Store Link
Quizlet
Next on our list of best apps for distance learning is Quizlet, a great option for language learners. Quizlet is one of the best flashcard apps that facilitates learning by creating your own flashcard sets or using ones made by other students and teachers.