In today's fast-paced world, the quest for knowledge knows no age limits. Whether you're looking to acquire new skills, advance your career, or simply indulge your intellectual curiosity, free learning apps for adults have become invaluable companions on your learning journey. These digital platforms offer a diverse array of courses and resources designed to empower adults with the knowledge they seek, all conveniently accessible from the palm of your hand.
In this review, we'll delve into the world of free learning apps tailored to the needs and interests of adults. From language acquisition to creative pursuits, these apps are reshaping how we approach lifelong learning, and we're about to explore why they've become indispensable tools for those eager to expand their horizons. Without further ado, here are the free learning apps for adults!
Udemy
Udemy stands as a beacon for knowledge seekers, offering a treasure trove of online courses that cater to both your professional and personal growth, and it stands out among the free learning apps for adults. With the Udemy app, you can dive headfirst into a vast library of courses, ranging from coding and development to photography and marketing. What sets Udemy apart is its accessibility—courses can be downloaded for offline learning, and you can even watch them on the big screen using Chromecast. Learning becomes a personalized journey with custom reminders, note-taking, and quizzes. The global reach of Udemy means you can find courses in over 65 languages, ensuring there's something for everyone on this immersive learning platform. Visit Udemy's website to learn more.
Coursera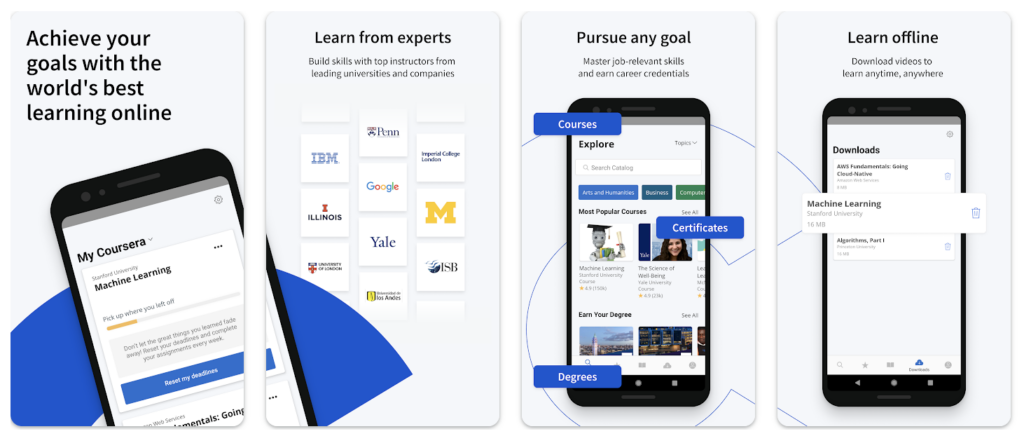 Coursera is where the dream of acquiring job-relevant skills meets reality. This app bridges the gap between learners and industry experts from top-notch companies and universities. It's a gateway to knowledge that offers a plethora of industry-tailored courses, professional certificates, and even the opportunity to earn a bachelor's or master's degree. Coursera's flexibility, on-demand courses, and downloadable content make it easy to fit learning into your busy schedule. With courses in a multitude of subjects like computer science, data science, business, and IT, Coursera empowers you to advance in your career confidently and at your own pace. Discover Coursera's website to learn more.
---
Also Read: The 7 Best Free Language Learning Apps
---
Duolingo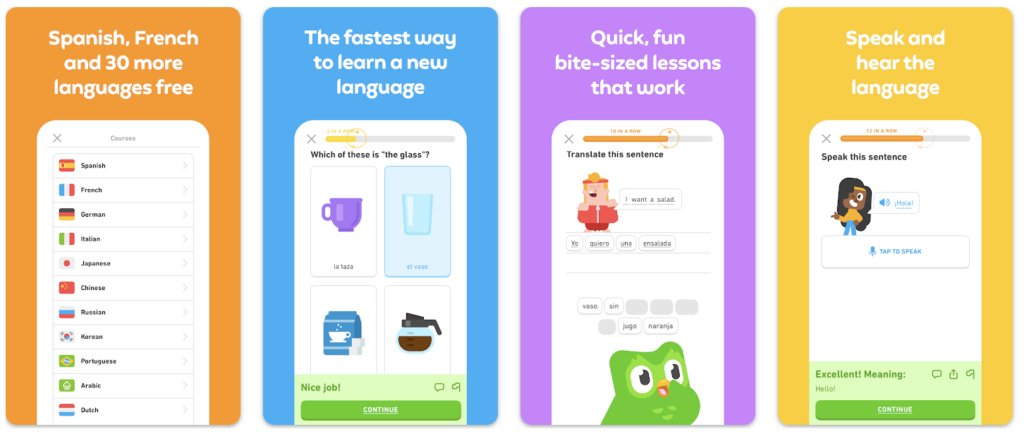 Duolingo stands out as a fun and effective language-learning app that offers courses in 40+ languages. Its game-like lessons and AI-driven tutor, MemBot, make learning engaging and efficient. Duolingo focuses on practical vocabulary and conversations, ensuring you're prepared for real-life language use. With over 300 million users, Duolingo fosters a global community of language learners. Explore Duolingo's website to learn more details.
Duolingo: language lessons on Google Play
Duolingo: language lessons on the App Store
Skillshare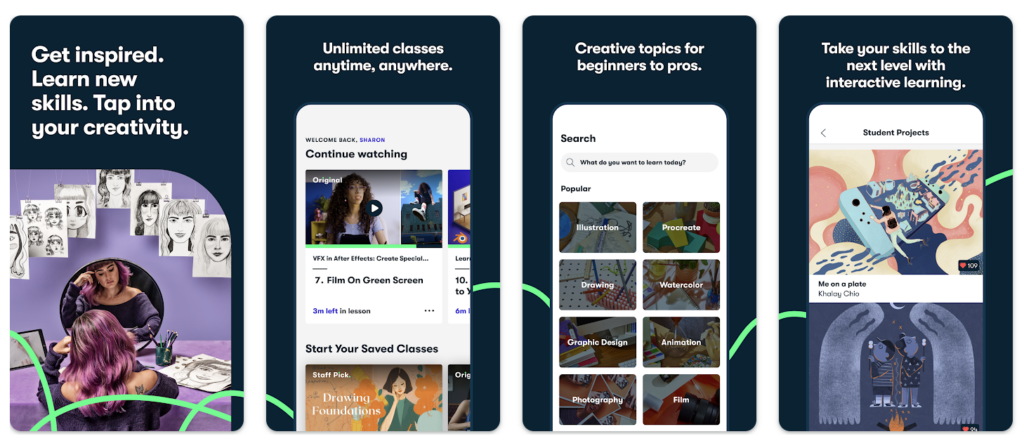 Skillshare is the ultimate platform for creative individuals, offering thousands of courses in fields like drawing, animation, and creative writing, and it is considered one of the free learning apps for adults. With professional-led lessons and industry-focused content, Skillshare empowers learners to excel in creative endeavors. The app's flexibility, offline viewing, and progress syncing across devices make it user-friendly. Whether you're a hobbyist or an aspiring professional, Skillshare provides the tools and knowledge to enhance your creative skills. To learn more, go to Skillshare's website.
---
Also Read: The 12 Best Apps for Adults
---
Khan Academy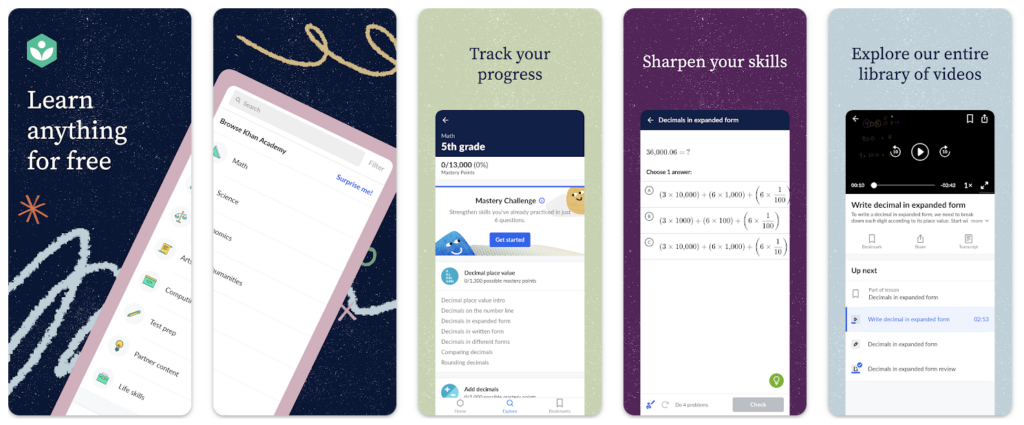 Khan Academy is a free, comprehensive learning app that covers a wide range of subjects, from math and science to humanities and computer science. Its interactive exercises, videos, and articles provide valuable educational resources. Khan Academy's mastery system tailors learning to your level and offers instant feedback, making it suitable for students and lifelong learners alike. Additionally, offline access ensures uninterrupted learning and ranks among the free learning apps for adults. Browse Khan Academyb's website to learn more details.
Sololearn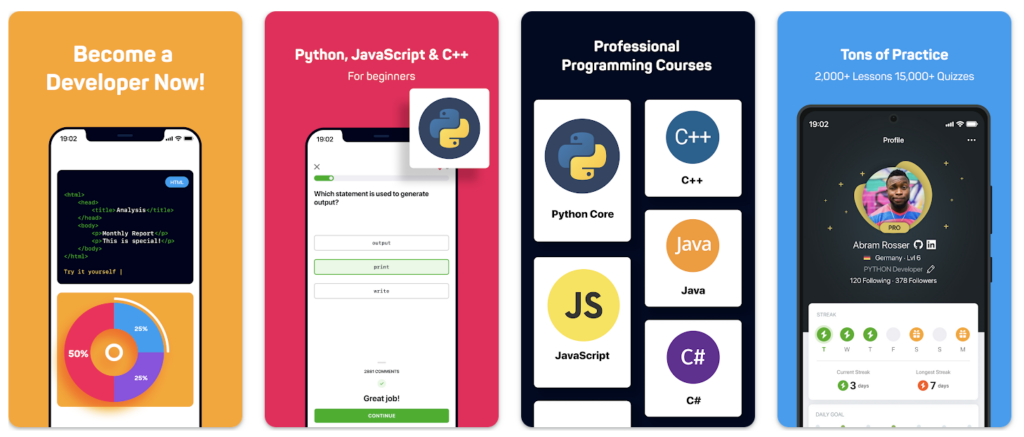 Sololearn is a coding and programming app offering courses in over 20 languages, making it a valuable resource for aspiring developers. Its bite-sized lessons, hands-on practice, and code editor facilitate learning at your own pace. The app boasts 40 million users worldwide and a supportive community for coding enthusiasts. Whether you're a beginner or an experienced coder, Sololearn helps you sharpen your programming skills and stay up-to-date with industry trends. It's one of the free learning apps for adults. To learn more information, visit Sololearn's website.
---
Also Read: 11 Useful Apps for Students
---
Memrise Easy Language Learning
Memrise is a language learning app that focuses on mastering specific conversations. With AI tutor MemBot, you can practice speaking, listening, and building vocabulary with confidence. The app offers conversations relevant to real-life scenarios, making it ideal for travelers, students, and language enthusiasts. Check out the website of the app for more detailed information about the app.
Memrise Easy Language Learning on Google Play
Memrise Easy Language Learning on the App Store
Babbel
Price: Free/In-App Purchase: Up to $399.99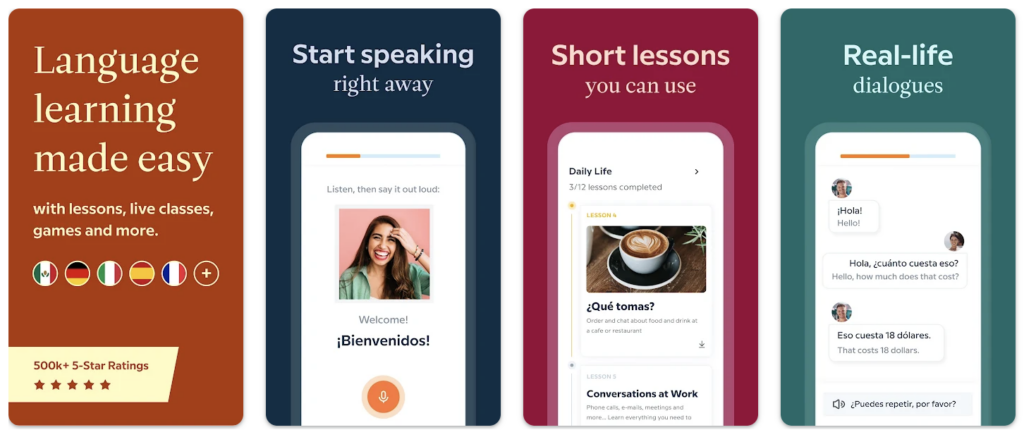 Babbel is a language learning app designed by experts, offering courses in 14 languages. With short, interactive lessons, Babbel makes language learning manageable, even for busy individuals. The app emphasizes speaking, listening, reading, and writing, ensuring a holistic learning experience. Babbel's effectiveness is backed by research, making it a reliable choice for language learners of all levels. Go to Babbel's website to learn more.