In today's rapidly evolving world, the need to keep learning has become a crucial life skill, not just for the young but for adults as well. Fortunately, in the age of digital advancements, enhancing your learning experience is now at your fingertips. "The Best Learning Apps for Adults" is like a treasure chest designed for this purpose. These apps at the intersection of education and cutting-edge technology not only help you acquire new skills but also provide excellent opportunities for personal and professional development. In this review article, we will explore the most effective apps that guide adults on their learning journey and satiate their thirst for knowledge. Are you ready? Then, here are the best learning apps for adults!
edX
Price: Free/In-App Purchase: Up to $209.99
edX brings a world of knowledge to your fingertips. This app is a treasure trove of courses from the world's leading universities and companies, and it stands out among the best learning apps for adults. If you're an adult looking to acquire new skills or knowledge, edX is your ideal companion. With the freedom to learn on your schedule, you can explore courses in data science, programming, business, and much more. The app offers a seamless experience, from streaming online classes to downloading courses for offline use. You can test your knowledge with quizzes and exams, making sure you've truly grasped the material. Whether you're into computer science, mathematics, or languages, edX has it all. To learn more, visit edX's website.
Blinkist
Price: Free/In-App Purchase: Up to $199.00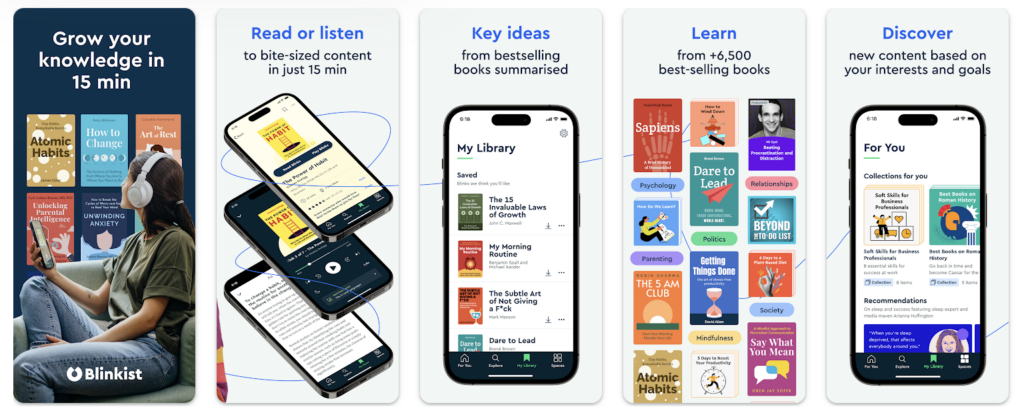 Blinkist is a game-changer for busy adults seeking personal growth. With its concise summaries of over 6,500 bestselling books and podcasts, it's the ultimate tool for knowledge-hungry individuals. Whether you want to enhance your career or simply expand your horizons, Blinkist offers valuable insights in bite-sized formats. It transforms the key takeaways of books and podcasts into engaging content that you can read or listen to in just 15 minutes. With features like personalized book recommendations, audio versions, and offline access, Blinkist is a must-have app for those who want to stay informed and inspired. For more detailed information, explore Blinkist's website.
---
Also Read: The 12 Best Apps for Adults
---
Udemy
Price: Free/In-App Purchase: Up to $209.99
Udemy is your passport to personal and professional development, and it is considered one of the best learning apps for adults. This app provides access to a vast library of courses, offering you the opportunity to acquire new skills or enhance existing ones. Whether you're interested in coding, business, marketing, or creative endeavors, Udemy has you covered. You can learn at your own pace and even download courses for offline use. This means you can continue your education on your terms. Interactive quizzes, expert instructors, and continuous course updates make Udemy a powerful tool for career advancement. Browse Udemy's website to learn more detailed information about the app.
Duolingo: Language Lessons
Price: Free/In-App Purchase: Up to $149.99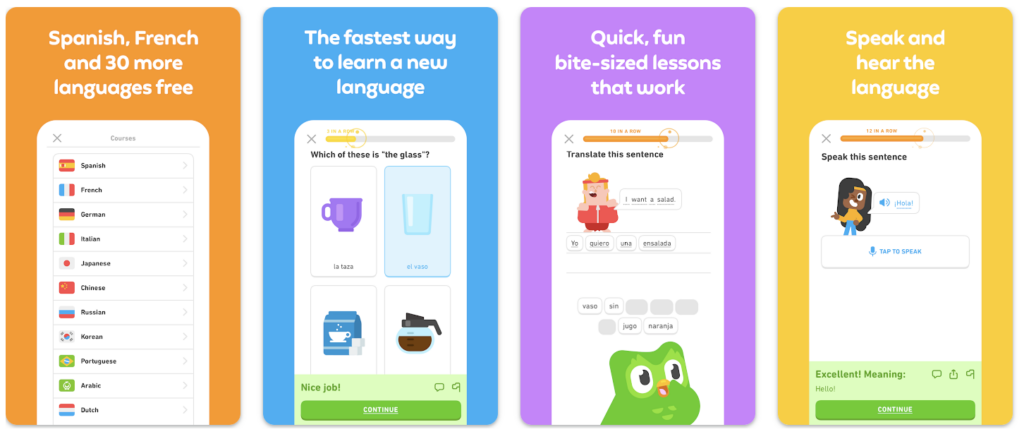 Duolingo is more than just a language app; it's a language adventure. With its gamified approach to learning, Duolingo makes mastering a new language enjoyable. The app covers over 40 languages, making it suitable for learners of all levels. Whether you're studying for travel, work, or personal enrichment, Duolingo offers a comprehensive language-learning experience. The lessons cover speaking, reading, listening, and writing, ensuring a well-rounded education. Duolingo's effectiveness is backed by its expertly designed courses and a teaching methodology proven to promote long-term language retention. Check out Duolingo's website to learn additional details.
Duolingo: language lessons on Google Play
Duolingo: language lessons on the App Store
---
Also Read: 7 Free Coloring Apps for Adults
---
Khan Academy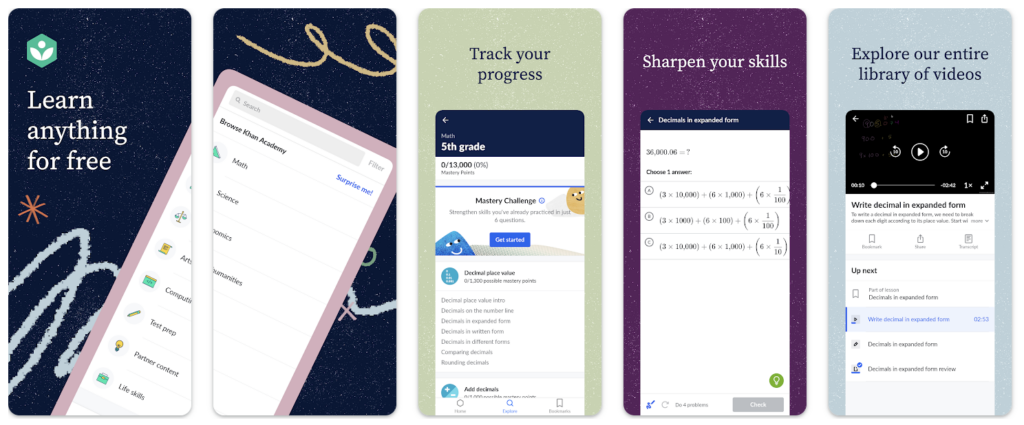 Khan Academy is on a mission to provide free, world-class education to all, and its app makes that mission accessible to anyone with a mobile device. Whether you're a student, teacher, or an adult returning to the classroom, Khan Academy offers a diverse range of subjects. With over 40,000 interactive exercises, videos, and articles, you have the tools to explore math, science, history, and more. You can sharpen your skills with practice exercises, quizzes, and tests while receiving step-by-step hints and instant feedback. The ability to download content for offline learning ensures you can keep improving even without an internet connection. Whether you're advancing in your current field or preparing for exams, Khan Academy is your learning partner, and it ranks among the best learning apps for adults. Check out Khan Academyb's website to learn more details about the app.
AmazingTalker
Price: Free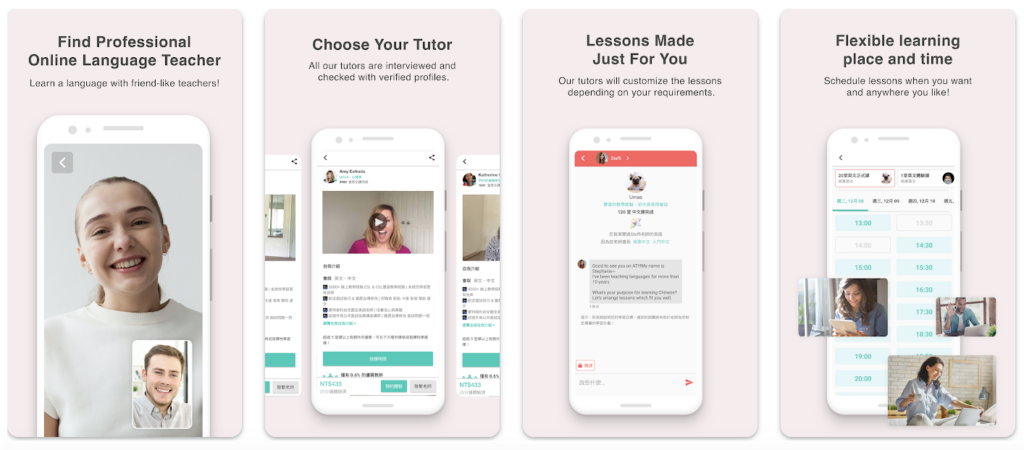 AmazingTalker connects language learners with qualified, native-speaking tutors. The app offers personalized 1-on-1 language lessons to improve your language skills and achieve your learning goals. With access to over 100 languages, including English, Spanish, Korean, Japanese, and German, AmazingTalker caters to a wide audience. Qualified language tutors undergo training to ensure they provide a high-quality learning experience. Additionally, the flexibility of scheduling lessons at your own convenience and learning from the comfort of your mobile device is a significant advantage. Whether you're a beginner or looking to refine your language proficiency, AmazingTalker offers tailored lessons to cater to your needs. Furthermore, if you're considering becoming a tutor, the app provides opportunities to set your own price, be your own boss, and work from home. Go to AmazingTalker's website to learn more detailed information.
AmazingTalker on the App Store
---
Also Read: The 7 Best Dating Apps for Young Adults
---
Elevate
Price: Free/In-App Purchase: Up to $399.99
Elevate is a groundbreaking brain-training app that combines fun and games with cognitive improvement, and it is one of the best learning apps for adults. With over 40 brain training games, this app enhances your vocabulary, speaking abilities, processing speed, memory skills, mental math, and more. What makes Elevate unique is its personalized learning program, which adjusts over time to maximize results. The more you engage with Elevate, the more you'll see improvements in your cognitive skills, leading to enhanced productivity, earning potential, and self-confidence. Elevate's 7-day free trial and free version let you explore and experience the benefits firsthand. Visit Elevate's website to learn more.
Memrise Easy Language Learning
Price: Free/In-App Purchase: Up to $119.99
Memrise offers a refreshing approach to language learning by focusing on mastering real conversations. With the ability to import your progress from other language apps, Memrise ensures a seamless transition to its engaging platform. The app provides practical vocabulary and phrases relevant to everyday dialogue. Learning with Memrise involves exposure to native speakers, allowing you to adapt to various accents and speaking tempos. It's a fantastic tool for those who want to feel confident and natural in real-life language conversations. The unique focus on conversations sets Memrise apart and ensures that you'll never get stuck not knowing what to say. Go to Memrise's website for more.
Memrise Easy Language Learning on Google Play
Memrise Easy Language Learning on the App Store
---
Also Read: The 10 Best iPhone Games for Adults
Also Read: The 14 Best Android Games for Adults
---
Skillshare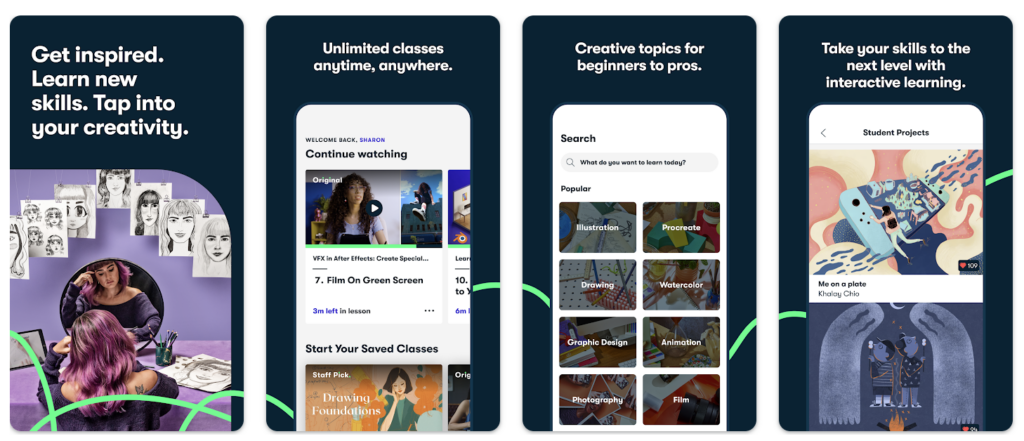 Skillshare is the go-to platform for unleashing your creative potential, and it is among the best learning apps for adults. With thousands of classes spanning a wide range of subjects, from drawing and animation to creative writing, Skillshare is the ultimate hub for honing your artistic skills. The app enables you to learn and practice industry-standard tools like Procreate, Fresco, Illustrator, and Photoshop. Whether you're pursuing a hobby or a professional career, Skillshare equips you with the knowledge and skills you need. For more detailed information, browse Skillshare's website.
Sololearn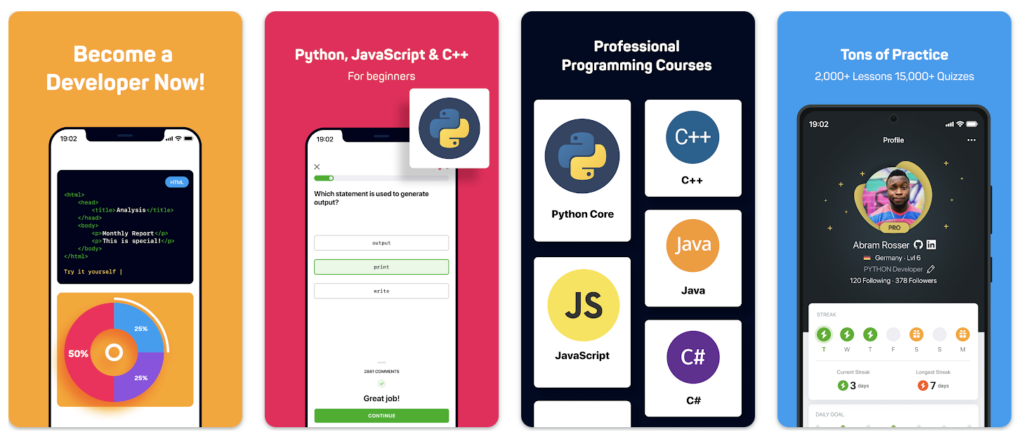 Sololearn opens the world of coding to everyone, from beginners to experienced developers. With 18 coding courses covering various programming languages, Sololearn ensures that you can start your coding journey at your own pace. Bite-sized lessons, interactive quizzes, and practical exercises make learning to code both accessible and enjoyable. You can track your progress, earn achievements, and participate in coding challenges, fostering a sense of competition and camaraderie among fellow learners. Whether you're aiming to build websites and apps or explore data science, Sololearn provides the knowledge and practice you need. The mobile app, available for iOS and Android, allows you to learn to code anywhere, anytime, even without an internet connection. To learn more information, check out Sololearn's website.