Camera features play an important role in smartphone purchasing decisions. However, users are now looking at software as much as they care about hardware features.
On most smartphones, we see that the Camera apps are quite rich and offer many settings. When we look at the iPhone, we see that although Apple improves the camera settings on each new iPhone, it still favors simplicity and keeps its camera with as few and concise settings as possible.
This speeds up photo and video shooting and is sufficient for most users, but if you are a user who wants more, you can take impressive photos and videos with these best camera apps for iPhone.
Halide Mark II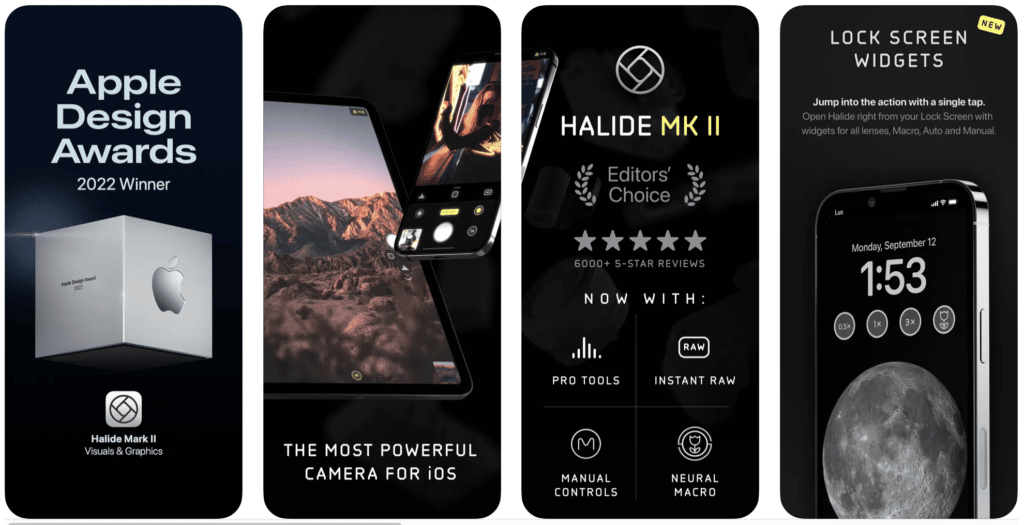 Price: Free to download / 7-day free trial / 21.99 per month / $11.99 per year
As one of the award-winning iPhone camera apps, Halide is one of the best camera apps for iPhone users who want to capture impressive photos instead of shooting quickly, thanks to its high-class tools and beautiful user interface.
Halide has an intuitive and touch-based user interface. There's also a quick lens switcher developed specifically for the iPhone 11 Pro. There is also a customized user interface for one-handed use for iPhone X and newer devices.
Thanks to the manual depth adjustment, you can take portrait shots of objects and pets as well as people. Thanks to the complete controls, you can also manually adjust settings such as shutter speed, ISO, and white balance. You can get the best exposure level with the live histogram. You can also balance quality and size by shooting in RAW, TIFF, HEIC or JPG formats. Intelligent automatic and manual modes are also among the features of the Halide apps.
App Store: Store Link
ProCamera.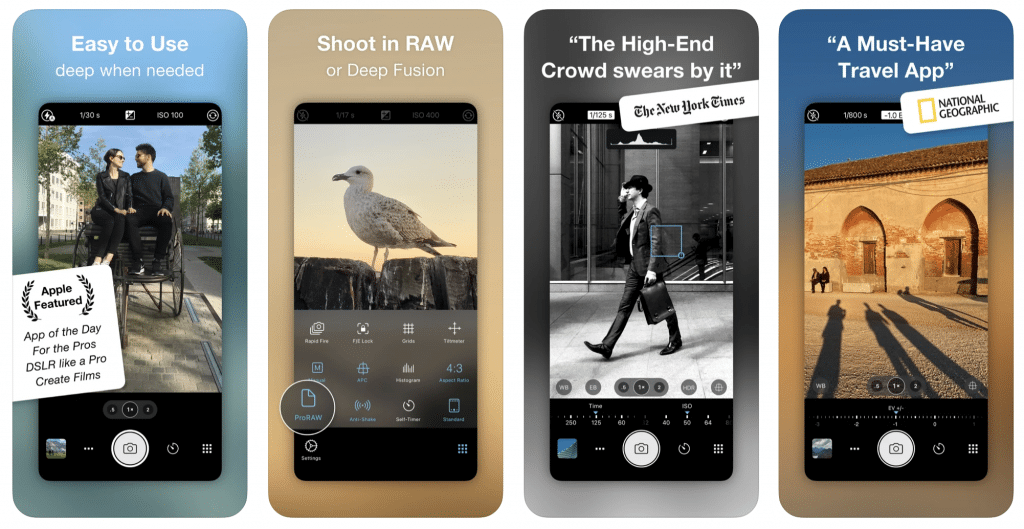 Price: $13.99
If you are a video shooter, ProCamera gives you a lot of control over your videos as one of the iPhone camera apps. It is intended to serve as a go-to camera app that is simple to use in regular circumstances but is also deep and multipurpose when used for formal events and business use cases. If you opt to purchase its premium membership, ProCamera not only offers pro-level DSLR camera functions but also a top-notch video recording mode and an extensive picture editing suite, including RAW and depth editing.
It gives you control over the resolution and frame rate of the videos you create, from preset camera modes such as HDR and Lowlight capture. When your disk space is low, it re-saves to the camera roll when there is enough memory left. It also allows you to take raw pictures. 
App Store: Store Link
---
Also Read: The 6 Best Video Editing Apps for iPhone
---
FiLMiC Firstlight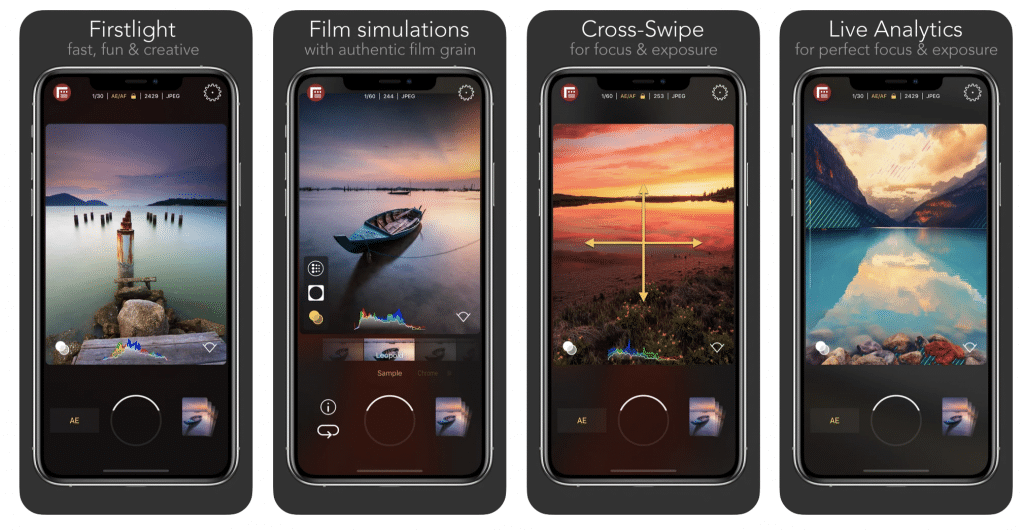 Price: $7.99
Filmic carried the success and talents it showed on the video side to the photography side with Firstlight. Firstlight offers a new camera experience by combining customized film simulations, adaptive film components and Filmic Pro's renowned live analysis tools.
Quick, intuitive focus and exposure controls allow you to adjust and lock focus and exposure by tapping any point on the screen. Thanks to the Auto Exposure mode, values ​​such as shutter speed and ISO can be determined automatically.
Reactive analysis tools found in Filmic Pro are also available in the Firslight camera app for iPhone. You can make the best settings thanks to the zebra stripes that appear when manually adjusting the focus and exposure. Thanks to the RGB histogram, you can see the exposure profile of the image across all color channels.
Professional camera tools such as burst mode, timer, flash, grid view are available on the successful camera app. You can choose from aspect ratios such as 4:3, 16:9, 3:2, 1:1, 5:4 and you can pick from DNG, TIFF, JPG or HEIC profiles. HDR control is also available for iPhone XS, iPhone XR and newer models.
App Store: Store Link
---
Also read: The 7 Best Beauty Apps for iPhone
---
DSLR Camera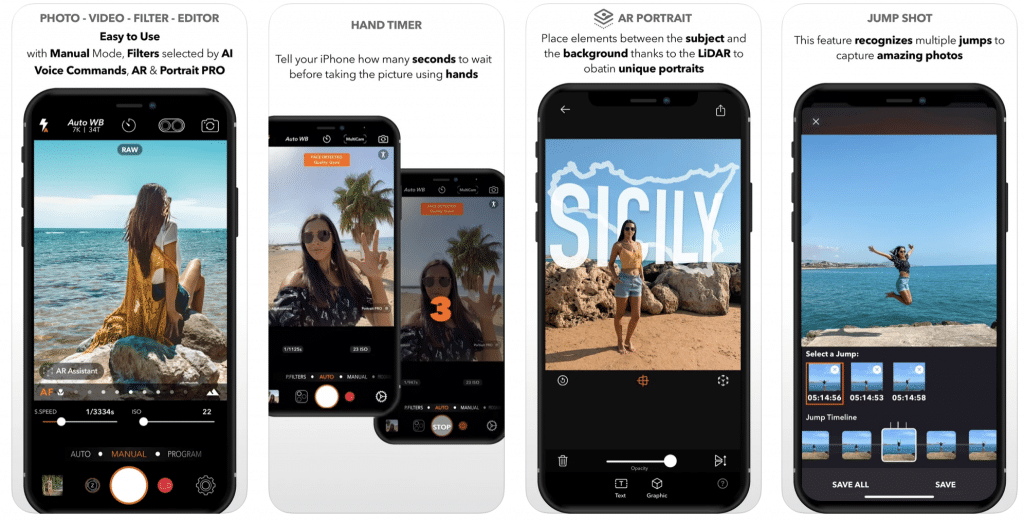 Price: $0.99
With the DSLR Camera app, which is among the most popular paid camera apps in the App Store, you can add professional camera capabilities to your iPhone.
DSLR Camera will help you get the most out of your iPhone's camera with manual controls, enhanced editor and 160 professional filters. Even at night, you will be able to take impressive photos with the DSLR Camera.
There are three shooting modes in the app, Auto, Manual and P. P mode makes it quick and easy to shoot or record with perfect exposure. Manual mode allows manual adjustment of shutter speed, ISO sensitivity, focus or white balance.
With adaptive filters, you can determine the most suitable filter for the photo, and with the help of AR Assistant, you can determine the best angle for your photo or video. With Siri Shortcuts, you can shoot or edit just by calling out.
App Store: Store Link
Darkroom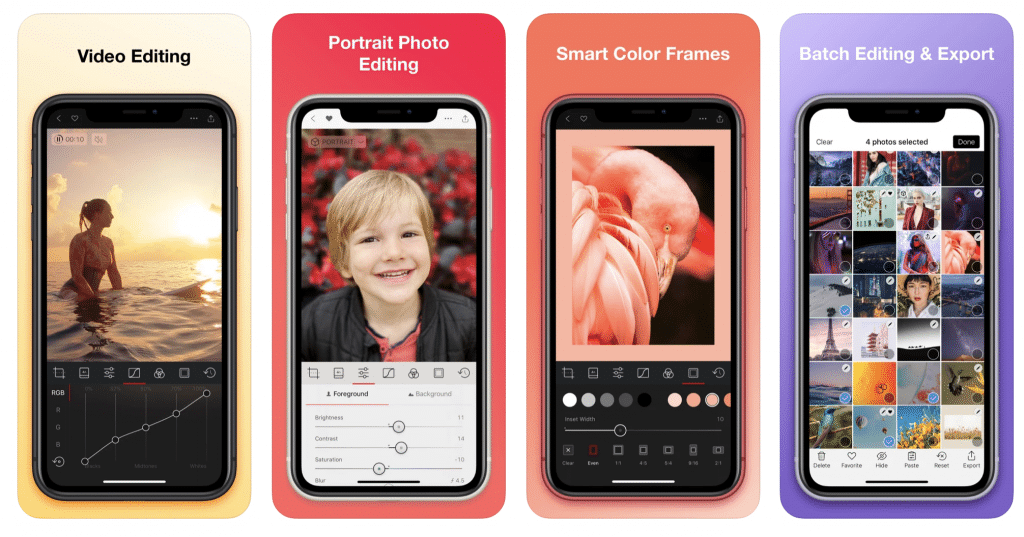 Price: Free
If you are looking for the best free camera app for iPhone, you can give a chance to Darkroom, which is especially a good fit for beginners.
As the winner of the Apple Design Award in 2020, Darkroom provides a very clean user experience as well as tools you need for photo and video editing such as Live Photos, RAW images, and Portrait images, all offered for free.
Using the free camera app, you can edit the foreground and background of your portrait photos separately and edit raw photos at full resolution. If you want to have more advanced features and premium filters, you can consider monthly ($4.99) or yearly subscriptions ($24.99).
App Store: Store Link
---
Also Read: The 8 Best Collage Apps for iPhone
---
Photoshop Express Photo Editor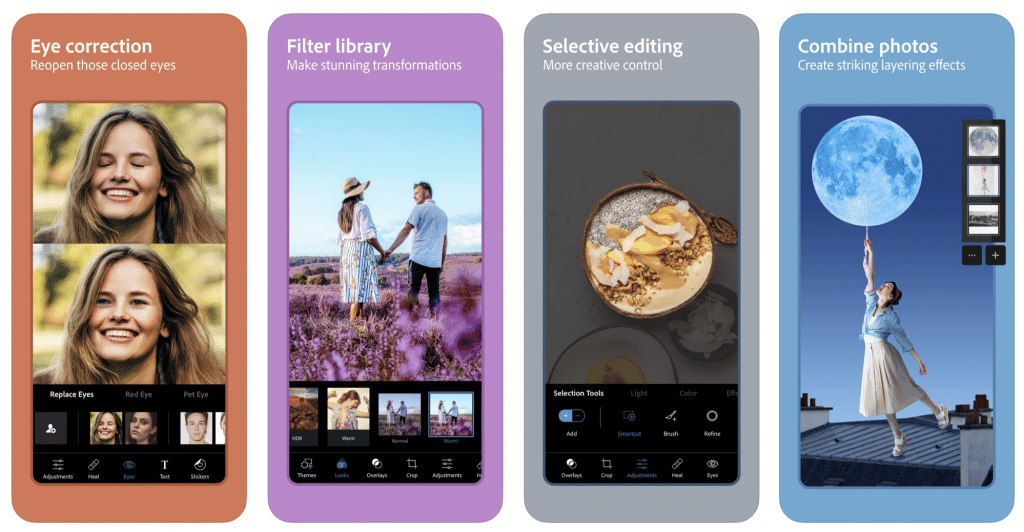 Price: Free
Adobe Photoshop Express, a mobile photo editing app from Adobe, which is indispensable for professionals, is one of the best free camera apps you can find in the App Store.
With Adobe Photoshop Express, we can take advantage of many features such as cropping, red-eye correction, saturation and ready-made filters. Like some other camera apps on the list, you can benefit from some free features, but in order to benefit from all the features, you have to subscribe for a paid membership.
App Store: Store Link