The importance and use of videos in the digital world is increasing day by day. So much so that, according to a study by Hubspot, 78% of people watch online videos every week, and 55% watch on a daily basis.
Just on Youtube, mobile users view more than 1 billion hours of video each day and the video consumption rates skyrocket not only on video platforms, but also on other social media channels such as Facebook and Instagram.
In line with the increase in video consumption, there is also an upward trend in the number of video editing apps in the market. Thanks to these apps, we can edit videos more easily and quickly on our mobile devices that we always carry with us, without the need for any computer.
However, the abundance of these apps on the Play Store makes it a little bit difficult to find which ones are the best and it usually requires us to try them one by one to see if they're what we're looking for.
In today's blog post, we'll be talking about the 15 best video editing apps for Android with their details including their main features, download counts, app ratings and more.
Before starting, I'd like to remind you that you can use all of these apps for free and all of them offer premium plans / features in case you need more advanced solutions.
InShot
We're starting our list with InShot, which was released on the Google Play Store in 2011.
You've probably seen the logo of InShot on your friends' Instagram posts many times before. It is one of the oldest and the best video editing apps with a very large user base from all around the world.
The InShot app allows you to trim & merge your videos, adjust their speed, crop and resize them, add texts and stickers as well as music from your own device or the app's broad music library, apply effects and filters, create collages and more.
VideoShow
Next in our list of the best video editing apps for Android is VideoShow which has been installed over 100 million times so far just like InShot. 
VideoShow provides many tools to help you make your creative videos, memes and gifs, including very impressive filters, sound effects and colorful texts, as well as the basic functions that the other apps offer such as reversing, cropping, cutting, trimming and adjust the video speed.
---
Also Read: The 9 Best Avatar Creator Apps
---
GoPro Quik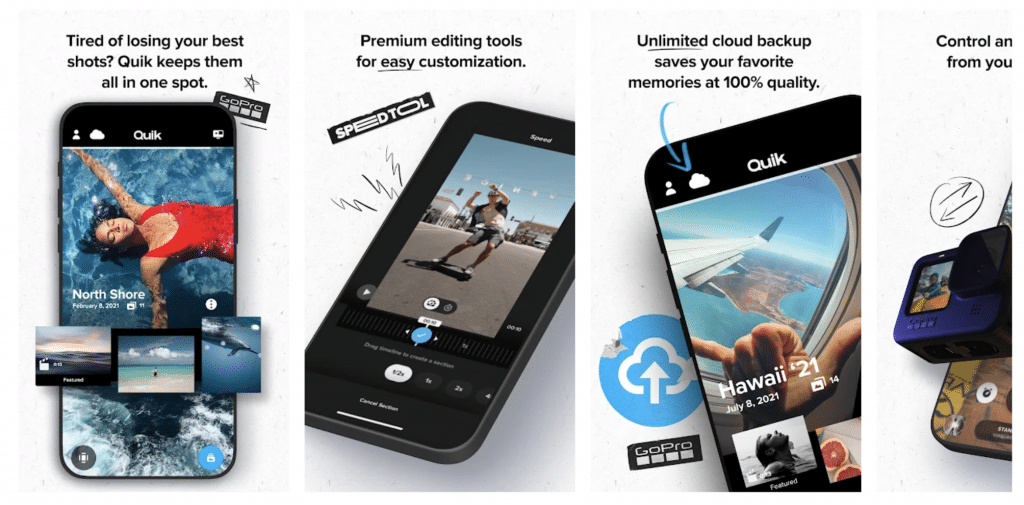 The next best video editing app for Android is Quik, developed by world-famous technology company GoPro.
It is usually used by GoPro owners to edit their GoPro footage but you can also edit the videos from your own Android device.
The friendly interface of Quik makes it very easy to use and even if you're not skilled in editing you can easily create professional videos with its broad template library.
Just pick up to 75 photos or videos from your gallery and choose a music, and let Quik do the rest for you. After it creates your video, you have the chance to customize it as you want.
Also, it won't bother you with constantly showing up ads and interrupt your app experience.
KineMaster
Let's continue with KineMaster. It's been available on the Google Play Store for more than 7 years and installed on more than 100 million Android devices.
Its super-versatile interface that allows you to edit on multiple layers, high quality visual and sound tools will make you feel like you're creating professional designs on your computer.
---
Also Read: The 6 Best AI Art Apps Like Lensa
---
VivaVideo
VivaVideo is another video editing app for Android that is preferred by a hundred million users.
If you're looking for the best video editing app for Instagram, VivaVideo might be the best solution for you as it's quite popular among IG users. It provides all the basic features you need with a very easy-to-use app interface.
---
Also read: The 5 Best Alternatives to Photoshop for Photo Editing
---
PowerDirector
PowerDirector by Cyberlink Corp, one of the best video editing apps for Android, offers plenty of features such as keyframe controls, slow motion video production, a built-in stock library, and more than 4300 customizable video templates. It aims to help you ''unleash your creativity'' and create high quality & professional videos quickly and easily. 
Magisto by Vimeo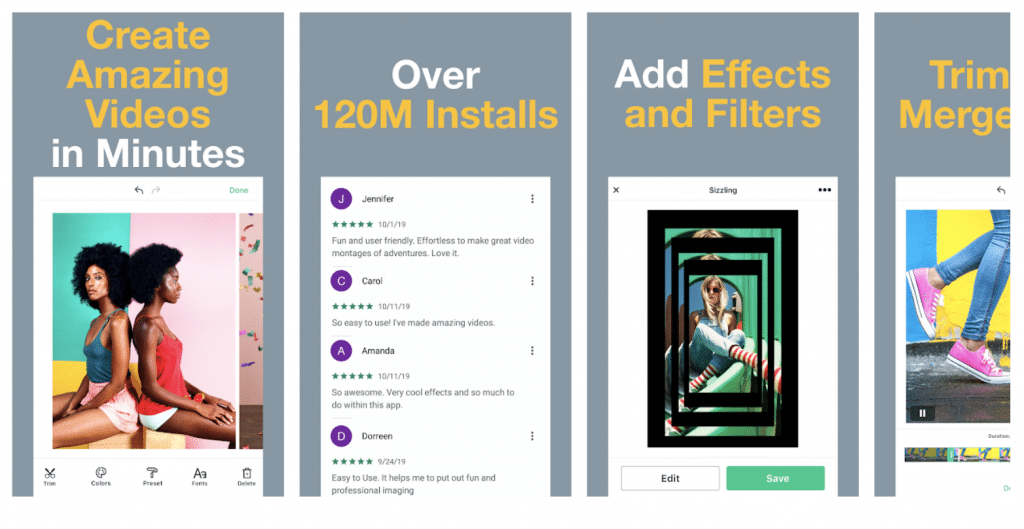 Our next app is Magisto by Vimeo, the popular video streaming platform which is visited more than 100 million times every month.
Just like the other apps in the list, Magisto lets users perform basic editing tasks such as trimming and merging videos, adding effects, filters, stickers, texts and music.
This beginner-friendly app also allows users to create slideshows and has a video feed where they can discover the content shared by other users.
---
Also Read: 10 Apps That Turn Pictures into Cartoons
---
FilmoraGo by Wondershare
The next one is FilmoraGo, developed by Wondershare and released on the Play Store in 2015. In the last 5 years, it's been downloaded by more than 50 million Android users.
This Android video editor enables users to create their own videos in just minutes. It provides glitch effects and built-in filters, a text editor, stickers and the ability to to share your videos with just one tap. 
ActionDirector Video Editor
ActionDirector is another Cyberlink Corp. app aiming to help you create your videos as quickly as possible. Using the app, you can create videos, and edit videos with filters, texts, effects, audio, and animated stickers. The app also offers slow-motion and fast-motion features.
---
Also Read: The 13 Best AI Image Generators
---
Funimate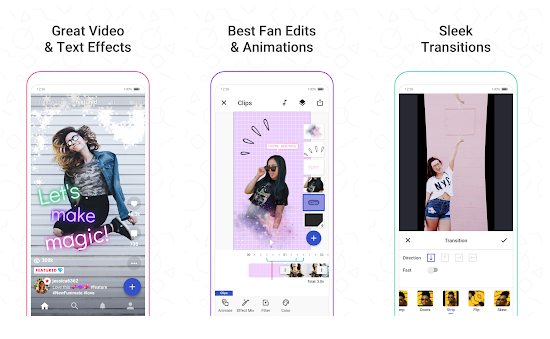 The tenth app in our best free video editing apps for Android list is Funimate, developed by AVCR Inc. and released on the Google Play Store in 2014.
Unlike the most of the apps in the list, the main focus of Funimate is to help users to create their musical video clips like fan-edit videos or lip-syncing videos just like TikTok.
Adobe Premiere Rush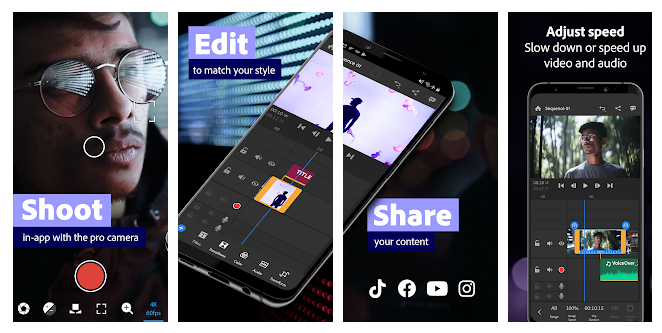 Last year, world-renowned computer software company Adobe announced that its popular video editing app Premiere Clip would be removed from the App Store and Google Play Store and said they're shifting their efforts to Adobe Premiere Rush.
This app lets you edit your videos on a professional level with its advanced tools that don't require effort to use.
---
Also Read: The 7 Best Video Merger Apps
---
WeVideo – Video Editor
Next one is WeVideo which has a really simple app interface with basic video editing tools. If you're not looking for a highly professional video editing app, WeVideo will help you meet your needs very easily.
 PicPlayPost
PicPlayPost by Mixcord Inc is located in the Photography category but it also provides the fundamental tools that you can use to edit your videos.
---
Also Read: The 8 Best Video Recovery Apps for Android
---
PREQUEL
Our last app PREQUEL doesn't offer most of the editing tools that the apps above provide but I've been using this app for a while and its effects and filters are really impressive.
Which one do you think is the best video editing app for Android? Why? Let us know what you think don't forget to check out the other top mobile apps.
As MMR, we also pick the best Android apps and trending iOS apps in the industry and introduce them in even more details reviewing their app rankings, ratings and reviews, requirements and more.
If you want to get your app featured on our website, contact us.