For a few months now, we have been talking about the effects of the Coronavirus pandemic on the demand for mobile apps. But the data shared so far were generally based on smartphones. According to the latest report shared by the mobile app store marketing intelligence firm Sensor Tower, first positive quarterly growth was observed in iPad app downloads for the first time in 4 years. 
Unfortunately, more than 4 million COVID-19 cases have been detected so far and the number of deaths surpassed 292K. While scientists keep working hard to find a treatment for the pandemic, we're staying at home to prevent it from spreading more. This resulted in a great increase in the demand for mobile apps.
According to the data shared by Sensor Tower, iPad app downloads increased by 40% since 2019Q1 and %52 since 2019Q4.
In the first quarter of 2020, more than 1.1 billion apps were installed on iPads, which points to the largest growth since the third quarter of 2016.
So, what countries downloaded iPad apps the most? At the top of the list is China, with 151 million downloads. The following country is the US with 100 million.
The most popular app categories for iPads were Games, Education and Entertainment.
Gaming apps' downloads reached 603 million and increased by 52% compared to the previous quarter.
Education apps were downloaded 105 million times, 114% more than the last quarter.
Entertainment apps' downloads increased by 33% compared to the previous quarter and reached 88 million.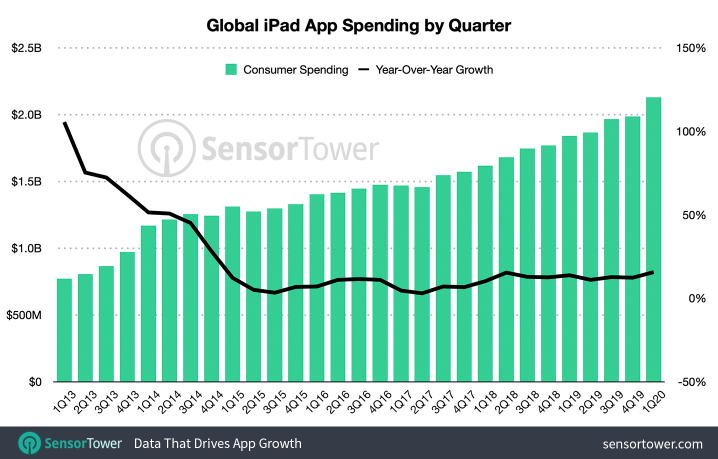 In addition, iPad users set a new record and customer spending reached $2.1 billion, while the top spending country is the US with $893 million and China is second with $335 million.
You can access the detailed data of Sensor Tower by clicking here.
Check out Mobile Marketing News for more.