Our sleep quality is of great importance for both our physical and mental health. However, although we spend one-third of our lives by sleeping, many people are not able to get the efficiency they need from their sleep due to some reasons such as stress and living an irregular life. If you're one of them, you know what I mean. But don't worry, Sleep Cycle: Sleep analysis & Smart alarm clock, which we will talk about today, may help you maximize your sleep quality.
Sleep Cycle: Sleep analysis & Smart alarm clock
When was the last time you had a quality sleep and got up energized from your bed? If you can't remember the answer, Sleep Cycle is worth to try.
So what exactly is it?
Sleep Cycle is a sleep app released in June 2014 and downloaded by more than 5 million Android users so far. Basically, it tracks the sound and the movements you make while you're sleeping and offers detailed analytics about the quality of your sleep.
It also estimates which sleep phase you are in and wakes you up in the optimal time. For example; if you set your alarm for 6.00 am – 6.30 am, it will wake you up when you are in the lightest sleep phase during this time interval.
Is it free?
You can use many features like Sleep Cycle patented Sound Technology, detailed sleep statistics and Google Fit integration for free.
In addition, Premium features are available that offer highly detailed analytics such as Trends, Snore Recorder and Weather & Sleep.
Can I use it together with my partner?
Yes, Sleep Cycle works with 2 in bed. Tou can use it together with your partner who you share the same bed with.
Can I lock my phone while using it?
Yes, you can lock your phone while using this app. Sleep Cycle will continue to run in the background.
We talked about the best sleep app of the day in details. Now it's time to review it in a more technical way.
Google Play Store Rankings
Sleep Cycle has been available on the Google Play Store since 2014 and has managed to enter Top 100 in many countries since then. In the table below, you can see its Google Play Store Top Rankings for May 12, 2020.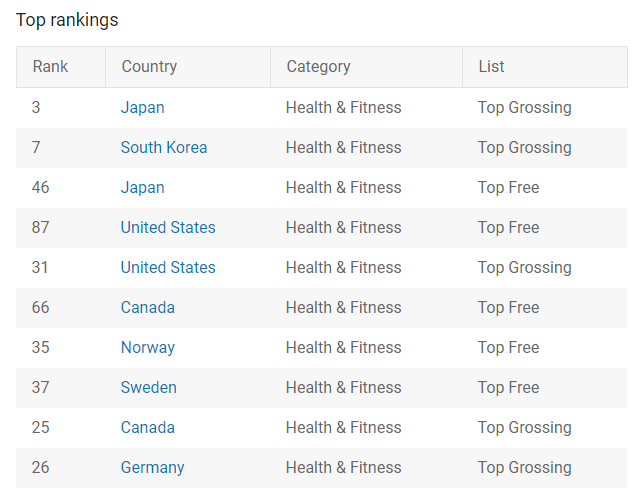 App Ratings & Reviews
If you ask my personal opinion, I have been using Sleep Cycle for about 1 year and I am quite satisfied with it. I can say that my sleep quality has improved.
Now let's see what other Android users think about it.

Currently, the app has 109,387 ratings in total. Its average rating is 4.5, which shows us most of the Android users are quiet satisfied like me.
Requirements
The app's size is 65M and you can download it to your devices with Android 6.0 or higher.
It is very easy to use. The only thing you should pay attention to is to leave your smartphone plugged before going to bed at night.
Download Sleep Cycle From Play Store
If you want to sleep more comfortably and wake up more energetically, I recommend you to give Sleep Cycle a chance. You can download it free from Google Play Store and get more detailed information from sleepcycle.com.
If you have used it before, please don't forget to share your comments with us and our visitors.
Check out our Hot Apps page for the other app reviews and Advertise to promote your mobile app.