There are some open source voice changer tools out there and the vast majority of voice changer apps on Android use the same tech. However, there are some apps that can change your voice in a number of ways. Here are the 4 best voice changer apps for Android!
Snapchat
Even if it is widely used and mostly famous as a social networking and messaging app, Snapchat is also a well known voice changer app. Using Snapchat filters, you can change your voice as well as your look and environment.
In order to use Snapchat as a voice changer app, you can use its voice filters. In order to use it, you can click on the speaker icon after recording a video. Voice filters appear after clicking on the speaker icon.
Since it is a free option, if you have a Snapchat account, you can consider using it as a voice changer app.
Google Play: Store Link
AndroidRock Voice Changer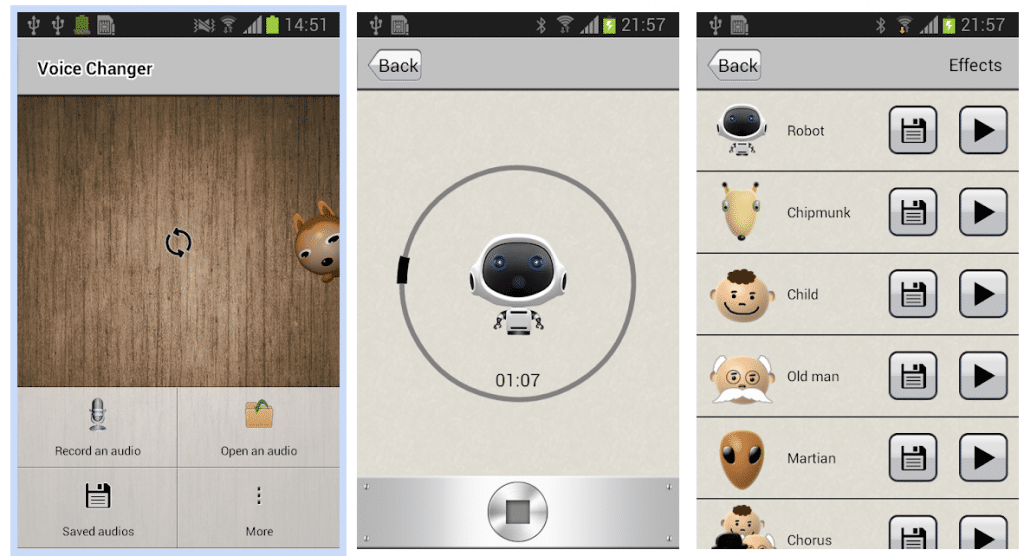 If you are looking for a free voice changer app for Android with a large library of filters and effects, AndroidRock Voice Changer might be what you need.
Supporting a large number of effects and filters, the voice changer app allows you to record speech and apply a filter. You can also add filters to a previously recorded audio. Its effects include old man, bee, drunk, martian, underwater, and much much more.
Using AndroidRock Voice Changer app, you can save the filtered audio and share it via social media or bluetooth.
AndroidRock Voice Changer is one of the most popular voice changer apps for Android with more than 10 million downloads.
Google Play: Store Link
---
Also Read: The 5 Best Free VPN Apps for Android
---
Voice Changer by Handy Tools Studio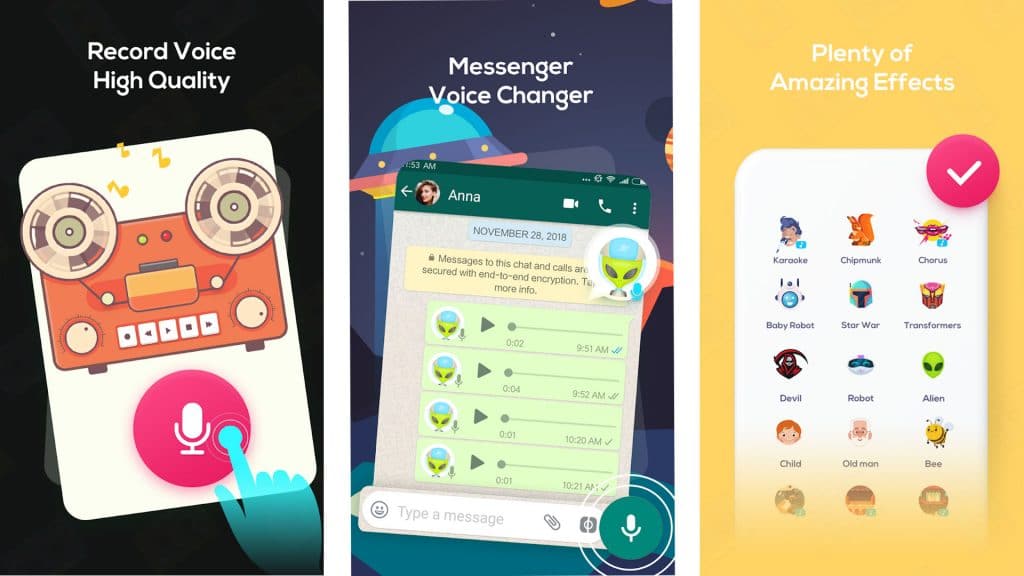 Handy Tools Studio's voice changer app is another good alternative for fun. In addition, this app also supports song recording and can also change sound parameters to improve sound quality.
In addition to effects such as alien, robot, devil, chipmunk, bee, monster, old man, the voice changer app also offers effects such as karaoke reverb, choir effect, theater reverb, and gramophone effect for songs.
As with the other two options, this app is completely free. The only side of the app that irritates people is ads. If you do not have a problem with seeing ads frequently, you can give this voice changing application a chance.
Google Play: Store Link
Voice Changer with Effects
Developed by Baviux, Voice Changer with Effects app offers more than 40 filters including helium, robot, giant, monster, extraterrestrial, zombie, alien, squirrel, and drunk.
Downloaded by more than 100 million people worldwide, it is one of the most popular voice changer apps for Android.
You can record your voice, apply the effects as you wish, and send it to anyone you want via messaging apps such as Telegram and WhatsApp, or via email or dropbox. Besides, you can set the sound you recorded as a ringtone or notification sound and save it. You can also import audio files if you want to replace a sound you already have.
Google Play: Store Link