Are you a plant enthusiast looking for an easy and convenient way to identify different plants? If your answer is yes, you should definitely read this article! In this article, we covered popular free plant identification apps for iPhone, allowing you to effortlessly discover the names and details of various plants with just a few taps on your smartphone. Without further ado, here are the free plant identification apps for iPhone!
Seek by iNaturalist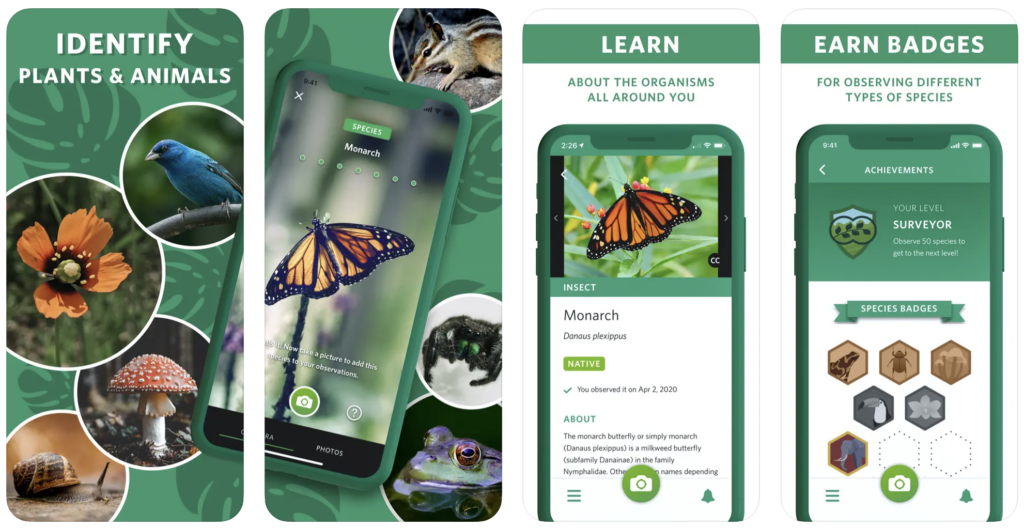 Seek by iNaturalist is an incredible free plant identification app for iPhone that harnesses the power of image recognition technology to help you explore and learn about the flora and fauna around you. With a simple point and scan using the Seek Camera, you can identify various wildlife, plants, fungi, and more. Drawing from a vast database of observations on iNaturalist, Seek provides lists of commonly recorded species in your area, allowing you to expand your knowledge. The app is perfect for families who want to engage in nature exploration together and individuals eager to discover the biodiversity in their surroundings. Seek prioritizes user privacy, and while it offers optional sign-in, no personal data is collected by default. Visit the website of the app to learn more.
Seek by iNaturalist on the App Store
PlantNet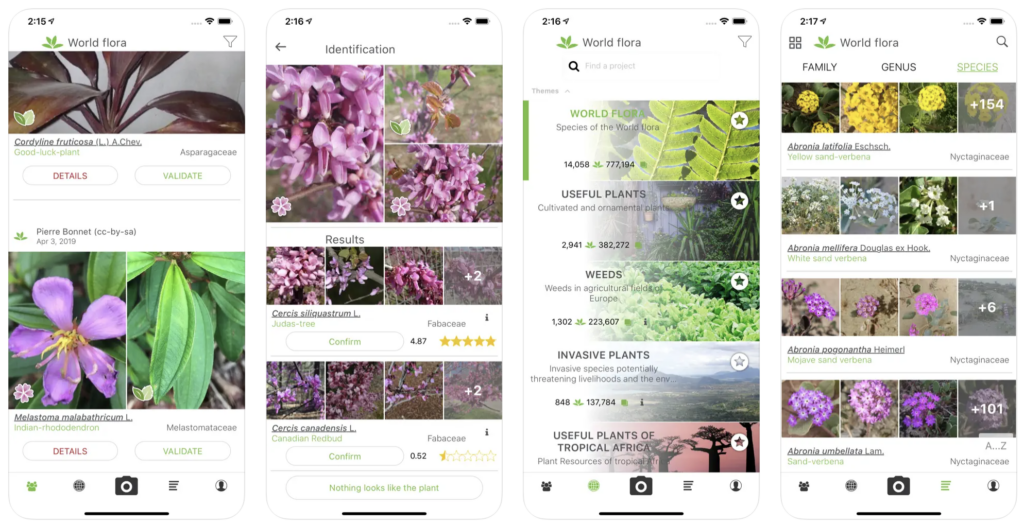 PlantNet is an impressive and free plant identification app for iPhone that empowers users to identify plants through simple smartphone photography. Not only is it a convenient tool for immediate plant recognition, but it also serves as a valuable citizen science project. By contributing plant photographs, users actively participate in a global initiative to enhance their understanding of plant biodiversity and conservation efforts. With a wide range of plant categories covered, from flowering plants to conifers and wild salads, PlantNet offers comprehensive insights into the natural world. The app continually expands its species database, making it a collaborative platform that welcomes contributions from knowledgeable users. Browse PlantNet's website for more detailed information.
---
Also Read: The 6 Best Gardening Apps
---
Planto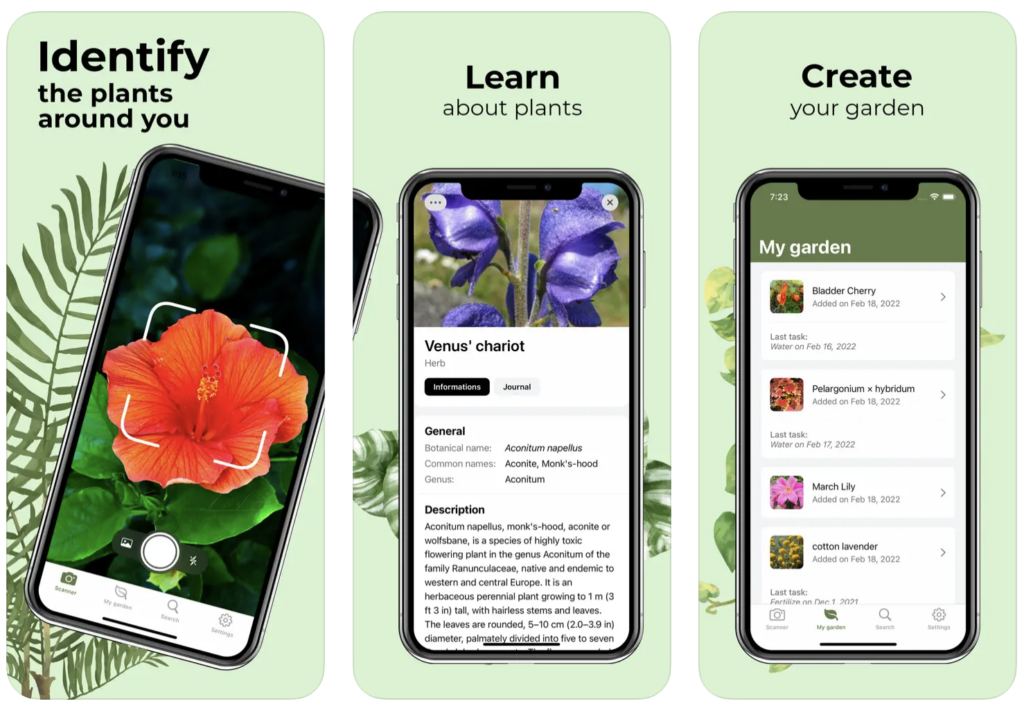 Planto is a remarkable plant identification app that allows you to discover, organize, and learn about the plants surrounding you with ease. Whether you're exploring your garden, a local forest, or even a foreign land, Planto is one of the free plant identification apps on the App Store for effortlessly scanning and identifying plants, flowers, trees, and more. With its comprehensive features, Planto allows users to not only scan and identify plants but also gain in-depth knowledge about their species and taxonomy through expert explanations. The app lets you create a personalized garden, ensuring all your plant information is stored in a convenient place. Users can take care of their plants by accessing valuable insights to maintain their health and exploring an extensive database of over 10,000 plants from around the world.
LeafSnap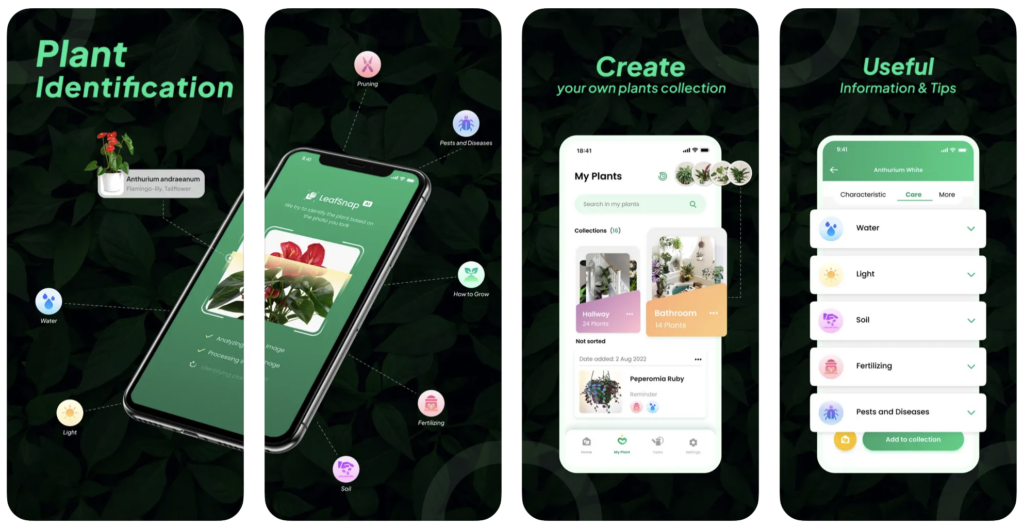 LeafSnap is a wonderful solution for instantly identifying plants around you and gaining insights into their care. It is considered one of the free plant identification apps for iPhone. Instead of spending valuable time searching through websites or consulting gardening experts, simply capture a photo and let this remarkable app do the work for you. LeafSnap boasts an impressive recognition rate, capable of identifying 90% of known plant and tree species worldwide. Its vast plant database constantly learns and adds information on new species, ensuring accurate results. With the app, users can discover and learn about thousands of plants, flowers, fruits, and trees with beautiful pictures from around the world. The app also provides useful features such as plant care reminders, a plant journal to monitor growth, and a care calendar to stay on top of your plant's needs.
LeafSnap-Plant Identification on the App Store
---
Also Read: The 9 Best Light Meter Apps
---
AI Plant Identifier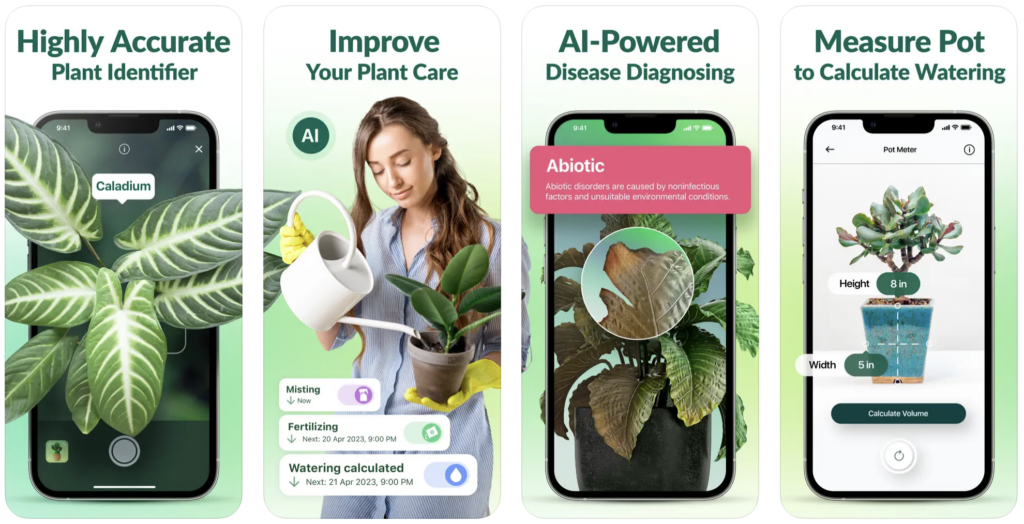 AI Plant Identifier is a terrific app that has a smart assistant for plant care. With a user base of over 6 million, AI Plant Identifier offers a comprehensive range of features to help you take care of your plants effortlessly. Identify over 15,000 natural objects, including plants, mushrooms, rocks, and insects, using the app's powerful recognition technology. Take advantage of the plant doctor feature to identify diseases and find appropriate treatments. Users can access a plant care guide to learn how to make their plants thrive and utilize handy tools like watering schedules, light meters, and pot meters. The app allows users to stay informed with weather notifications and share their plant care schedule using vacation mode. Additionally, users can explore the fascinating world of nature through insightful articles in the app's nature encyclopedia.
AI Plant Identifier – NatureID on the App Store
PlantSnap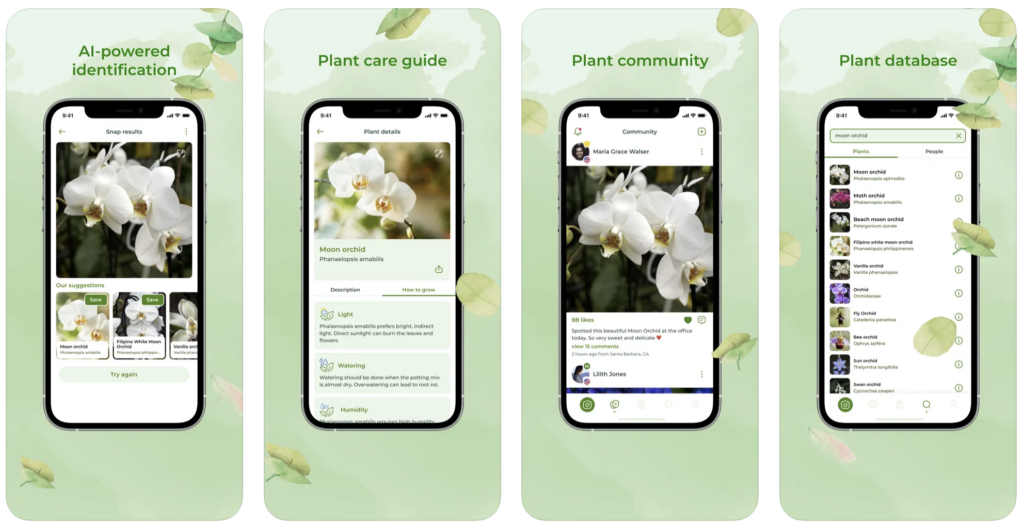 PlantSnap is a fantastic plant identification app, and it ranks among the free plant identification apps for iPhone. The app allows users to instantly identify over 600,000 types of plants, including flowers, trees, succulents, mushrooms, and cacti, simply by taking a picture. With a global database and real-time results, PlantSnap provides comprehensive information about each identified plant, including taxonomy, descriptions, and care instructions. Users can connect with a vibrant community of over 50 million nature lovers worldwide through the PlantSnappers Community, where they can share photos, favorite discoveries, and gardening tips.
---
Also Read: The 7 Best Free Weather Apps for iPhone
---
Plant Identification ++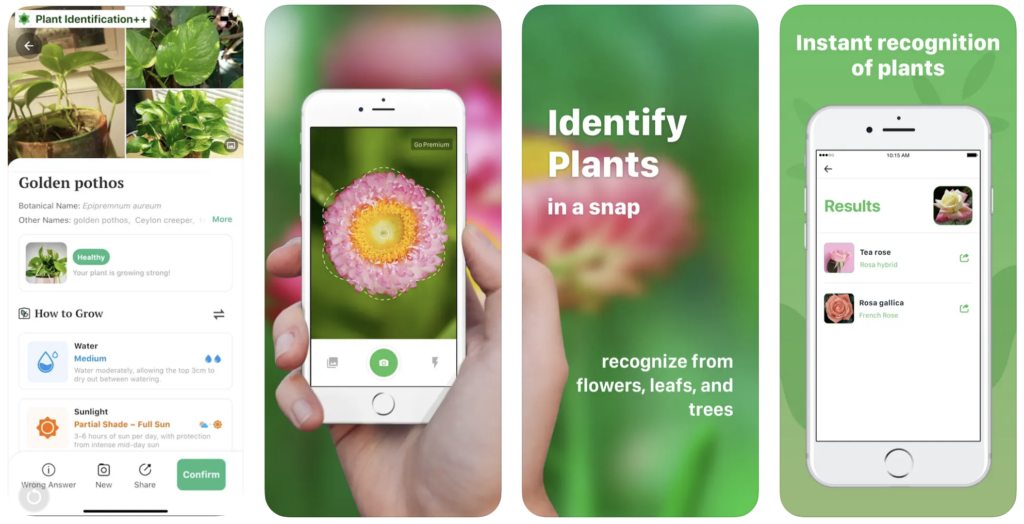 Plant Identification ++ is one of the free plant identification apps for iPhone. Whether you're a gardening enthusiast or simply curious about the plants around you, this app makes plant identification a breeze. Using advanced machine learning algorithms, you can snap a photo or choose one from your library, and the app will quickly identify the plant with incredible accuracy. With a vast database of tens of thousands of plants, flowers, trees, and leaves, you'll have access to detailed information at your fingertips. The app's user-friendly interface and suggested plant lists make it accessible to anyone.
Plant Identification ++ on the App Store