There are more than 390,000 plant species in the world and it is not easy to know or remember the name of a plant or tree we see in any environment. In this list, we have brought together the best plant identification apps that offer a lot of information about a plant you are curious about and recognize plants from the photo you take.
PictureThis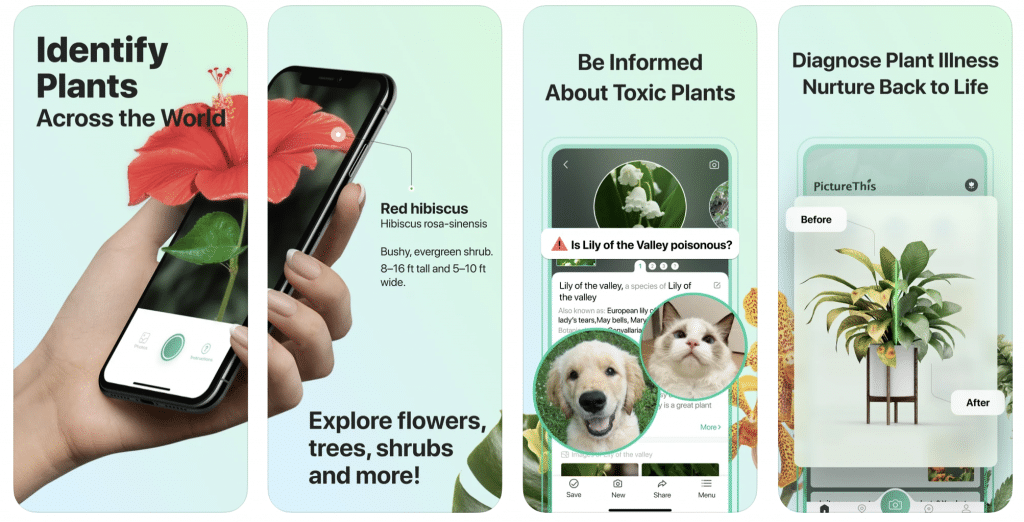 Price: 1-week free trial / $29.99
PictureThis, which tells you which plant it is when you take a photo of the plant whose name you are curious about, does not limit the option to a single plant, and lists similar ones to you in the photograph. Thus, it offers you alternatives for you to choose the right one.
The service offered by the app is not limited to this. When you type the name of a plant that you wonder about its history, meaning, whereabouts, what it looks like, all of this information is listed in front of you in the search bar of PictureThis, which acts as a knowledge base for plants.
As one of the best plant identification apps, PictureThis also allows you to diagnose plant illnesses and get treatment suggestions accordingly. Using the app, you can also set alarms to take care of your plants.
Agrobase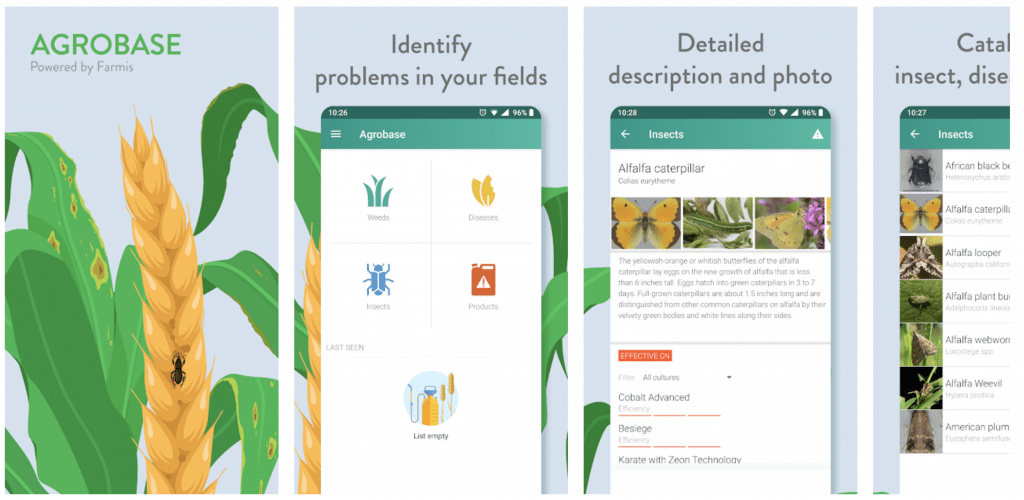 Price: Free
Agrobase, which is an application that mainly focuses on helping agriculturists and farmers, also helps individuals with its wide database and features. Using Agrobase, you can easily detect weeds, plant diseases, insects or pests in your fields and see which protection product will help you solve farming problems.
Helping you identify flowers, crops and other plants with its massive database updated daily, the app will also help you understand what's going wrong with your crops if you're a farmer.
---
Also Read: The 8 Best Apps for Sustainability
---
PlantSnap
Price: Free / Up to $39.99
Having a huge database of plants with more than 600,000 types of plants, including trees, mushrooms, cacti, succulents, and more, PlantSnap is one of the best plant identification apps for both iPhone and Android.
Having also a community of more than 50 million nature lovers in over 200 countries, PlantSnap also allows you to share your discoveries, and discover photos and posts of rare plants, flowers, trees, leaves, and much more.
After identifying plants, you will have information about its taxonomy and a complete description about the plant, orchid, indoor plant, ornamental plant, exotic flower and more. PlantSnap also tells you how to care for and grow plants.
You can use the Search function to find information about a plant whose name you know, or you can use the Explore function to discover a plant anywhere in the world.
PlantNet
Price: Free
With its database of more than 20,000 plant species, PlantNet is one of the most popular plant identification apps, allowing you to quickly get information about a plant you have photographed via your smartphone.
The app, which allows you to identify leaves, flowers, fruits and even bark, also allows filtering recognized species by family or genus. The multi-flora identification, which allows you to search for the photographed plant not only in the plant you selected, but in the entire flora of the app, is very useful, especially if you are not sure which flora to search for.
---
Also Read: The 6 Best Astrology Apps
---
Seek by iNaturalist
Price: Free
Seek, a joint initiative of the National Geographic Society and the California Academy of Sciences, is one of the best free plant identification apps. In addition, the successful app that aksı allows you to discover birds, amphibians, insects and other species is an app that can be safely used by children as it is registration-free and does not collect user data.
---
Also Read: The 6 Best Gardening Apps
---
FlowerChecker
Price: Free / Up to $15
As one of the most popular plant identification apps, FlowerChecker provides a service where an expert tells you what a picture of a flower you took is. One plant identification in the app costs about $1, as the money goes to the expert that answers your question. The good news is you'll get three identification credits for free as a trial.
FlowerChecker on the App Store