Do you like to write? Have you ever wondered where writers who write magazines, blogs, and books get their inspiration? With the development of technology, today's writers can write anywhere, anytime with their phones, tablets, and computers. Sometimes a cafe, a park, or even a child can be enough to get inspired, just take out one of your smart devices to take notes before you forget. But what apps are the best for iPad? While you wait for your muse, we have listed the best writing apps for iPad for you.
iA Writer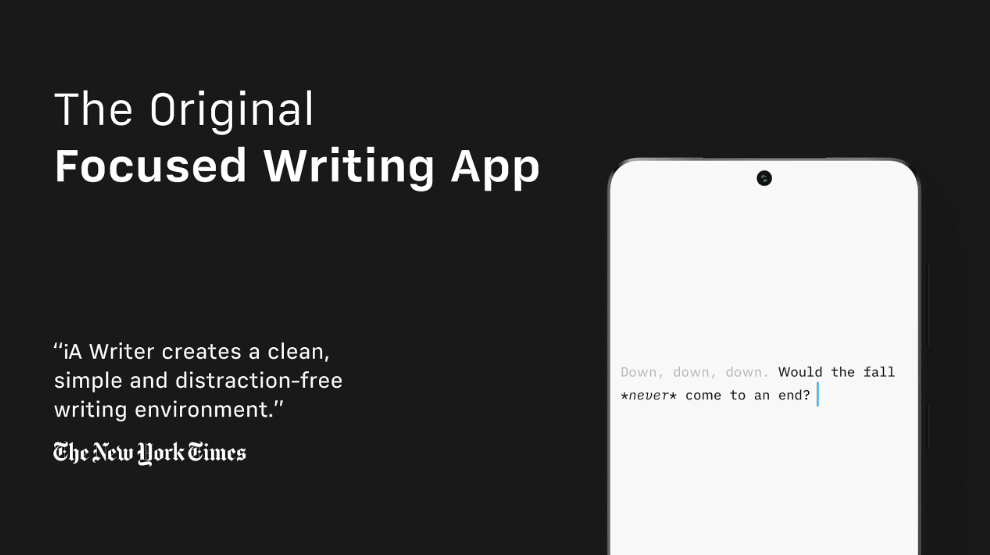 Price: $49.99
Extremely easy to use, iA Writer eliminates distractions and helps you focus. With its style, features, and ease of use, iA Writer is the indispensable app for writers and ranks first among the iPad apps for writers. Start typing in plain text without getting stuck with the format, then preview it in HTML. 
Also, the app focuses on the current sentence, word, or paragraph and obscures the rest with focus mode. iA Writer allows writers to choose their layout, it's up to you to rearrange your keys or choose new ones from the extensive list! You can start the frequently used operations in iA Write from the search field, and the app detects unnecessary adjectives, weak verbs, repetitive nouns, and wrong conjunctions and offers authors the opportunity to write correctly.
Moreover, whenever you want to work day or night, this app provides writers a comfortable working opportunity with an inverted light mode in the dark. When you want to export your articles Customize your Templates and export them as WordPress or Medium, HTML, Microsoft Word (.docx), or PDF. In addition, you can visit iA Writer's website for more detailed information.
---
Also Read: The 7 Best Note Taking Apps for iPad
---
MS Word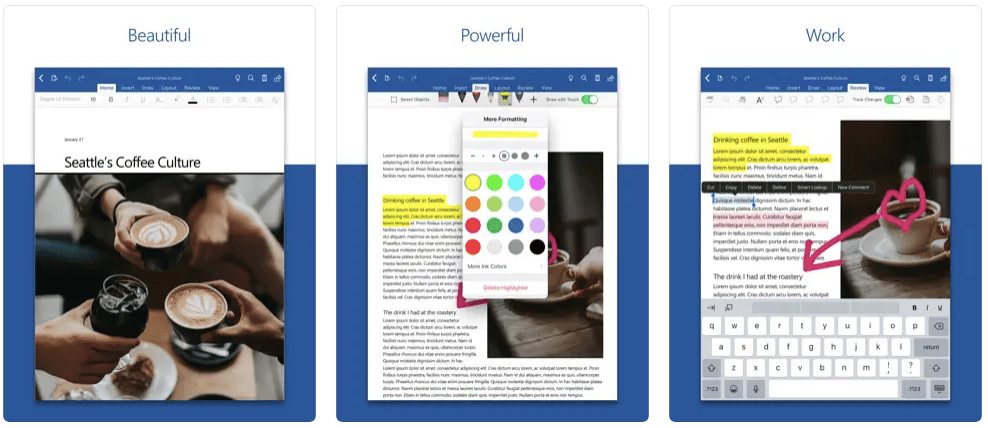 Price: Free
Discover this powerful word processing app from Microsoft on your iPad. Enjoy writing your articles with beautifully designed modern templates. Use the app's rich formatting and layout options for projects, assignments, novels, letters, blog posts, screenplays, and more. Submitted documents remain intact in their format and layout, and appear as they should on any device.
Furthermore, collaborate anywhere with MS Word. Share your thoughts with your colleagues or project team by commenting on documents and staying informed of changes to text, layout, and formatting.
---
Also Read: The 7 Best To Do List Apps for iPhone
---
Scrivener

Price: $19.99
Scrivener is one of the best writing apps for iPad with extensive features, especially for iPad. Specially designed Scrivener allows you to compose your text in the order you want, in large or small sections as you want. Write when inspiration strikes, and Scrivener will guide you! Meticulously outline, identify and reconstruct every detail. The app offers the ability to import Word, RTF, Final Draft, and plain text files and easily divides the imported text into sections.
Additionally, you can view all chapters as a single text with the "Draft Explorer" (iPad only). Quickly navigate sections and format your texts with fonts and presets with the "Linker" sidebar in the app. Take notes for yourself and your teammates with comments, footnotes, links, and highlights. The customizable keyboard row in the app allows you to type in your style faster. Discover your writing style with Scrivener! Plus, Check out Scrivener's website for detailed information.
---
Also Read: The 7 Best Drawing Apps for iPad
---
Ulysses

Price: Free
Ulysses offers writers an enjoyable focused writing experience with features such as effective document management, smooth synchronization, and flexible export. Ulysses' uniquely streamlined toolset covers the entire writing process. The focusing problem will disappear with the clean and simple interface of Ulysses. Ulysses keeps you in the flow, so you can fully immerse yourself in the text from the first draft to the last.
Furthermore, the app stores content you're about to write, such as novels, diaries, or study notes, in Ulysses' Unified Library. What you type is automatically synchronized and saved. Misspellings are minimized with Ulysses' integrated grammar and style checking. The app provides informed suggestions and guides writers.
Moreover, the app has an easy publishing feature for WordPress, Ghost, Medium, and Micro.Blogs. Ulysses offers a built-in preview of the fix before shipping for all four of them. Create eBooks, DOCX, PDFs, and HTML for export based on your use case. Plus, for more information visit the app's website.
1Writer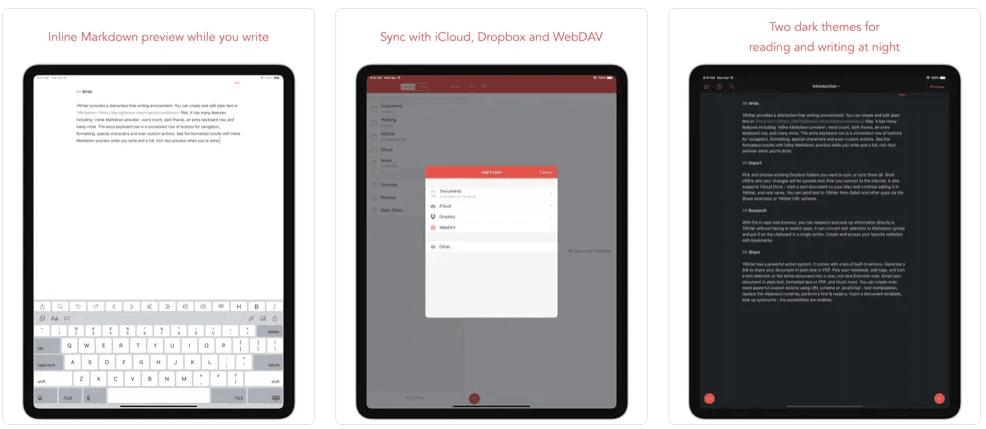 Price: $4.99
1Writer covers all the basic text editing features you would expect. It is a successful typing app for typing your ideas with maximum efficiency, so it is just one of the best iPad apps for writers. Use the app's handy extended keyboard for navigation, formatting, and special characters, and type flawlessly with the app's full, rich-text preview.
Moreover, sync with iCloud, Dropbox, and WebDAV for importing. Create or modify text directly from other apps using the 1Writer URL scheme. To share text, share your document as plain text or PDF.
Additionally, the app has two dark themes and 20 different fonts. Writers can shape the app according to their style. Also, 1Writer has Touch ID/Face ID for those who want to create more secure documents. For more info, visit the app's website.
---
Also Read: The 10 Best Apps for Apple Pencil
---
Byword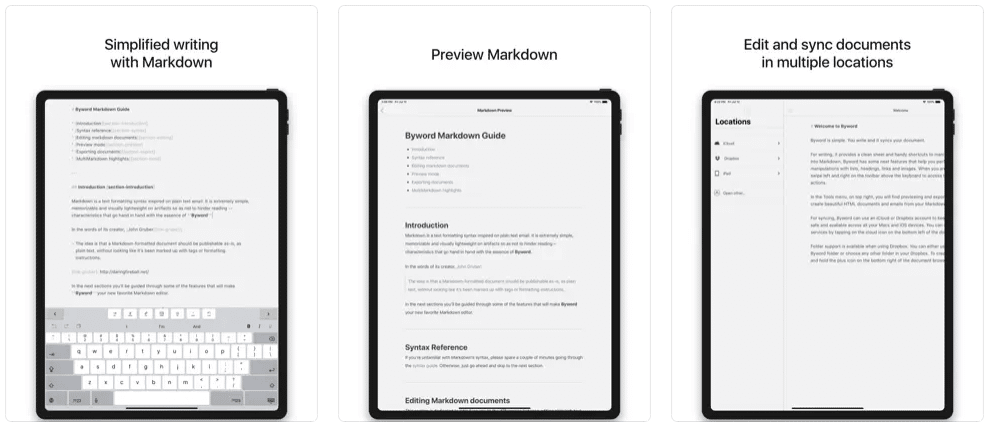 Price: $5.99
Designed to make it easier to write with Markdown, Byword is among the best writing apps for iPad.Text documents can be synchronized on your Mac, iPhone, and iPad devices by Byword. Documents are always accessible in offline mode. Byword offers an alternative dark theme for extra comfort in low light conditions for writers who write for hours.
In addition, Byword provides the most complete support for Markdown, including footnotes, tables, and cross-references. Writers can export their documents to PDF and HTML documents and publish them on Medium, WordPress, Tumblr, Blogger, and Evernote with the Byword. Also, browse the app's website for more information.