Nowadays, artificial intelligence has become an integral part of our lives, especially when it comes to swiftly seeking answers through written communication. In this context, apps based on ChatGPT provide users with the capability for rich and intelligent text generation to meet all kinds of needs.
In this article, we focused on a specialized category of applications titled "The Best Chatgpt Apps." These apps offer more than just writing; they encompass answering questions, creating images, and much more. Keep reading to discover which app might be the most suitable for you!
AI Chatbot – Nova
Price: Free/In-App Purchase: Up to $69.99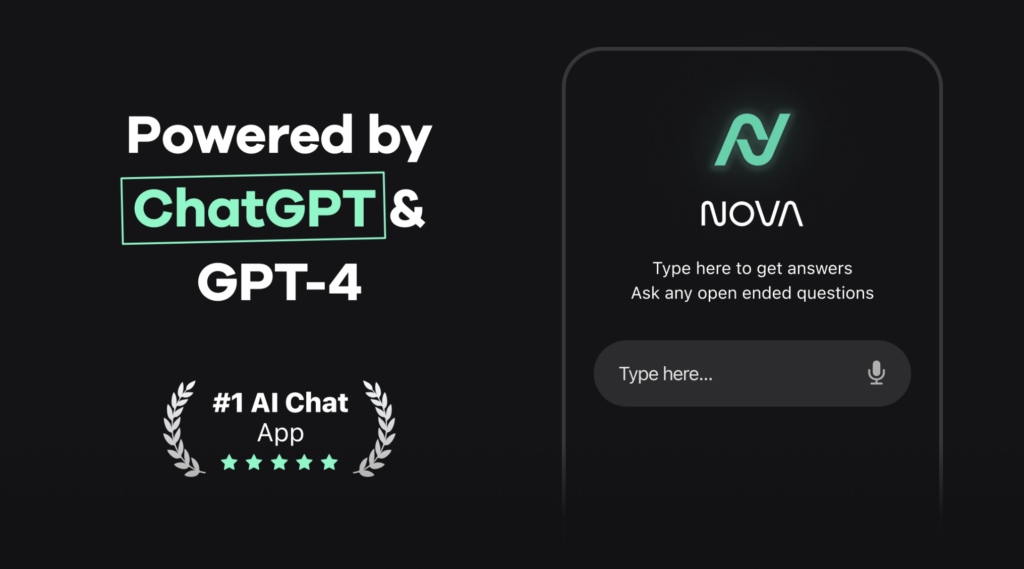 Nova is a groundbreaking AI chatbot powered by ChatGPT, GPT-3, and GPT-4. With its advanced AI technology, Nova can understand your questions and respond with human-like precision, creating a conversation that feels like chatting with a knowledgeable friend. It even goes the extra mile by recommending books or movies. Nova AI is your go-to cross-compatible ChatGPT client, making OpenAI's latest chat technology accessible across devices.
Moreover, it's the ultimate AI companion, offering unlimited questions and answers, support for 140+ languages, and the ability to have dialogs with the AI. Nova AI also serves as your AI writing assistant, helping you with various writing projects, from social media posts to poems. With its AI copywriter and content writer capabilities, Nova unleashes your creativity and ensures your text is polished and error-free. Whether you need amusement, advice, or a simple chat, Nova AI is there for you, providing human-like responses and recommendations, and it is one of the best ChatGPT apps. Visit Nova's website to learn more.
ChatOn – AI Chat Bot Assistant on Google Play
ChatOn – AI Chat Bot Assistant on the App Store
Frank: AI Chat Assistant
Price: Free/In-App Purchase: Up to $179.99

Meet Frank, the AI Chat Assistant that goes beyond GPT and GPT-3. Frank utilizes the latest AI technologies, built on top of ChatGPT's newest APIs, to deliver a blazingly fast and powerful AI experience, and it stands out among the best ChatGBT apps. Whether you need high-quality essays in seconds, stunning AI-generated art, code explanations, language translations, personalized content, or even help with your resume and cover letter, Frank has you covered. It's your versatile AI companion for any task, including generating summaries, translating text, and much more. Frank ensures you get accurate and relevant answers, whether you use text or voice input. With Frank, you can enhance your writing, coding, and creative skills effortlessly. Go to Frank's website to learn more.
Frank: AI Chat Assistant on Google Play
Frank: AI Chat Assistant on the App Store
---
Also Read: The 8 Best AI Chatbot Apps
---
Genie – AI Chatbot Assistant
Price: Free/In-App Purchase: Up to $129.99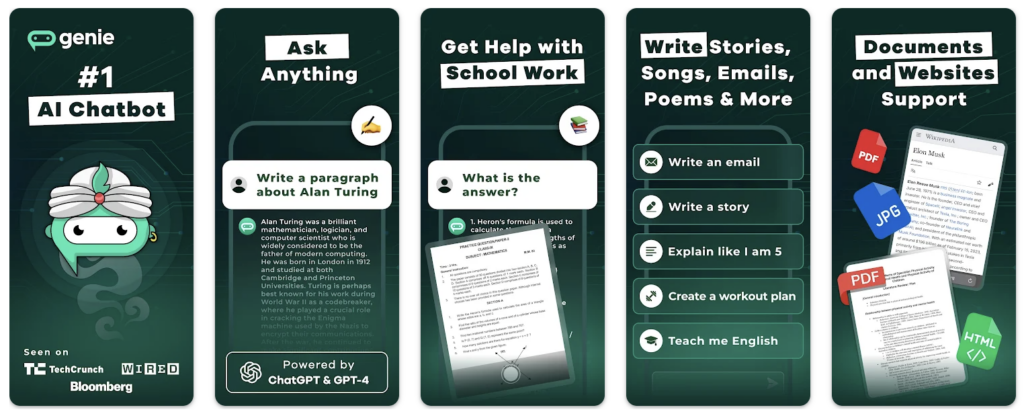 Discover a new era of communication and productivity with Genie, the revolutionary AI chat and chatbot powered by ChatGPT, GPT-4, and GPT-3. Genie does it all, from writing stories, poems, and song lyrics to answering your burning questions. This personal AI assistant is designed to cater to your diverse needs. The app provides accurate and insightful answers, interprets images, simplifies complex text, and even adds PDFs and web links to your conversations. Genie is your all-in-one AI companion, capable of generating content, summaries, code explanations, and more. It's not just a chatbot; it's your creative partner, authenticity booster, math guru, expert coder, and much more. With Genie, you can unleash your full potential, improve your writing skills, and access a wealth of knowledge effortlessly.
Genie – AI Chatbot Assistant on Google Play
Genie – AI Chatbot Assistant on the App Store
Aico
Price: Free/In-App Purchase: Up to £7.99
Aico is your voice-activated AI-powered chat companion, designed to provide real-time answers to your questions, and it is considered among the best ChatGPT apps. Using natural language processing and deep learning, Aico understands your queries and offers relevant information while suggesting related topics. With its user-friendly interface, Aico makes information retrieval effortless. Keep in mind that Aico is not connected to the internet and may occasionally produce incorrect responses, so verifying answers is recommended. Aico also offers AI-powered writing assistance, including generating content, writing essays, crafting product descriptions, and more. Whether you're looking for answers or creative service, Aico has you covered. Explore Aico's website to learn more.
---
Also Read: The 12 Best AI Apps for Android
---
Chatsonic
Price: Free/In-App Purchase: Up to $9.99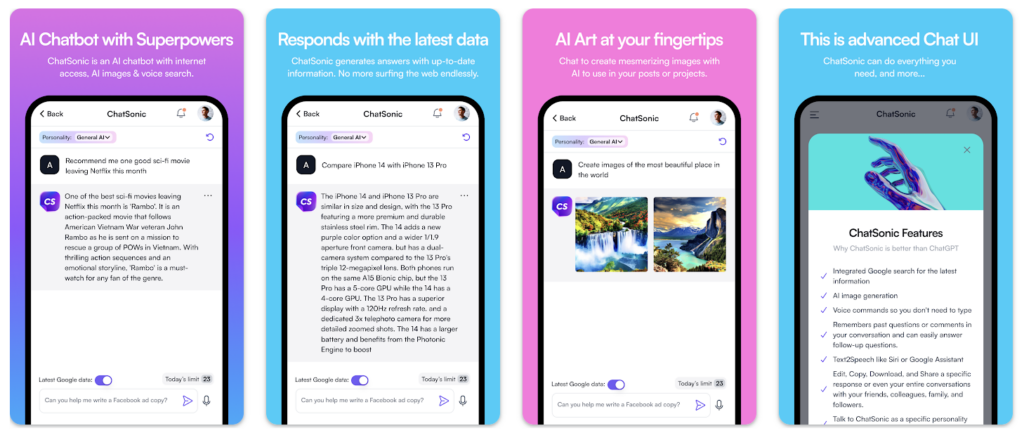 Regarding AI chatbots, Chatsonic stands out as a remarkable choice. Powered by ChatGPT, GPT-3.5, and GPT-4, Chatsonic offers more than just chat. It integrates Google search to provide up-to-date information on current affairs, making it your go-to source for staying informed. Additionally, Chatsonic creates captivating digital art and paintings, responds to voice prompts, remembers previous chat interactions, allows you to share chat logs, and even lets you engage with personalized avatars. Chatsonic goes above and beyond, offering a comprehensive AI chat experience that surpasses its competitors. Whether you seek the latest news, artistic inspiration, or interactive conversations, Chatsonic has it all.
Alissu: Chat with AI
Price: Free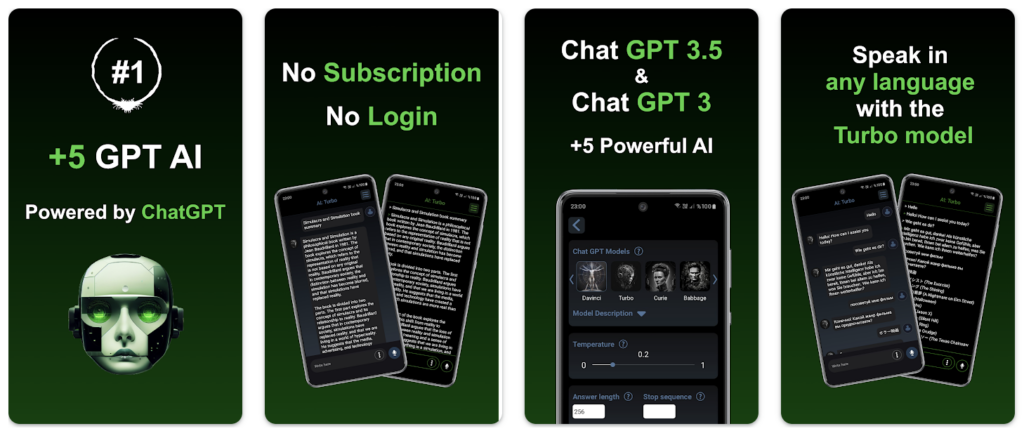 Alissu introduces you to the incredible capabilities of ChatGPT-3 and ChatGPT-3.5 AI models, powered by OpenAI. This user-friendly app allows you to access these AI models, communicate with them, and utilize features like voice-to-text conversion, conversation saving, and model customization. Keep in mind that Alissu is not Chat GPT, nor is it officially partnered with OpenAI, but it uses OpenAI's API to provide access to cutting-edge AI technologies. With Alissu, you can ask questions, engage in open-ended conversations, generate essays, simplify text, and perform various other tasks. It's your gateway to the world of AI, enhancing your productivity and creativity.
Alissu: Chat with AI on Google Play
Alissu: Chat with AI on the App Store
---
Also Read: 10 Free AI Apps for iPhone
---
Al Chat – Chatbot AI Assistant
Price: Free/In-App Purchase: Up to $69.99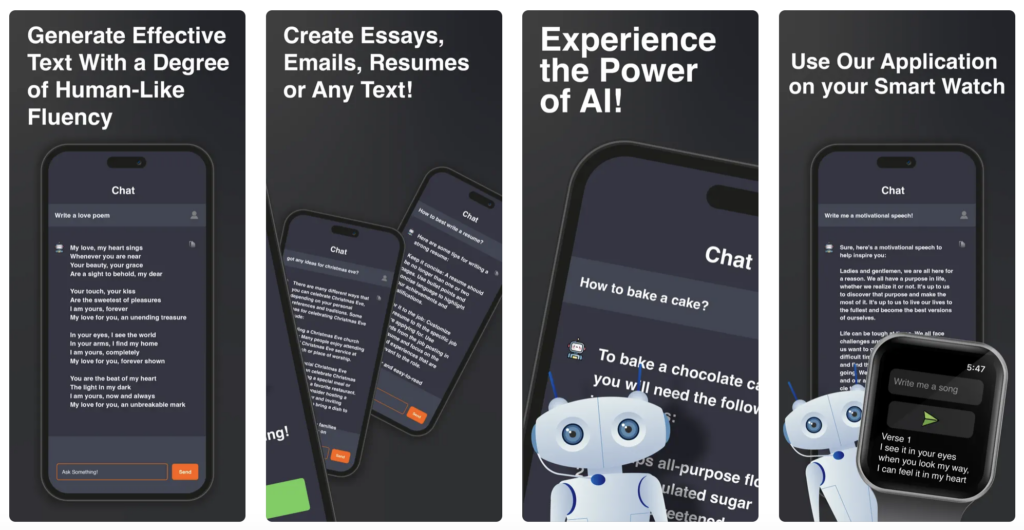 Al Chat, powered by ChatGPT, GPT, GPT-4, and GPT-3, is your ultimate AI assistant for unlimited writing tasks. Al Chat has you covered, whether you need help with essays, songs, paragraphs, poems, or any other writing project. This AI app offers seamless conversations, chat history access, image generation, and versatile AI capabilities. It's compatible with various access points, including keyboard extensions, Safari integration, Siri shortcuts, Apple Watch compatibility, iMessage integration, and more. Al Chat provides you with a wide range of features, making it an indispensable tool for writers, coders, professionals, and anyone in need of AI assistance.
Al Chat – Chatbot AI Assistant on the App Store