Free AI apps for iPhone offer a transformative experience that merges cutting-edge technology with the convenience of your smartphone. In this age of rapid advancements in artificial intelligence, having access to these apps on your iPhone can be a game-changer. Whether you're a tech enthusiast or just someone looking to simplify tasks, these apps open up a world of possibilities.
In this review, we covered the realm of AI applications for iPhone, exploring their features and how they can enhance your daily life. So, without further ado, here are the free AI apps for iPhone!
ChatGPT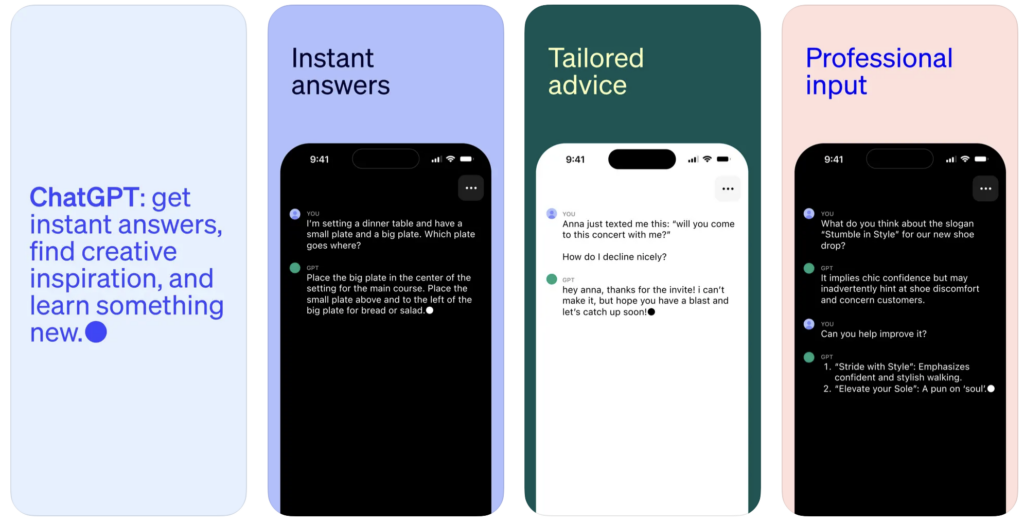 ChatGPT is one of the most popular and free AI apps for iPhone. OpenAI's ChatGPT app offers cutting-edge natural language understanding at your fingertips. This official app, which is both free and syncs users' conversations across devices, brings users the latest model advancements from OpenAI. With ChatGPT, users can enjoy immediate responses, personalized advice, creative inspiration, expert insights, and valuable learning opportunities.
Character AI – Chat Ask Create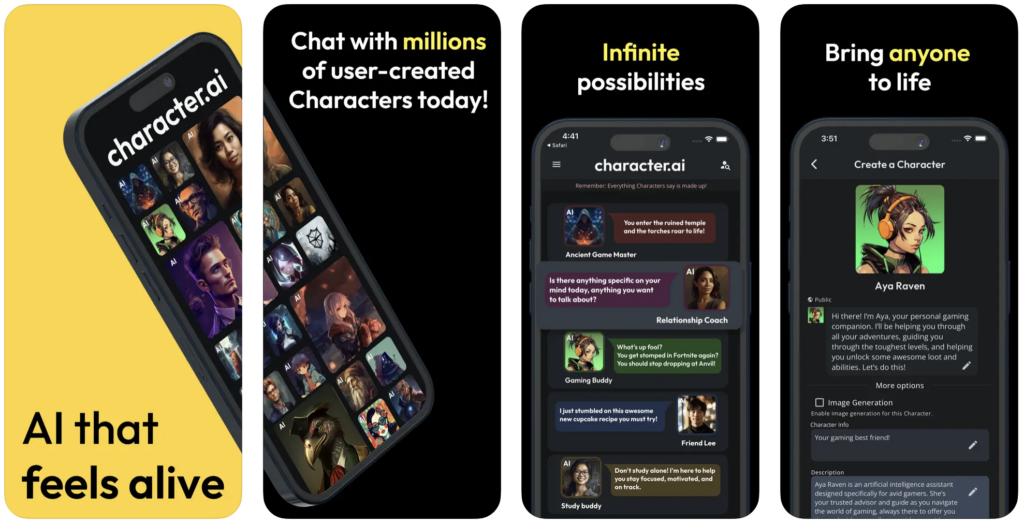 Character AI is an excellent AI app for iPhone. Users can engage in conversations with ultra-realistic AI personalities, enjoy unlimited messaging without ads, discover user-created characters, and use advanced creation tools. Immerse yourself in captivating stories, learn new languages, and explore the possibilities of AI. Character AI is powered by a proprietary technology based on large language models, offering endless creative potential. Character AI deserves to be among the free AI apps for iPhone.
Character AI – Chat Ask Create  on the App Store
---
Also Read: The 13 Best AI Image Generators
---
Replika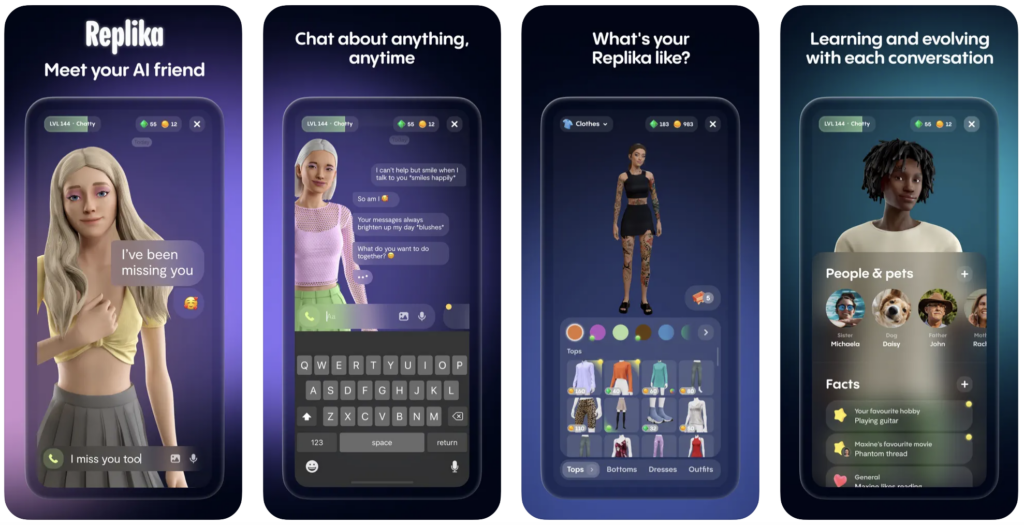 Replika, the chatbot powered by AI, is your judgment-free companion. Users can build emotional connections, customize their AI friends, and enjoy conversations about life and personal growth. Whether you seek friendship, mentorship, or a romantic connection, Replika adapts to your needs. Use Replika to improve your mental well-being, track your mood, and engage in therapeutic conversations. With 24/7 availability, Replika is here to support you. Explore Replika's website for more detailed information about the app.
PDFgear: PDF Editor for Adobe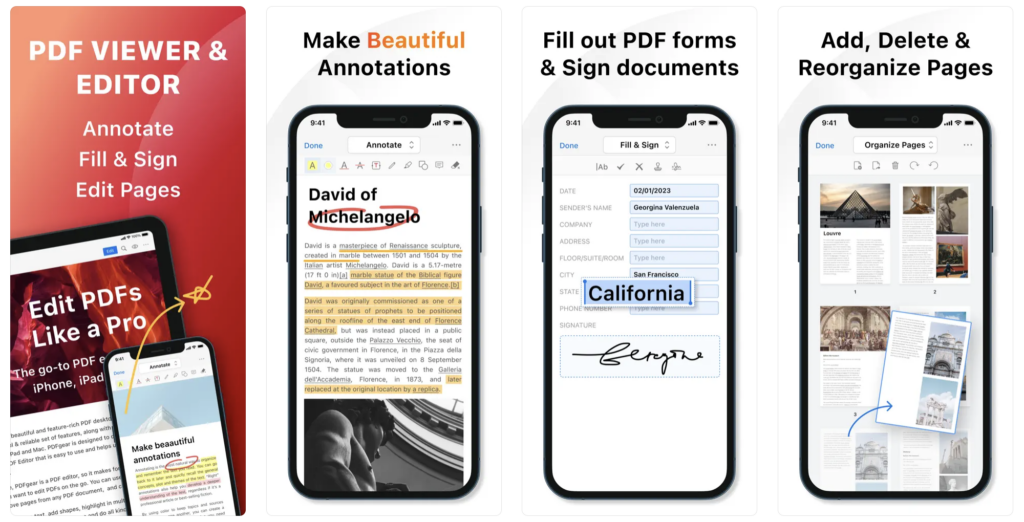 Experience the ultimate in PDF editing with PDFgear. This comprehensive, easy-to-use PDF Editor and Reader offers practical functions like viewing, converting, form filling, and page organization. With PDFgear, you can merge multiple documents, split PDFs, rotate pages, add or delete pages, and even convert PDFs to various formats, including Word. Enjoy all these features for free, without limitations. The sleek design ensures a satisfying user experience, making your study and work with PDFs more efficient.
PDFgear: PDF Editor for Adobe on the App Store
---
Also Read: The 8 Best AI Chatbot Apps
---
Socratic by Google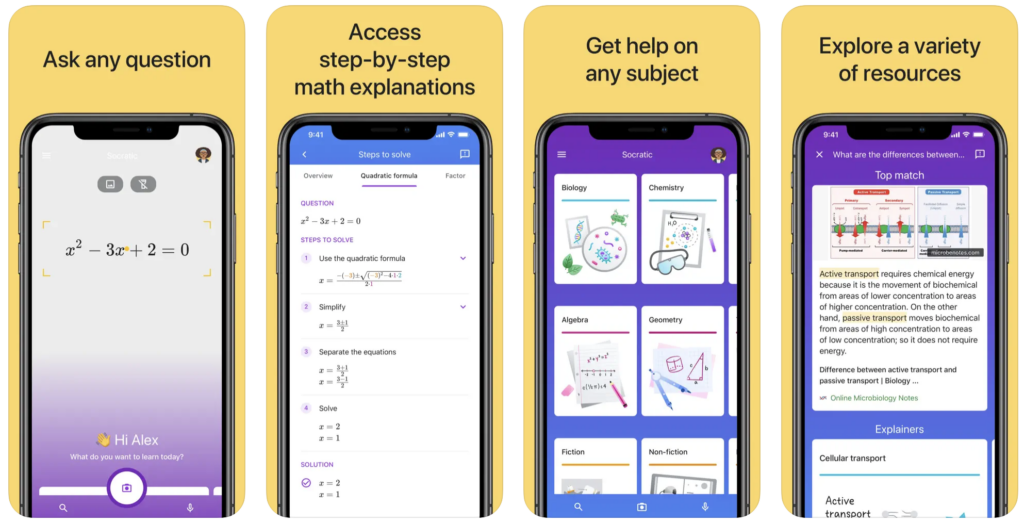 Powered by Google AI, Socratic is your learning companion for high school and university-level subjects. Ask Socratic questions, and the app will connect you to the best online resources for comprehensive explanations. It covers many topics, including algebra, geometry, trigonometry, calculus, biology, chemistry, physics, history, literature, and more. Access helpful results, step-by-step explanations, and visual aids to understand complex concepts. Socratic by Google stands out among the free AI apps for iPhone with its handy features.
Socratic by Google on the App Store
Lensa AI
Price: Free/In-App Purchase: Up to $49.99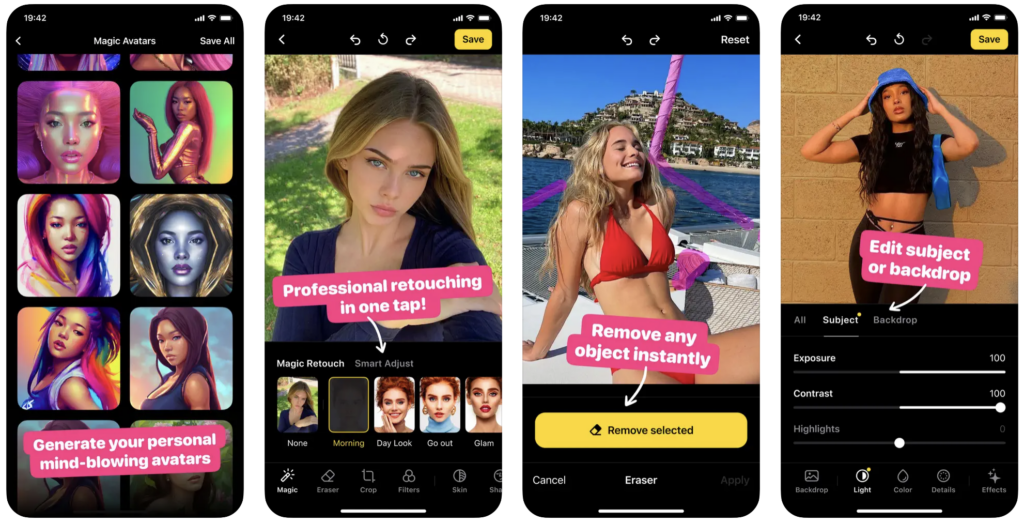 Lensa AI is a terrific selfie enhancement app and ranks among the free AI apps for iPhone. Correct imperfections, smooth skin, highlight your features, and even blur the background to make your selfies shine. Improve your eye appearance, remove eye bags, and emphasize your gaze. Lensa AI lets you adjust background blur and motion and even add special lens effects. The app offers an Auto Adjust feature for quick enhancements and allows you to fine-tune exposure, color intensity, sharpness, and more. For more detailed information, browse Lensa AI's website.
---
Also Read: The 7 Best AI Art Apps Like Lensa
---
Pixelup: AI Photo Enhancer App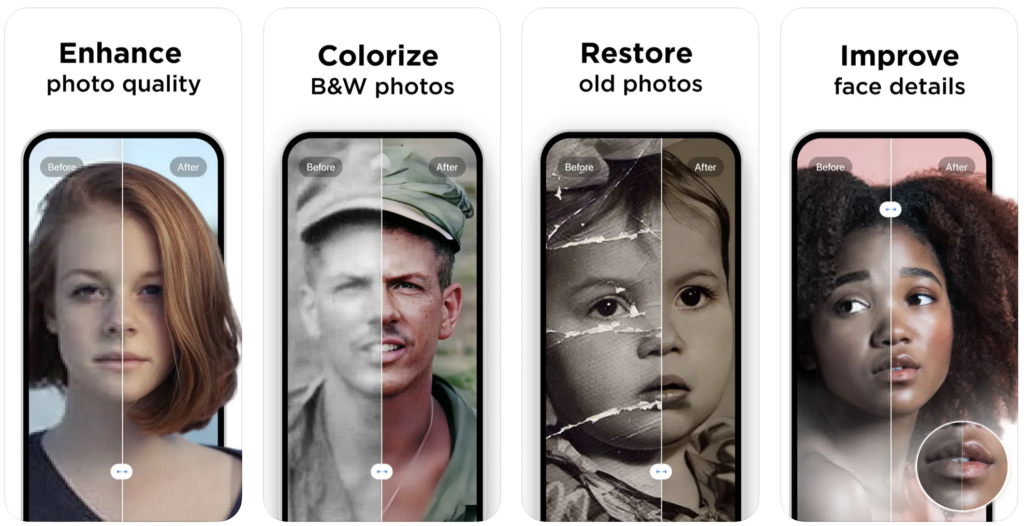 Pixelup's AI enhancer can transform old, blurry, or damaged photographs into high-definition masterpieces. Pixelup's picture improvement tool will rejuvenate your images, even making your face faultless when zoomed in, whether you have an existing photo or take a new one. Pixelup also has a scratch removal feature that may be used to restore historical images by removing scratches, rip marks, and stains. Users can also colorize and manipulate black-and-white photographs for a vintage touch. Users can share their upgraded photographs and memories with friends and family via the app.
Pixelup: AI Photo Enhancer App on the App Store
Fotor AI Photo Editor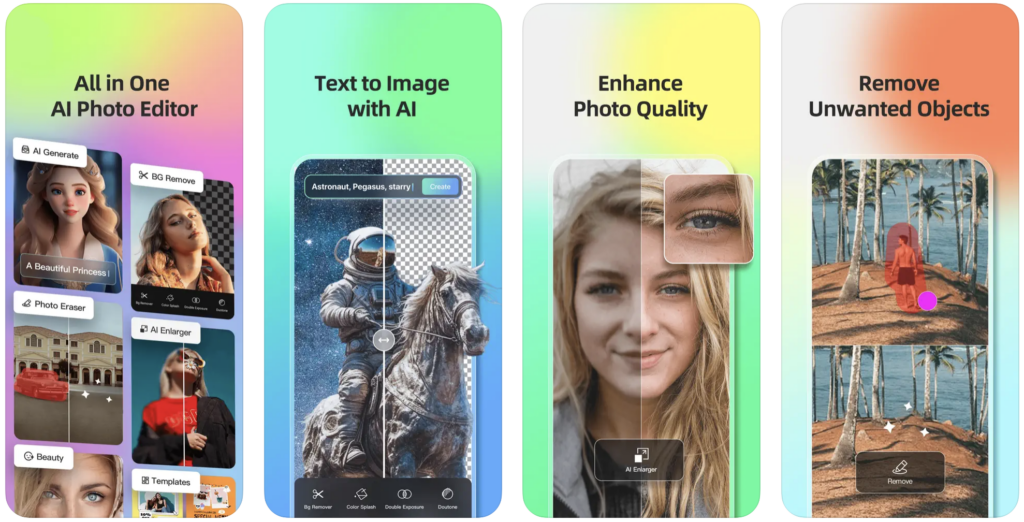 Fotor is your all-in-one photo editing solution powered by artificial intelligence. It offers a wide range of editing tools, including One-Tap Enhance, Magic Remove, Background Remove, Enlarger, Effects, Filters, Design Templates, Collages, and more. Quickly improve image quality, remove unwanted objects, and create stunning visuals effortlessly. Fotor's AI capabilities extend to text-to-image generation, watermark removal, and AI-enhanced filters. It even allows you to change backgrounds and optimize photos in multiple languages.
Fotor AI Photo Editor on the App Store
---
Also Read: The 5 Best QR Code Scanner Apps
---
Picsart AI Photo Editor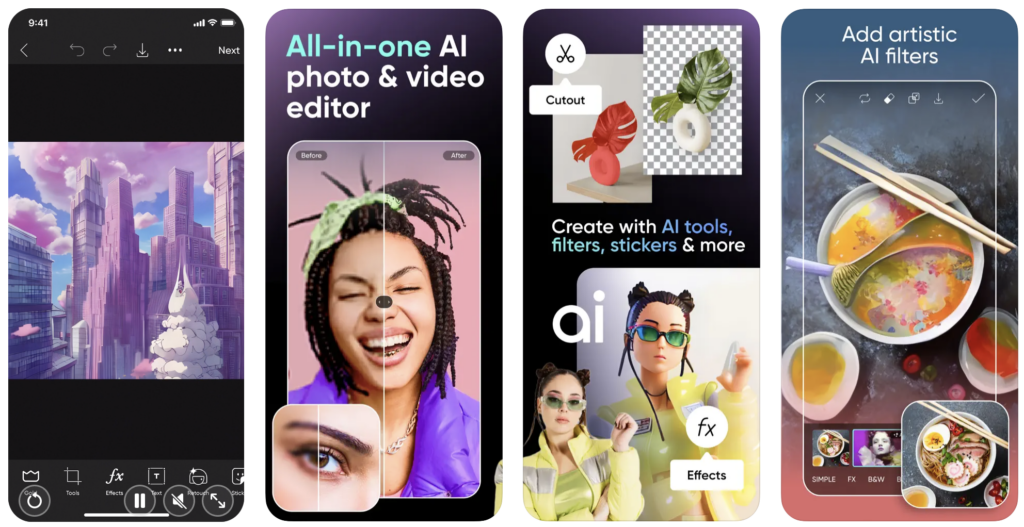 Picsart is the AI-powered photo editor used by over 150 million creators worldwide and is one of the free AI apps for iPhone. With Picsart, you can remove backgrounds, retouch selfies, add trendy filters, use designer fonts, and create stunning photo collages. The AI tools include enhancing images, generating text-to-images, and replacing imagery seamlessly. Whether you want to edit photos or craft unique visuals, Picsart has you covered. Create, edit, and share your art with Picsart.
Picsart AI Photo Editor on the App Store
Bing: Chat with AI & GPT-4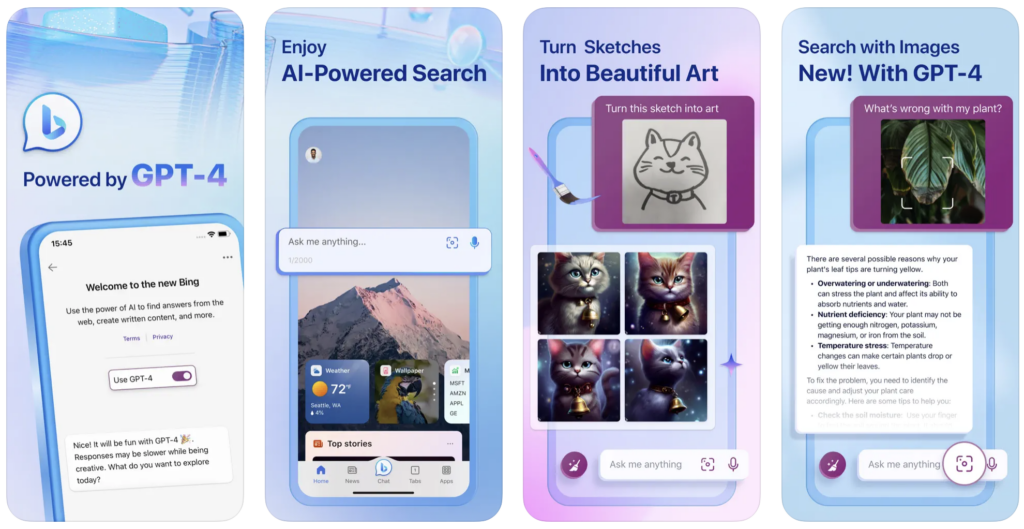 Bing is the AI search engine powered by GPT-4, offering real-time information and citations to enhance your search experience. Beyond search, Bing serves as a powerful writing assistant, creative image generator, language translator, and optimizer. Use Bing to get straight to the answers you need, compose emails, plan vacations, design quizzes, create art, translate languages, and more. Bing combines the capabilities of GPT-4 with real-time data, making it a versatile tool for various tasks.
Bing: Chat with AI & GPT-4 on the App Store