Are you ready to elevate your Android tablet experience to unprecedented heights? In the vast landscape of digital possibilities, the choice of a launcher can significantly impact how you interact with your device. Join us as we navigate through the realm of "The Best Launchers for Android Tablet," unraveling the features and nuances that set each apart. Whether you seek heightened customization, enhanced functionality, or a visually stunning interface, our exploration aims to guide you toward the launcher that aligns perfectly with your preferences. Which launcher will redefine the way you engage with your tablet, unlocking new dimensions of productivity and personalization? The answers lie within our in-depth analysis, designed to assist you in making an informed and satisfying choice for your Android tablet experience. Without further ado, here are the best launchers for Android tablet!
Nova Launcher
Price: Free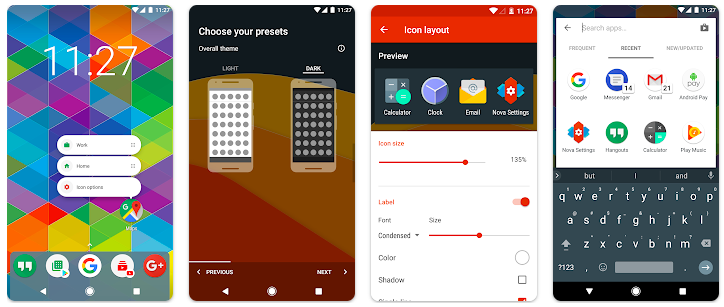 Free and feature-packed, Nova Launcher stands out as a top-tier home screen replacement. With customizable icon themes, night mode, and a versatile app drawer, Nova brings a seamless, user-friendly experience to the forefront. The Prime version unlocks advanced features like gestures and app drawer groups, making it a powerhouse for customization enthusiasts. Go to Nova Launcher's website to learn more details about the app.
AIO Launcher
Price: Free/In-App Purchase: Up to $9.99
AIO Launcher redefines simplicity without compromising information accessibility, and it stands out among the best launchers for Android tablet. Its minimalist interface showcases vital details, from weather and notifications to calendar events and system monitoring. With customizable themes, gestures, and an array of widgets, AIO Launcher crafts a tailored, efficient user experience.
---
Also Read: The 14 Best Android Tablet Apps
---
Microsoft Launcher
Price: Free

Microsoft Launcher transcends traditional home screens, offering a highly customizable platform for Android tablets. Boasting a personalized feed, dark mode, and integration with Microsoft services, this launcher transforms your tablet into a productivity hub. Gestures and intuitive organization further solidify its position among the best launchers for Android tablet.
Microsoft Launcher on Google Play
Niagara Launcher
Price: Free/In-App Purchase: Up to $29.99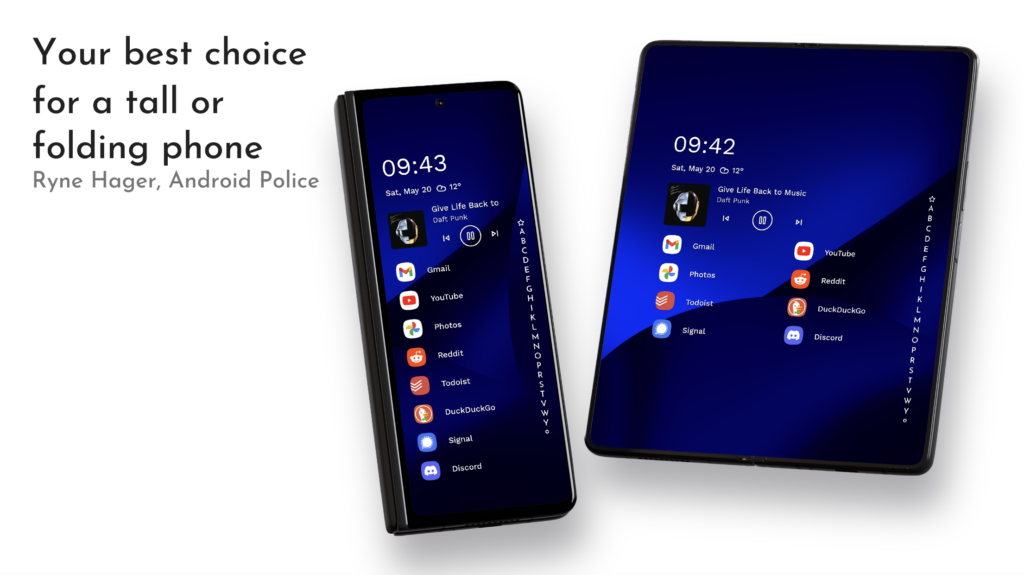 Niagara Launcher revolutionizes navigation with its ergonomic design, ensuring everything is accessible with one hand. The adaptive list, wave alphabet, and embedded notifications redefine how you interact with your tablet. Ad-free and lightning-fast, Niagara is a minimalist's dream, emphasizing focus and efficiency. To learn more about the app, visit Niagara Launcher's website.
Niagara Launcher on Google Play
---
Also Read: The 12 Best Tablet Games for Adults
---
POCO Launcher 2.0
Price: Free
Designed for speed and aesthetics, POCO Launcher 2.0 combines high performance with a sleek design. Its minimalist approach organizes apps in the app drawer, allowing for a clean home screen. With features like convenient search, app management, and privacy controls, POCO Launcher adds a touch of sophistication to your tablet, and it ranks among the best launchers for Android tablet.
POCO Launcher 2.0 on Google Play
Hyperion Launcher
Price: Free/In-App Purchase: Up to $1.99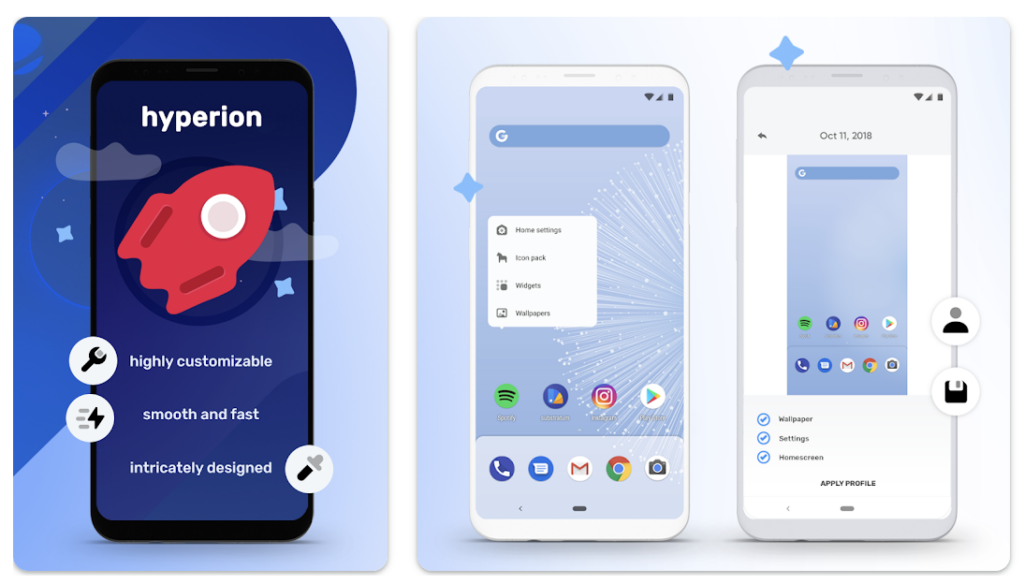 Hyperion Launcher is a testament to a feature-rich yet bloat-free Android experience. With extensive theming options, adaptive icon shaping, and a robust interface, Hyperion brings a unified and streamlined encounter. Custom gestures, animations, and grid configurations offer unparalleled personalization, and it is considered one of the best launchers for Android tablet.
Hyperion Launcher on Google Play
---
Also Read: The 11 Best Android Tablet Games
---
Smart Launcher 3
Price: $7.49
Smart Launcher 3 stands out as an Android launcher that combines simplicity, speed, and innovation. With the capability of having up to 9 screens for widget placement, unique features like double-tap widget activation, and dual-finger gestures for quick app and contact access, Smart Launcher 3 offers a performance-oriented and clutter-free user experience. Notably, it is designed to save on RAM and battery usage, embracing a sleek material design and automatically sorting apps by categories. This launcher boasts high customization with themes, icons, and lock screen options, catering to a diverse user base with its intuitive features.
Smart Launcher 3 on Google Play
APUS Launcher
Price: Free
APUS Launcher is a free app that distinguishes itself with its speed, small footprint, and stylish themes. Providing smart folders, app hiding, quick settings, and customizable widgets, APUS ensures a personalized and efficient interface. With a focus on privacy, it allows users to hide apps, adding an extra layer of security. Additionally, APUS delivers weekly theme updates, making it a dynamic choice for users seeking aesthetic variety.
---
Also Read: The 10 Best Android Theme Apps
---
Lawnchair 2
Price: Free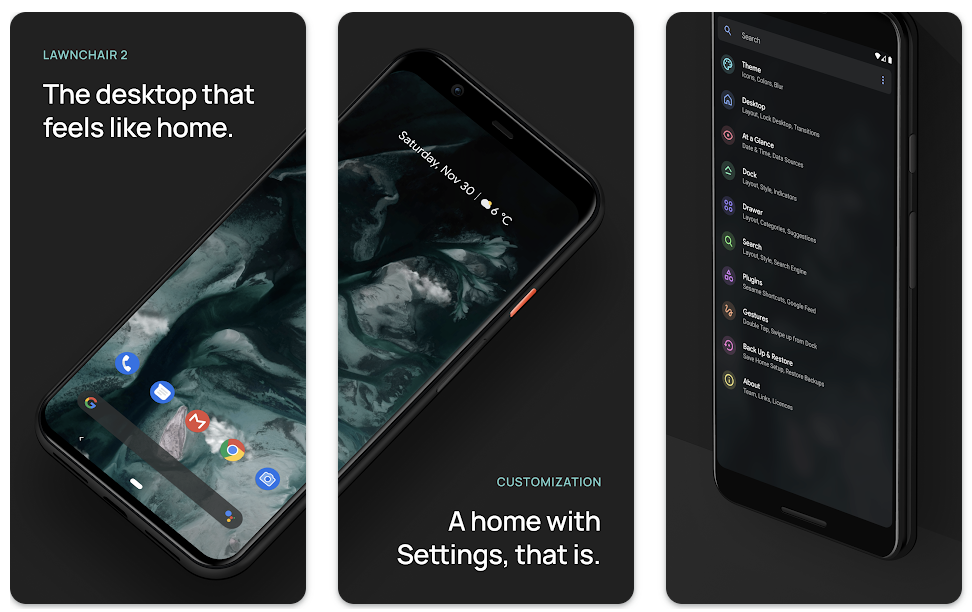 Lawnchair 2 introduces a host of modern features, from adaptive icons to contextual data integration. With flexible desktop layouts, drawer categories, and automatic dark mode, it adapts to your preferences seamlessly. Notification dots and Google Feed integration further elevate its standing among Android launchers.