Google is working on the next version of the mobile operating system, and the first developer preview version of Android 12 is expected to be released soon. While developers and tech enthusiasts can't wait to see the innovations that the next Android version will bring, XDA Developer has revealed some of the features Google is working on for Android 12.
According to the information shared by XDA Developers, Google is planning many user interface changes for Android 12, as well as new features such as smart auto-rotate, gaming mode, reducing bright colors. Although many features are known, there is no information about the details and we should wait for the Android 12 developer preview.
---
UPDATE: Google releases the first Android 12 Developer Preview: Here's what is new with UI
---
Smart Auto Rotation
The automatic screen rotation feature, which takes advantage of the data of gyroscope and accelerometer sensors on smartphones, can unfortunately work annoyingly from time to time. For this reason, most users keep the automatic screen rotation feature mostly off.
Being aware of this situation, Google will offer the smart auto rotation feature to the users with Android 12. It is estimated that Android 12 will detect the head position of the user using the front camera, with the details of which are currently unknown, so even if the automatic rotation is turned on, the user will not turn the screen sideways when the user is in an upright position.
Gaming Mode
There is almost no information about Android 12's gaming mode. Predictions are that the feature in question will be an API that will activate a basic game mode on devices. When the gaming mode is active, the brightness will be adjusted automatically, the screen will be rotated automatically and the Do Not Disturb mode will be activated. However, for now, let's say that all these are guesses.
Reducing Bright Colors
The feature to reduce bright colors based on shared information has been developed as an accessibility feature for users with visual impairments. Since there is no screenshot of the feature yet, it is not possible to show it comparatively, but it is stated that there will be a short in the quick settings menu for the feature to reduce bright colors.
---
Also read: Top 10 Must-Have Android Apps (February 2021)
---
One Handed Mode
One of the biggest problems with smartphones is that the screens are constantly growing, making it impossible to use one-handed. According to the information shared, Google plans to bring a virtual solution to this problem by introducing an internal one-handed mode with Android 12.
As a matter of fact, we have already seen many smartphone manufacturers release their own one-handed mode and it is predicted that Google will prefer a similar application. In this context, when you activate the single-handed mode, the entire smartphone interface will be reduced to an area that you can reach with one hand and capacitive keys will appear under the screen. For more details, we need to wait for the Android 12 developer preview release.
UI Updates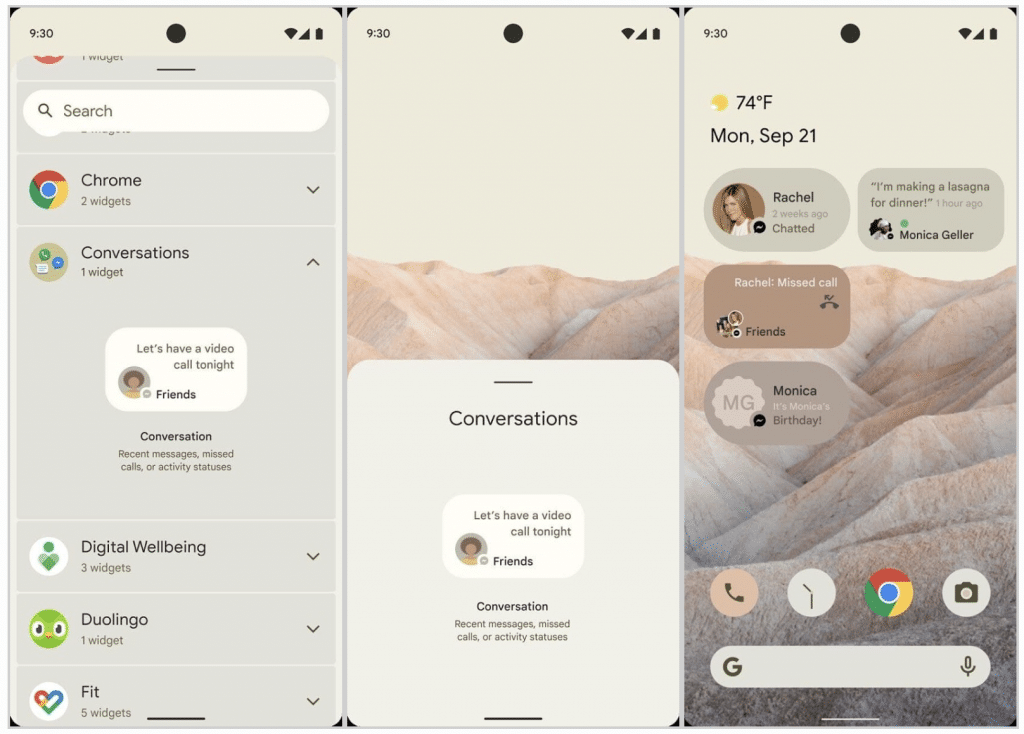 Significant changes are planned for Android 12's always-on-display and lock screen. It is also stated that there will be interface updates for quick settings, widgets, notification screen, chat bubbles and much more.
In some screenshots above shared by XDA Developers, you can see a "Conversations" widget that may highlight recent messages, missed calls, or activity statuses.