Following the launch of its Google Pixel Tablet last month, Google on Tuesday announced four major changes to the Play Store, which will impact both the visibility and ranking of tablet apps designed for larger screens.
As part of the latest changes, ''games with high-quality videos will show a video banner at the top of their app listing page, allowing users to get a sense of gameplay in an immersive way,'' the company said in a blog post. ''We've also reorganized apps and games details pages in a multi-column layout, bringing more of your content higher up the page.''
---
Also Read: The 11 Best Android Tablet Games
---
The company is also rolling out a number of ranking changes to maximize app quality across the Play Store. It said that it will now rank titles that follow its app quality quadlines higher in search and Apps and Games Home pages, as well as the Editors' Choice section and other curated collections. ''This helps users find apps that resize well, aren't letterboxed, and support both portrait and landscape orientations,'' Google wrote.
Meanwhile, the tech giant is also extending its technical quality bar, which aims at reducing visibility for apps and games that don't meet specific guidelines, to large-screens too. As a result, titles with an 8% user-perceived crash rate or 8% user-perceived ANR rates will get warnings shown on their product pages, and get their visibility lowered, starting in late August.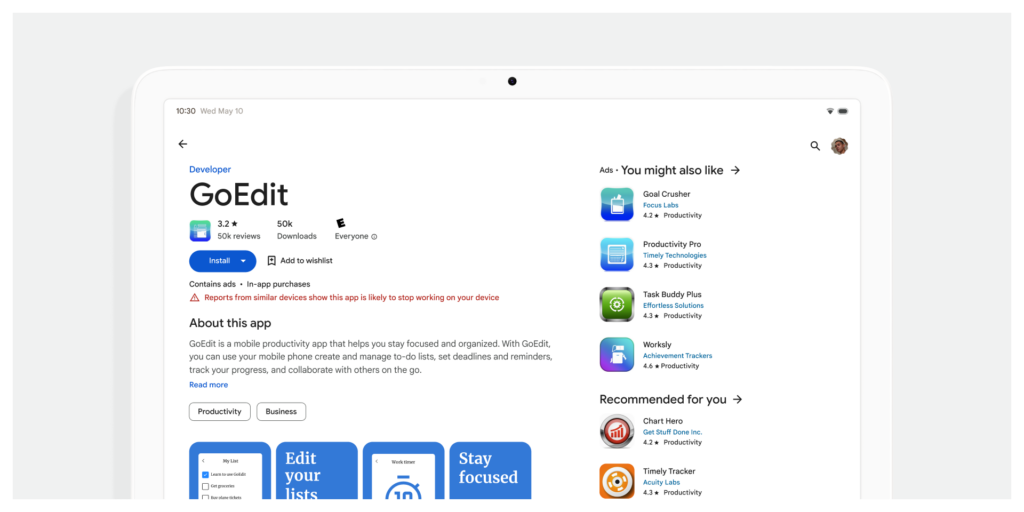 Apps with large screen assets that follow the company's content quality guidelines, on the other hand, ''will occupy more screen real estate on Play homepages'', Google said.
In order to offer a streamlined store navigation, Google also moved the Top Charts and Categories sections to Apps and Games Home, and made the Kids experience a primary tab on tablets and Chromebooks since they're usually shared with children.
Lastly, the company is also introducing a split-screen search experience for tablet users so that they can explore and compare titles in an easier and quicker way.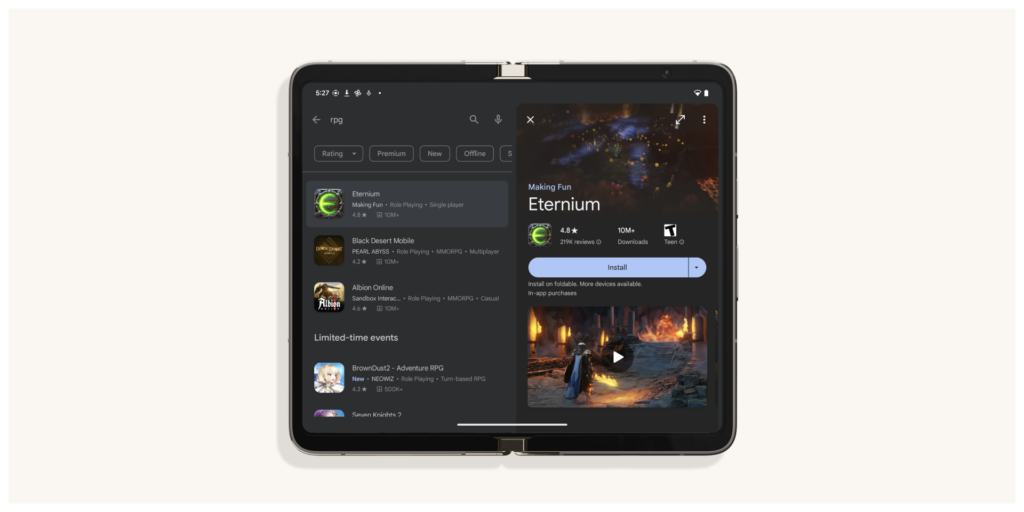 The news follows recent reports that Google is testing a new feature for the Play Store to help users view app details based on a device type.