Tech giant Google held its annual Google I/O developer conference last week, where it announced its latest product updates, including new features and AI-powered tools for Google Play developers.
''Over the past year, our teams have built exciting new features and made major changes to help you thrive with us,'' said Alex Musil, Google Play's Senior Director of Engineering and Product, in a blog post summarizing the event. ''These updates have focused on: being the best partner to help you grow your audiences across the lifecycle of your business, being the best platform to help you effectively monetize your users at scale, and being the safest place to publish and distribute your hard work with Android.''
Last year, the Android-maker started allowing app developers to create up to 50 custom store listings. During the event, the company announced that they will now be able to customize their listings for inactive users as well, emphasizing why they should give them a second chance.
The company also said that it is planning to launch custom store listings for Google Ads App campaign ad groups in the near future, enabling developers to serve custom listings to users that came from particular AdMob and YouTube ads, and provide them with a smoother user experience from Google Ads to Google Play.
''All these new tools mean managing more listings, so we're launching store listing groups to streamline the process,'' Musil added. ''Now you can design for different audiences by simply creating a base listing, then overriding specific elements.''
During the Google for Games Summit 2023 that took place in March, Google said that it would start offering machine translation for Android apps into seven languages for free. In the blog post, Musil said that the company will now offer free machine translation into a total of 10 languages.
Google brings generative AI to the Play Store
Among the most notable updates the company announced at Google I/O 2023 is the new AI-powered features coming to the Play Store. The company said that developers will now be able to use Google's generative AI technology to simplify the process of creating new store listings in English.
''This is an experimental feature to help you draft content with less effort,'' Musil explained. ''Just open our AI helper, enter a couple of prompts like audience and key theme, and it will generate a draft you can edit, discard, or use. You're always in complete control of what you submit and publish.''
---
Also Read: Google to bring generative AI to its ad business -FT
---
Google will also start using generative AI for its new review summaries that will make it easier for Play Store users to find out what others have to say about mobile apps and games. The feature will support only English app reviews at first, but will be expanded to include other languages later this year.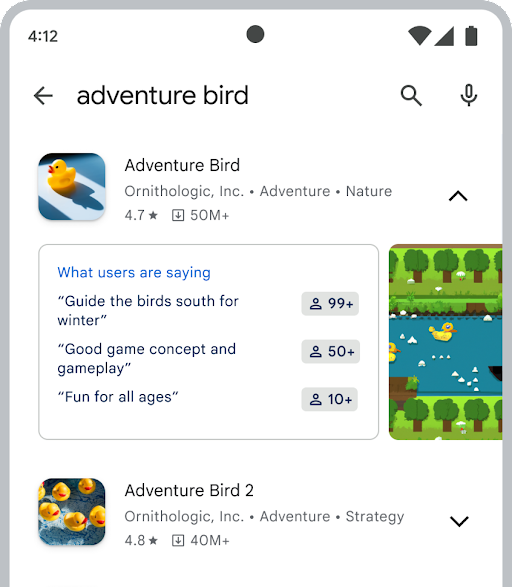 New features to help users discover new apps & games
One of the new features the company announced during last year's Google I/O conference was LiveOps (Promotional Content), which allowed developers to submit their content, such as events and major updates, to be featured on the Play Store. 
In November, the company also announced that it would promote high quality apps in more spots across the Play Store, making it easier for them to be discovered by Android users.
''We're launching multiple new, dedicated high-traffic surfaces to showcase your most exciting content, including via Play notifications,'' Musil wrote in the blog post. ''Participating games are seeing a median 20% uplift in store-wide acquisitions and reacquisitions, driven by increases of over 60% from organic Explore traffic.''
---
Also Read: Google tests app recommendations in Play Store's search screen
---
You can check out the blog post or the video below to find out more about the new features and updates announced at Google I/O 2023. You can also read this blog post for all the announcements Google made related to its other products.