Google announced on Wednesday that it's rolling out new updates to the Play Store that will affect how Android apps are discovered on its marketplace. The tech giant said that it'll now prioritize high quality titles over those that offer a poor user experience, by showcasing them in more spots across the Play Store making it easier for them to capture the attention of more users.
In order to spot apps and games with high technical quality more clearly, the company has introduced its new quality thresholds that put more emphasis on user experience. 
Titles that fulfil the criteria will get the chance to be more visible on the platform now, but those that don't will be excluded from several surfaces including recommendations. Furthermore, some of them may even display a warning on their individual product pages to meet users' expectations, the company said in a blog post.

New placements and formats for content promotion
Google also unveiled a new update to LiveOps which was first introduced during this year's Google I/O event, allowing developers to show promotional cards in the Play Store highlighting their special events, major discounts, updates, etc. 
The company has now renamed LiveOps to ''Promotional Content'' and said it'll be expanded with more content formats and placements including the homepage, individual products pages, search and discovery pages, and also directly in apps through deeplinks.
According to Google, developers that use LiveOps, now Promotional Content, have grown their revenue by 3.6% and experienced a 5.1% rise in the number of 28-day daily active users compared to those that don't use the feature.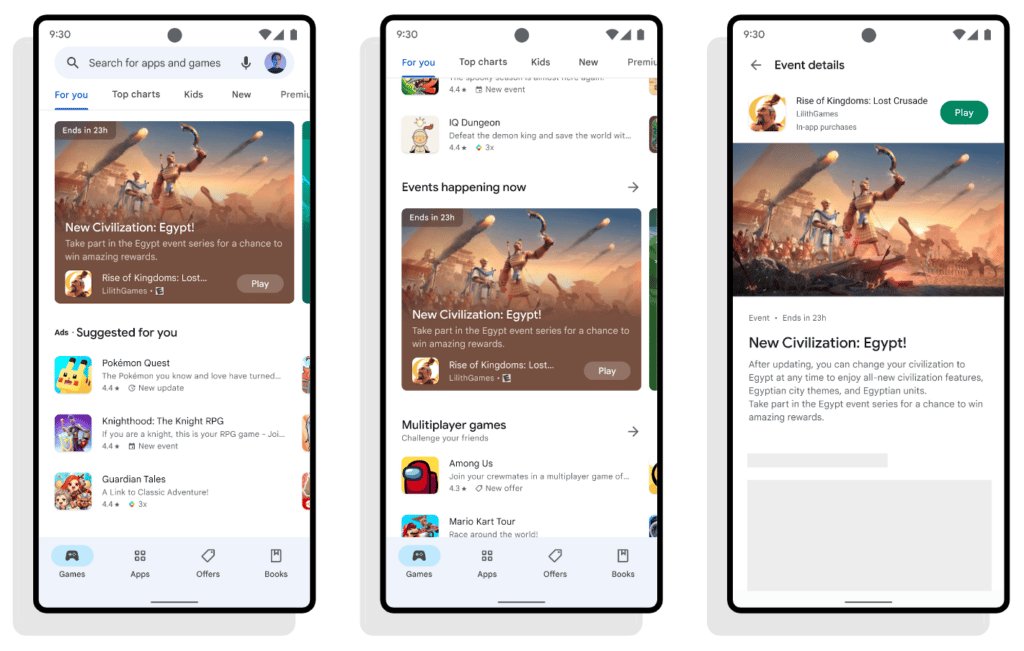 In addition, the Android-maker will roll out its new Churned-user Custom Store Listings before the end of 2022, which will allow developers to target users that previously downloaded their titles but uninstalled them after a while. If you want to get in touch with these users with a different story, you can apply for the beta program by filling out this form.
New Play Integrity API features to fight risky traffic
Google said it's adding new features to its Play Integrity API to help developers protect their apps from risky and unknown traffic. The features will enable them to customise their API responses, carry out tests using Play Console, and analyse their responses across their install base. In addition, the Play Store app's developer settings will soon let them debug Integrity API responses.
The company said the developers that used the API saw a 50% decrease in unauthorised usage of their apps.
Google also announced that it's launching a number of programs to protect developers from coordinated negative review attacks. In September, the tech giant said there would now be a 24 hour waiting period before new ratings & reviews are publicly published so that developers and itself have more time to find out whether they're suspicious.
The company also launched its Strike Removal pilot program in August giving a chance to developers that previously violated certain Play Store policies to restore their accounts by joining a training course followed by an assessment test.
Google Play Games for PC now available in more countries
The beta program of Google Play Games for PC, which allows users to play popular titles like 1945 Air Force and Blade Idle on their Windows PCs, has now been expanded to the US, Canada, Mexico, Brazil, Indonesia, Philippines, Malaysia, and Singapore, the company announced yesterday. The service was first introduced at last year's Game Awards and  launched in South Korea, Hong Kong, Taiwan, Thailand and Australia earlier in August.
If you're living in one of these countries, you can head to this webpage to start playing Play Store games on your desktop.