Teleprompters can be a lifesaver for both video creators and those who need to speak in public. However, it is not always possible for everyone to buy a teleprompter by spending money. Thankfully, there are mobile applications on Google Play that will meet our needs in the comfort of our mobile phones, as in almost every other subject.
In this list, we've brought together the best teleprompter apps for Android that will allow you to speak fluently while recording video or in front of the cameras.
The Best Teleprompter Apps for Android
Elegant Teleprompter
BIGVU Teleprompter
Oratory
Nano Teleprompter
Old Simple Teleprompter 
SpeechWay
Elegant Teleprompter
With multiple customization options like text mirroring, importing text files from built-in storage, and changing scroll speed, size, and line spacing, Elegant Teleprompter is one of the best teleprompter apps for Android. One of the best features of the app is that it has a "Floating Window" option that lets you use any other app at the same time. You can opt for the Pro version of the app to unlock more features and get rid of ads. 
Price: Free
Elegant Teleprompter on Google Play
BIGVU Teleprompter
If you are looking for a highly-rated teleprompter app for your Android device then you should consider giving BIGVU a go. It allows you to add automatic captions, edit captions, replace the green screen with any of your favorite backgrounds, and much more. It is a one-stop shop for all your vlogging needs. The app review section also highlights good customer service.
Price: Free
BIGVU Teleprompter on Google Play
---
Also Read: The Best Camera Apps for Android
---
Oratory
Price: Free
Specifically designed for live broadcasts on social media apps like Facebook, Instagram, YouTube, and Snapchat, Oratory is one of the best teleprompter apps for Android. Using the app, you can change the size and position of the widget on the screen, configure the text size and speed of its movement, pause the text movement and put it in the desired position at any time, and change the color of the widget and adjust the transparency of its background.
Nano Teleprompter
Price: $3.99
Nano Teleprompter is very similar to Oratory in that any camera app displays a floating widget with floating text above it. One of the interesting features of Nano Teleprompter is that instead of importing text files and scripts, you can import and sync all your files from Google Drive, just drag and drop your files from your PC, or write them directly in the browser, and they will be imported automatically to the teleprompter. Nano Teleprompter also supports gesture controls so you can easily change text size, widget size, and widget placement.
Nano Teleprompter on Google Play
---
Also Read: The Best Video Editing Apps for Android
---
Old Simple Teleprompter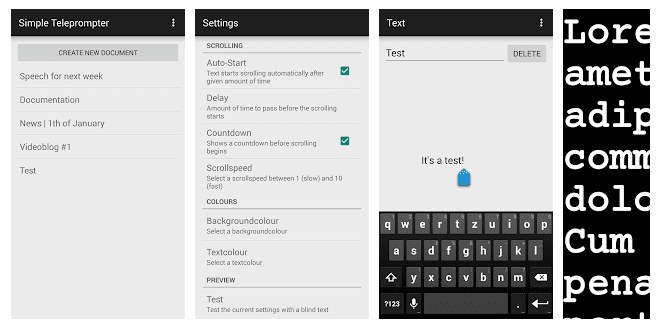 Price: Free
True to its name, Simple Teleprompter is a simple, minimal, and straightforward free app with all the essential features you'll ever need. On the home screen, you can type or import text and tap the start button to scroll the text. You can set a countdown for the teleprompter as needed and customize other things like scroll speed, background color, and text color.
Simple Teleprompter on Google Play
SpeechWay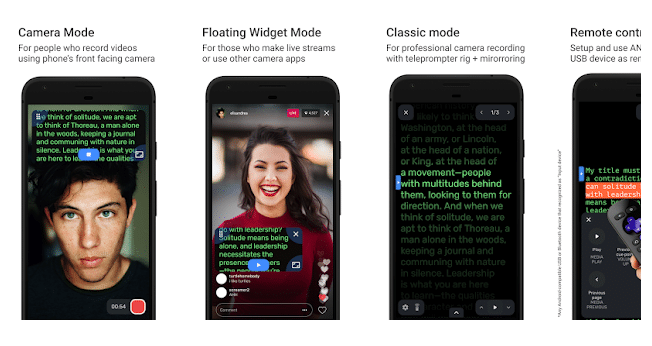 Price: Free
As one of the best teleprompter apps for Android, SpeechWay allows you to use the app as a camera teleprompter, a classic teleprompter with mirroring, or a floating teleprompter widget. In the app, you can make configurations for text speed, font, indicator style, timer, and more. The app also lets you remotely control the content with any Bluetooth controller and configurable keymaps.