Are you tired of being constantly surrounded by distracting noises? Whether it's the bustling city traffic or the chattering of co-workers in a busy office, finding some peace and quiet can be a real challenge. Thankfully, technology comes to the rescue with a wide range of noise-canceling apps that promise to create a serene sonic environment just for you. In this review, we covered the best seven noise-canceling apps, delving into their unique features and functionalities to help you find the perfect companion for a harmonious experience. So, without further ado, here are the best noise-cancelling apps the digital world has to offer!
Denoise – Audio Noise Removal
Price: $3.49 for Android, $2.99 for iOS

Denoise, the ultimate audio, and video noise-cancelling app, offers a seamless solution to remove unwanted noise from your media files. With its powerful noise reduction capabilities, Denoise effectively cleans up audio and video recordings, ensuring crystal-clear results. The app's user-friendly interface allows professionals and casual users to easily achieve optimal noise removal and ranks among the best noise-cancelling apps.
Also, Denoise provides a range of customization options, empowering users to adjust noise reduction strength and target specific noise types. Its trial-and-catch approach enables previewing noise removal results before making final adjustments, guaranteeing the most satisfying outcome. Denoise ensures compatibility and smooth performance across various media files by supporting an extensive array of audio and video formats, including mp3, mp4, m4a, mov, wav, and avi.
Denoise – Audio Noise Removal on Google Play
Denoise – Audio Noise Removal on the App Store
ByeNoise
Price: Free/In-App Purchase: Up to $39.99
ByeNoise is an excellent video noise cleaner that employs intelligent algorithms to effortlessly remove background noise from video and audio files, ensuring crystal-clear sound. The user-friendly interface allows easy loading of files and a single click to achieve noise-free results. ByeNoise supports multiple file sources, including local storage and Google Drive.
Furthermore, the basic version effectively cleans files for up to thirty seconds, while the pro version offers unlimited cleaning and an ad-free experience. Elevate your media content with ByeNoise and say goodbye to unwanted noises, producing professional-grade recordings with ease. It is a must-have tool among noise-canceling apps.
---
Also Read: The 7 Best Binaural Beats Apps
---
Lexis Audio Editor
Price: Free/In-App Purchase: Up to $6.99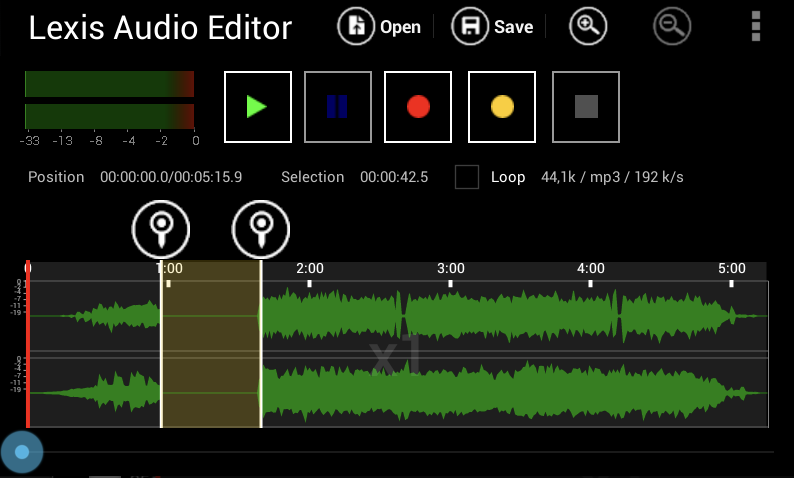 Lexis Audio Editor is a powerful audio recording and editing app that offers a range of features for both beginners and professionals. With the capability to create new audio recordings or edit existing files, the app provides essential functions like cutting, copying, pasting, and fading in/out. Its 10-band equalizer, compressor, and noise reduction ensure precise audio adjustments.
In additional, users can change tempo, speed, and pitch for creative effects and split audio into vocals and accompaniment. Supporting various formats, including mp3, wav, FLAC, m4a, aac, and wma, and video imports like mp4, 3gp, and 3g2, the app caters to diverse needs. Lexis Audio Editor impresses as a reliable tool for producing high-quality audio content with ease. Go to Lexis Audio Editor's website for more detailed information.
Lexis Audio Editor on Google Play
Lexis Audio Editor on the App Store
myNoise
Price: Free/In-App Purchase: Up to $19.99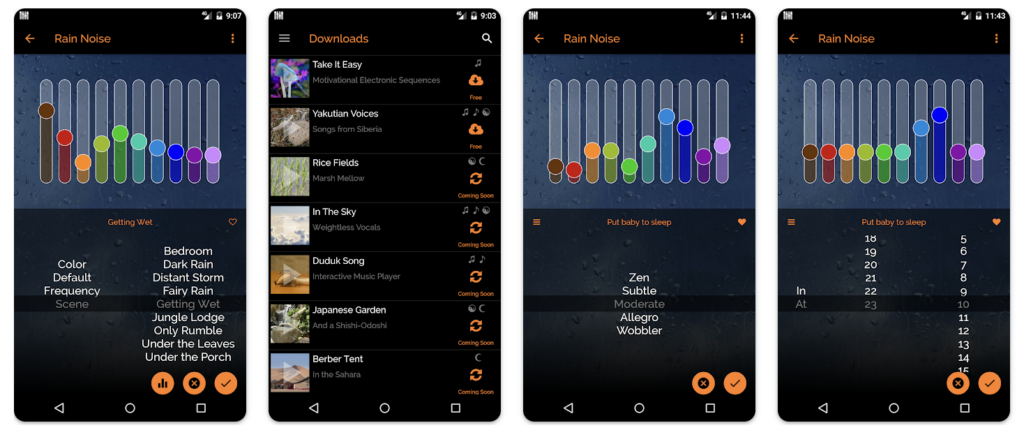 myNoise employs delightful background noises to mask unwanted sounds and stands out among the best noise-cancelling apps. This app offers a simple and effective solution for focus, anxiety relief, insomnia, and tinnitus without the need for expensive equipment. The app caters to all audiences, providing diverse benefits in daily life.
Moreover, the app allows users to enjoy captivating sounds like White Noise, Rain Noise, Binaural Beats, Spring Walk, Temple Bells, and Warp Speed. myNoise is a free, user-friendly app that ensures a serene experience. However, remember that the audio stems are copyrighted and intended for personal use only. Visit myNoise's website to learn more.
---
Also Read: The 8 Best AirPods Apps for Android
---
Auphonic Edit
Price: Free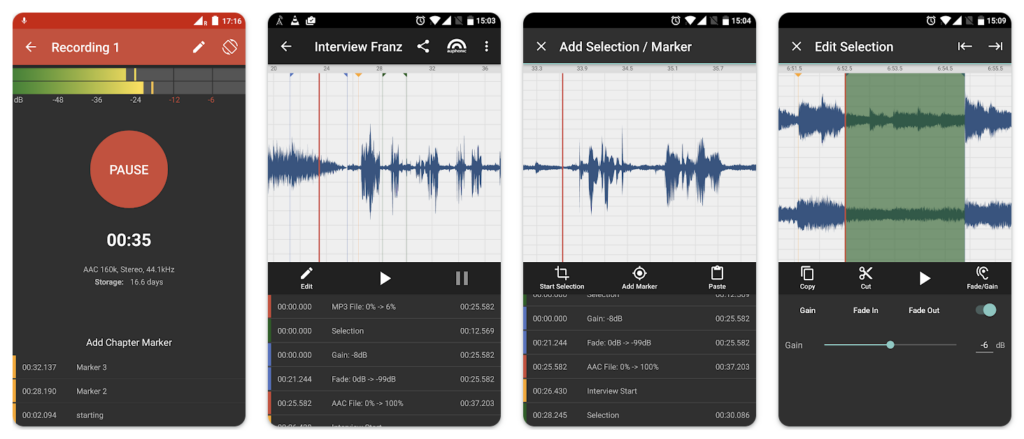 Auphonic Edit is a stable and user-friendly audio editor and recorder, seamlessly integrated with the Auphonic web service. With top-notch audio quality and ease of use, this app simplifies the post-processing, encoding, and tagging of podcasts, interviews, and music recordings with a single click. The app allows users to enjoy non-destructive editing, markers, volume adjustments, and easy file import.
Additionally, the optional web service provides encoding options, loudness normalization, intelligent leveling, and noise reduction. Share your creations effortlessly on multiple platforms. Auphonic Edit stands as a powerful all-in-one audio editing tool, earning its place among the best noise-cancelling apps for creators of all levels.
Auphonic Edit on the App Store
AudioFix
Price: Free/In-App Purchase: Up to $14.99
AudioFix, a revolutionary app, empowers video creators with exceptional audio quality, and it deserves to be one of the best noise-cancelling apps. The app swiftly adjusts and denoises video audio, delivering clear sound and optimal volume. Offering a free download and a 3-day trial for its annual subscription, users can explore its capabilities before committing.
Besides, AudioFix's array of features includes volume boosting, noise reduction presets, and a customizable 6-Band EQ for full sound control. Audio extraction and muting options enhance video audio seamlessly. For professionals, AudioFix Pro grants unlimited access. Filmmakers, video makers, Vloggers, and content creators can elevate their videos with exceptional audio quality, ensuring an unforgettable experience for viewers.
---
Also Read: The 9 Best Music Streaming Apps
---
Neutralizer
Price: Free/In-App Purchase: Up to $3.99
Neutralizer is a unique sound restoration equalizer for Android, aiming to improve individual listening experiences. Unlike other products, the app prioritizes sound restoration rather than offering preset sound distortion profiles. With a user-friendly and elegant interface, it adapts the system equalizer based on personalized hearing tests in key frequency ranges. This enhances the listening experience without compromising sound quality.
Plus, while some devices may not be compatible with Neutralizer's solution, the team is actively seeking universal compatibility. It is a wise approach to enhancing sound while considering individual hearing differences. Neutralizer offers a promising tool for personalized sound optimization and an enriched listening journey.