JRPG stands for "Japanese Role-Playing Game." These are role-playing games that originated in Japan and typically feature character-driven stories, sophisticated battle systems, and character progression. JRPGs often have fantasy or science fiction themes and are known for their deep character development, epic narratives, and strategic combat mechanics. These games have had a significant impact on Japan's gaming industry and have also gained popularity globally.
If you like or wonder about JRPGs, you should continue reading! In this article, we covered the best Android JRPGs that deliver captivating storytelling, excellent gameplay, and stunning visuals. Here are the best Android JRPGs that will keep you glued to your mobile screen!
The Best Android JRPGs
Another Eden
Price: Free/In-App Purchase: Up to $79.99
Another Eden: The Cat Beyond Time and Space is a remarkable single-player JRPG developed by WFS. With no time restrictions, players can enjoy this game at their own pace. Created by renowned writers Masato Kato and Yasunori Mitsuda, the app offers an extensive amount of content that surpasses standard mobile games. The captivating story takes players on a time-traveling adventure, supplemented by additional episodes and character quests. The inclusion of crossover quests featuring characters from "Persona 5: The Royal" and the "Tales of" series adds to the excitement. With a beautiful soundtrack and talented voice actors, Another Eden ranks among the best Android JRPGs.
DRAGON QUEST VIII
Price: $19.99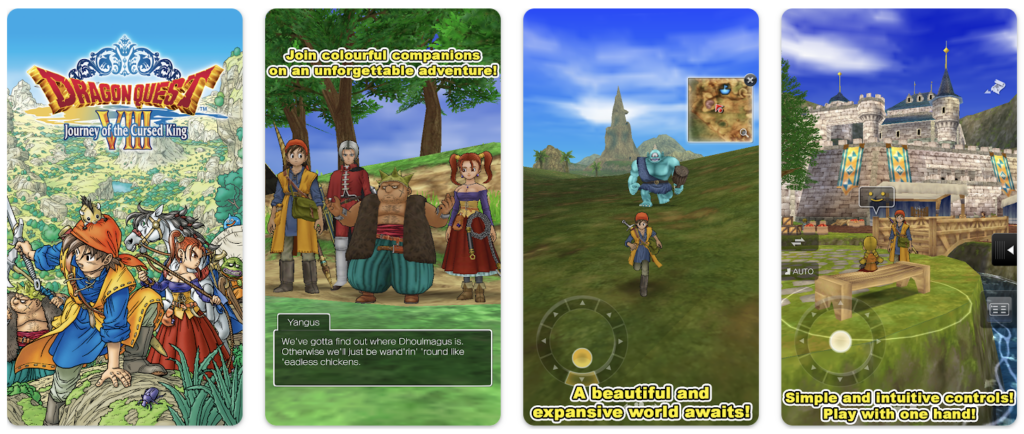 DRAGON QUEST VIII is an excellent JRPG option among the best Android JPGs. The game comes with stunning 3D graphics and a captivating storyline. Join Yangus, Jessica, and Angelo on an unforgettable journey through a cursed kingdom. The game features streamlined touch controls and a revamped combat system, allowing for accessible and engaging gameplay. Players can level up their characters, assign skill points, and recruit monsters to create a formidable team. Players discover the power of the alchemy pot to create unique items.
DRAGON QUEST VIII on Google Play
---
Also Read: The 13 Best RPGs for Android
---
Genshin Impact
Price: Free/In-App Purchase: Up to $99.99
Genshin Impact is a popular game among Android JRPGs. This open-world game offers a captivating adventure filled with exploration, combat, and intriguing characters. With a vast and immersive world to discover, players can uncover hidden secrets, solve puzzles, and engage in thrilling battles. The game's unique elemental system adds depth to combat, allowing for strategic combinations and powerful attacks. Genshin Impact also features a gacha system for obtaining new characters and weapons. With regular updates and a dedicated fanbase, Genshin Impact continues to impress and solidify its position as a top-tier Android JRPG.
Honkai Impact 3
Price: Free/In-App Purchase: Up to $184.99
Honkai Impact 3 stands out as one of the best Android JRPGs, captivating players with its thrilling battles and immersive storytelling. The latest update introduces exciting new additions, including the S-rank battlesuit Dreamweaver, a formidable MECH-type physical DMG dealer. The SP battlesuit Terminal Aide 0017 brings powerful IMG-type physical DMG attacks, showcasing excellent shield-breaking abilities. The new story chapter, "Of Salt, Snow, and Sand," takes players on an emotional journey, accompanied by the event stigma Susannah: Overtime and valuable rewards. You can engage in the Iridescent Color event to earn crystals, Honkai Shards, and more. The Merry Market and TeRiRi's Magical Quest events offer exclusive outfits, battlesuits, and enticing rewards. With new equipment, stigma sets, and outfits, Honkai Impact 3 continues to deliver an exceptional gaming experience for fans of the genre.
Honkai Impact 3 on Google Play
---
Also Read: The 12 Best Turn-Based RPGs for Android
---
Monster Hunter Stories
Price: $19.99
Monster Hunter Stories is undeniably one of the best Android JRPGs, offering a fantastic experience filled with captivating gameplay and a heartwarming story. Players can embark on an adventure where they can recruit and bond with countless Monsties, forming an essential part of their journey. Explore vast environments, dungeons, and monster dens to discover eggs and hatch new Monsties. The smartphone version brings beautiful high-resolution graphics, an improved user interface, and an auto-save feature. Players follow the story of the hero, Lilia, and Cheval as they encounter a baby Rathalos, and navigate a world plagued by the Black Blight.
Monster Hunter Stories on Google Play
OCTOPATH TRAVELER: CotC
Price: Free/In-App Purchase: Up to $99.99
OCTOPATH TRAVELER: Champions of the Continent is a terrific game in that you can immerse yourself in the stunning world of Orsterra through evolved pixel art and 3D-CG effects. Players can engage in strategic and exhilarating combat with up to eight party members using intuitive swipe controls. With a massive roster of over 64 characters, the game allows players to create their ultimate team and conquer the battlefield. Players choose their adventure from multiple storylines and unlock unique path actions for diverse character interactions. The epic game soundtrack by Yasunori Nishiki, composer of OCTOPATH TRAVELER, enhances the immersive experience.
OCTOPATH TRAVELER: CotC on Google Play
---
Also Read: The 18 Best MMORPGs for Android
---
CHRONO TRIGGER
Price: $9.99
Experience the best of Android JRPGs with CHRONO TRIGGER, the timeless RPG classic. Developed by the legendary 'Dream Team' of Yuji Horii, Akira Toriyama, and the creators of FINAL FANTASY, this epic adventure takes you on a journey through different eras to save the planet. With updated controls, revamped graphics, and enhanced sound, this definitive version offers hours of enthralling gameplay. Players explore the 'Dimensional Vortex' and 'Lost Sanctum' dungeons for hidden secrets. You can engage in the Active Time Battle Version 2 system and unleash powerful combo attacks.
Battle Chasers: Nightwar
Price: $9.99
Battle Chasers: Nightwar is one of the best Android JRPGs that brings classic console greatness to your mobile device. Players join young Gully on her quest to find her lost father and unravel the mysteries of a dangerous realm. With turn-based combat reminiscent of legendary RPGs, players engage in tactically demanding battles against a variety of enemies. In the game, you can explore a vast world filled with hidden dungeons, rare bosses, and unpredictable encounters. The game allows players to craft powerful weapons and armor using the unique ingredient-overloading system. The game comes with three heroes from the iconic Battle Chasers comic series, each with their own abilities and skills.
Battle Chasers: Nightwar on Google Play
---
Also Read: The 17 Best Isometric RPGs
---
Dragon Quest V
Price: Free/In-App Purchase: Up to $14.99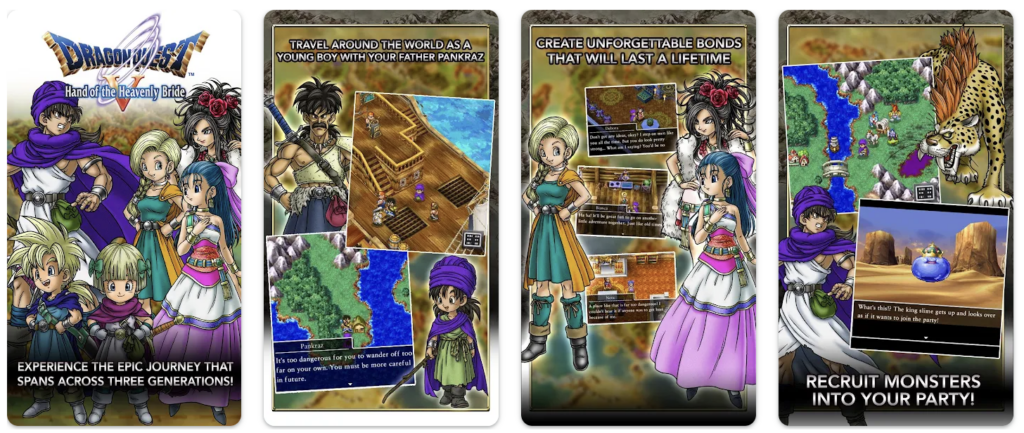 Dragon Quest V is one of the best Android JRPGs that brings an epic tale to the palm of your hand. Players play as a young hero as he travels the world with his father, Pankraz, encountering thrilling adventures along the way. The game allows players to experience the joys and sorrows of a family of heroes and follow in the footsteps of the Legendary Hero. Players make allies of fearsome monsters, unlocking unique spells and strategic possibilities. In the game, you can engage in lively conversations with your party members and seek their guidance whenever needed. The game comes with 360-degree views of towns and villages. Let your companions fight automatically using AI battles, or unleash various tactics for challenging enemies. Roll the dice and explore specially designed game boards for exciting events and rewarding treasures.
Exiled Kingdoms RPG
Price: Free/In-App Purchase: Up to $4.99
Exiled Kingdoms RPG is among the best Android JRPGs that bring back the nostalgic essence of classic role-playing games. Set in a challenging and immersive environment, this isometric action RPG allows you to freely explore a unique world filled with secrets and quests. You can engage in hundreds of dialogues with diverse characters, making choices that shape your journey. Customize your character with a wide array of skills and countless items. Conquer formidable monsters strategically, utilizing the perfect weapons and powers for each encounter. The game offers a free version with a Warrior or Rogue class, while the full version unlocks an expansive experience, including additional areas, quests, dialogues, and character classes. There are no micro-transactions or pay-to-win elements; just a pure gaming experience like the classics of old.
Exiled Kingdoms RPG on Google Play
---
Also Read: The 10 Best PC Games on Android
---
The Banner Saga
Price: $9.99
The Banner Saga is a magnificent game, delivering an epic and captivating experience. Set in a beautifully hand-drawn world, this strategic role-playing game offers a unique blend of choice-driven narrative and tactical combat. As the leader of a Viking caravan, your decisions have far-reaching consequences, shaping the story and determining the fate of your people. Players engage in intense turn-based battles where positioning and strategy are crucial for victory. The game features stunning visuals, a hauntingly atmospheric score, and immersive storytelling that keeps you hooked from start to finish. With its deep gameplay mechanics and compelling storyline, The Banner Saga is a must-play for fans of JRPGs on Android devices.
The Banner Saga on Google Play
CHAOS RINGS Ⅲ
Price: Free/In-App Purchase: Up to $19.99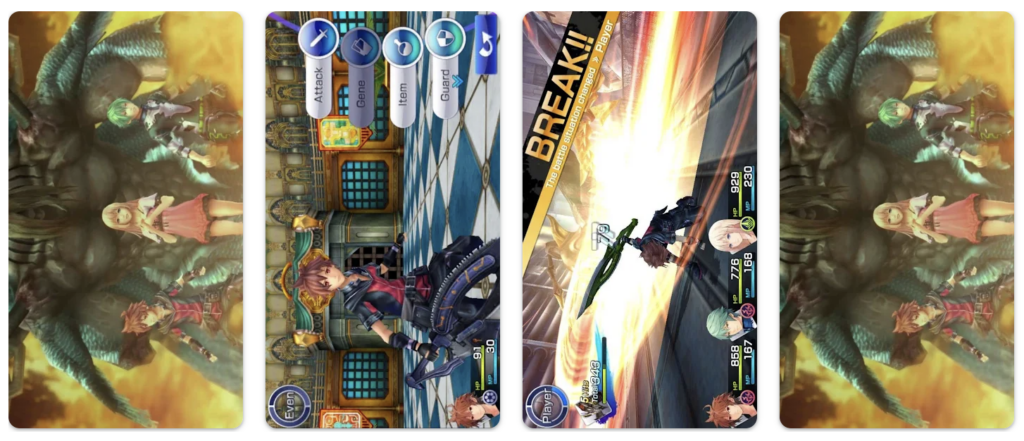 CHAOS RINGS III, the latest installment in the beloved smartphone RPG series, offers a wonderful experience for JRPGs fans. With a rich game world, a deep storyline, and a high-quality soundtrack, it has rightfully earned its place as one of the best Android JRPGs. Set in the floating continent of New Paleo and the azure planet of Marble Blue, players embark on a thrilling adventure filled with unexplored lands, hidden treasures, and mythical creatures. The protagonist's journey, guided by a mysterious voice, promises a grand and unforgettable quest.