Teleprompter is a beneficial and effective tool, also called automatic hinting, and is indispensable for news channels. Speakers follow the scrolling of the electronic visual text of a script and read it while looking at the camera.
Today, teleprompter apps are actively used in preparing resume videos, vlogging, presenting news, speech, and many other areas. Teleprompter apps allow users to customize text size, script editing, scrolling speed, and many more according to video shooting conditions and other conditions. But what are the best teleprompter apps for iPhone? If you're wondering about the answer to the question, keep reading our content of the best teleprompter apps for iPhone we've prepared for you!
Teleprompter BIGVU
Price: Free/In-App Purchase: Up to $139.99
Teleprompter BIGVU is a professional video creation app with advanced features and is among the best teleprompter apps for iPhone. Users can access a quality video teleprompter, subtitles, subtitle highlighting, add music, trim, cut, green background changer, custom branding with logo and business card, and more. Teleprompter BIGVU allows typing and recording with teleprompter over the phone and PC, users can look at the camera while reading from the screen. Also, the app offers the opportunity to share edited videos on all social media channels with one click. Check out Teleprompter BIGVU's website for more detailed information about the app.
Teleprompter BIGVU on the App Store
Teleprompter
Price: Free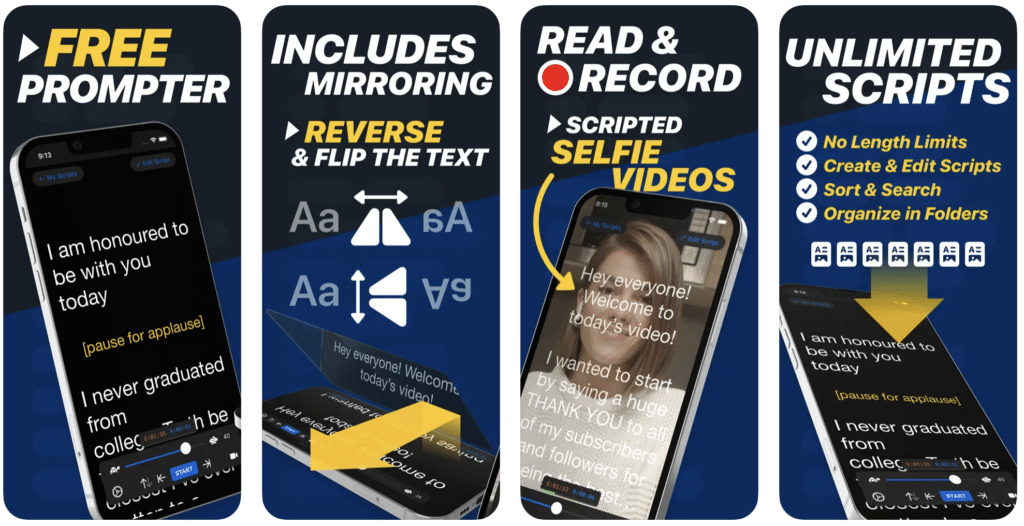 Teleprompter is an easy-to-use, great and versatile app. Users can turn their device into a teleprompter in a matter of seconds with the app. Users can project text with the app for use in an on-camera teleprompter rig. The scripts provided by the users in the app scroll on the screen clearly, and the app hides the controls during scrolling, allowing you to view users' scripts in full screen. Users can create an unlimited length and number of scripts with the app. Also, the app comes with many features such as adjustable side margins, adding cue points to your scripts, and a countdown timer.
---
Also Read: The 6 Best Video Editing Apps for iPhone
---
Parrot Teleprompter
Price: Free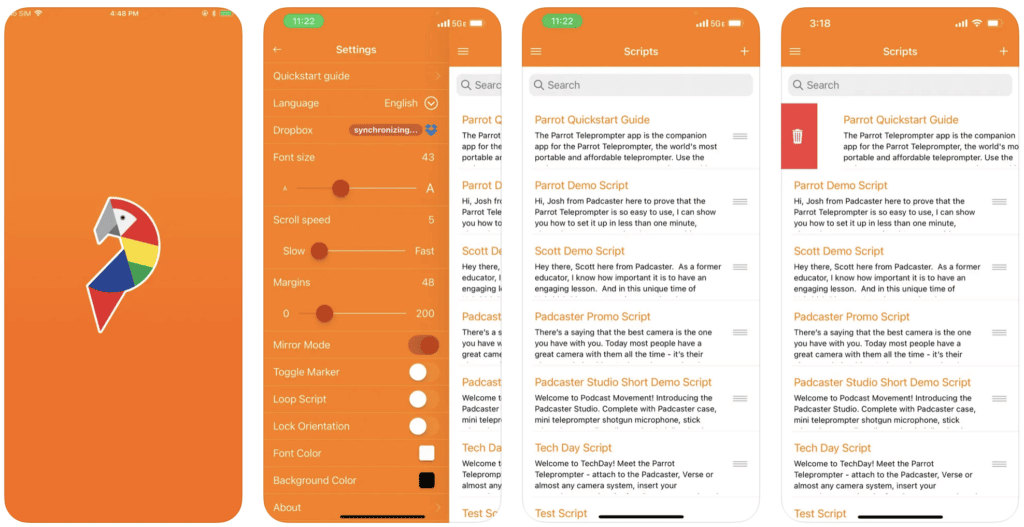 Parrot Teleprompter is a great app that turns your iPhone into a high-end professional teleprompter and deserves to be one of the best teleprompter apps for iPhone. Users can scroll scripts in landscape and mirrored mode with the Parrot Teleprompter. The app allows users to control scrolling speed, set foreground, and background colors, and change text size. Users can write and edit scripts within the app. Parrot Teleprompter supports .txt files and allows an unlimited number of scripts.
Parrot Teleprompter App on the App Store
---
Also Read: The 6 Best Camera Apps for iPhone
---
Teleprompter for Video
Price: Free/In-App Purchase: Up to $18.99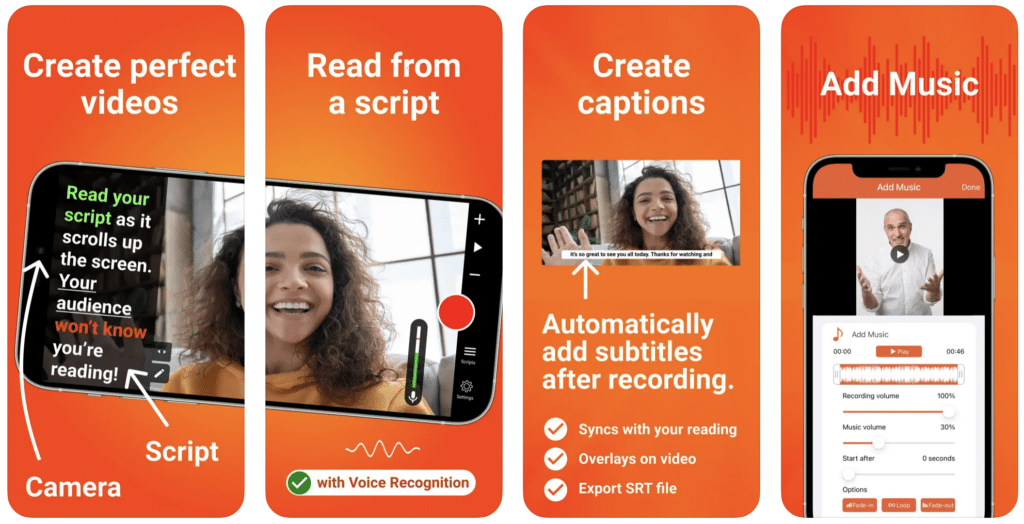 Teleprompter for Video is an excellent and understandable app to use. The app comes with a countdown feature so users can use a countdown to take a position or end the video. Users can control the app with a wireless keyboard, Bluetooth remote, footswitch, and Apple Watch. Teleprompter for Video offers customization possibilities for scrolling speed, font size, and more. The app allows importing scripts from Google Drive, Dropbox, OneDrive, or iCloud in .txt, .pdf, .doc, .docx, and .rtf, formats.
In addition, Teleprompter for Video provides features to record videos horizontally or vertically, choose resolution, choose frame rate, compress screen, and more. Users can add beautiful real-time filters to their videos and record audio using internal and external microphones with the portrait mode in the app.
Teleprompter for Video on the App Store
PromptSmart Lite Teleprompter
Price: Free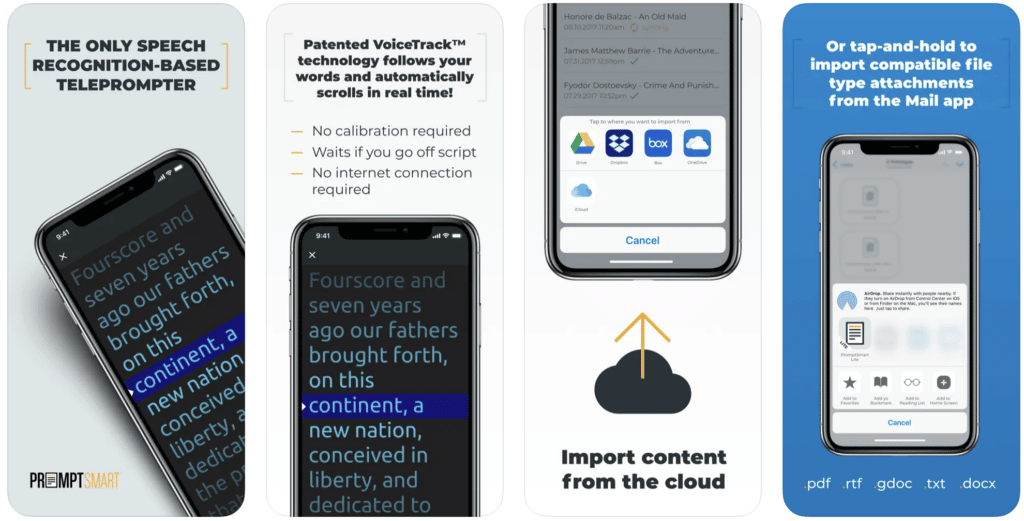 PromptSmart Lite Teleprompter is a successful, intelligent, and handy app with speech recognition technology and is among the best teleprompter apps for iPhone. The app automatically follows the speaker's voice in real-time. PromptSmart Lite allows users to adjust the scroll speed or manually scroll. Users can import their scripts with iCloud, Google Drive, Dropbox, Box, and OneDrive. PromptSmart Lite Teleprompter supports TXT, DOCX, .DOC, .RTF, and .PDF file types. The app features ten different font sizes, an in-app customer support messaging system, and document editing. Users can record audio during their presentations with the PromptSmart Lite Teleprompter.
Moreover, PromptSmart Lite Teleprompter recommends up to 5000 script words, a maximum of 200 digital note cards per document, and a maximum speech length of 30 minutes. The VoiceTrack language supported by the app is English, and an external wired microphone is recommended.
PromptSmart Lite Teleprompter on the App Store