The leaders of the Senate Judiciary Committee's antitrust panel announced on Monday that senior executives of Alphabet's Google (GOOGL.O) and Apple (AAPL.O) will testify in an antitrust hearing that will take place this Wednesday, along with the executives of Spotify, Tinder-owner Match Group and Tile.
As reported by Reuters, the app store antitrust hearing will include Google Government Affairs Senior Director Wilson White, Apple's Chief Compliance Officer Kyle Andeer, Spotify's Chief Legal Officer Horacio Gutierrez, Match Group's Chief Legal Officer Jared Sine and Tile's General Counsel Kirsten Dalu, according to the list announced by Senators Amy Klobuchar who is the chairwoman of the antitrust panel and Mike Lee who is the panel's top Republican.
Worldwide-famous music streaming service Spotify and Tinder-maker Match Group have been vocal about their concerns regarding both Apple's and Google's app store policies, including the 30% fee they cut for in-app purchases, and accusing them of being anti-competitive, while Tile, who has an app which helps users to find their objects like keys, wallets and phones using Bluetooth, has been in a battle with only Apple due to the company's rumoured AirTags.
Last year, Epic Games' popular battle royale title Fortnite was removed from both App Store and Play Store after the developer introduced a new payment system which bypassed the 30% fee the app stores cut. The developer immediately fired back by filing an injunction against Apple and they are scheduled to appear in the US court in May 202. It also filed antitrust complaints against the iPhone maker in the United Kingdom & Australia and decided to take its fight to the European Union.
After receiving global backlash, Apple dropped its fee to 15% for developers earning up to $1 million per year and Google reduced the commission to 15% on the first $1 million developers earn each year.
Meanwhile, Google says that it differs from Apple as it allows Android users to download alternative app stores. However, it still requires device manufacturers to install its Play Store and own mobile services, which is the main reason why it faced a European Union antitrust case.
Apple and Google, as well as Amazon and Facebook, have been under scrutiny for over a year due to various concerns including privacy breaches, hate speech, violation of antitrust law and more.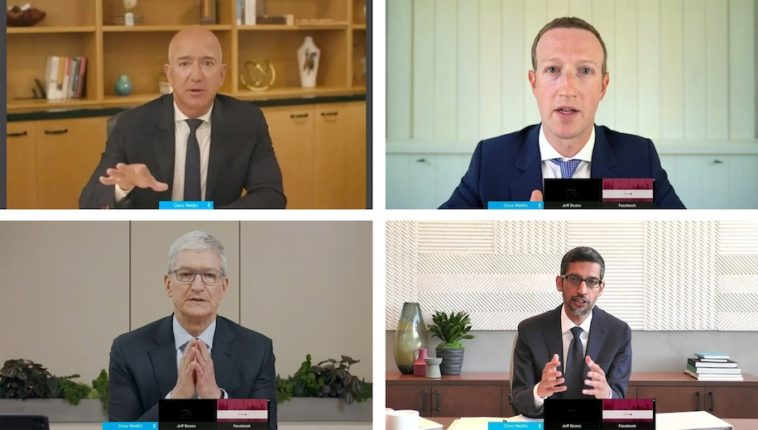 In July last year, the four tech giant's chief executives (Apple's Tim Cook, Alphabet's Sundar Pichai and Amazon's Jeff Bezos and Facebook's Mark Zuckerberg) appeared at a congressional hearing to defend themselves against the accusations that some of their actions are anti-competitive and harm customers.
In October, U.S. antitrust committee found the companies guilty of "using monopoly power"