Whether you are a student or a business person, you will definitely need office apps. You can view but not edit Word, Excel, and PowerPoint files on most Android devices. We've brought together the best free Android office apps for when you're out of the office and need to edit and view work-related files.
The Best Free Android Office Apps
Quip
Acquired by Salesforce in 2016, Quip is actually a productivity app that transforms the way teams work together by integrating documents, spreadsheets and slides with real-time chat and Salesforce. It is also suitable for individual usage. Quip is 100% cloud-based and built for both your desktop and mobile device.
You can use the app as a note taking app, a grocery list app, or a to-do list app. With features like offline support, device synchronization, group chat creation, exporting and collaboration options, Quip is one of the best Android office apps.
WPS Office
A completely free office app for Android mobile devices and tablets, WPS Office offers all office word processing functions, including Word, PDF, Presentation, Spreadsheet, Reminder, and Document Scanner, integrated into one app.
Using the app you can convert all office documents to PDF, sign PDFs, prepare presentations and present using WIFI, NFC, DLNA, and Miracast, make spreadsheets with templates and formulas, automatically save documents you have prepared and edit to the cloud, encrypt documents, restore what you delete within 30 days, and do different jobs at the same time in multi-window mode.
OfficeSuite
Combining all the features you need to read, edit and create PDF, Word, Excel, and PowerPoint files, OfficeSuite is a very successful alternative with its advanced PDF management and storage options. Offering simpler features than other apps on our list, OfficeSuite is one of the best free Office apps for Android.
OfficeSuite, which includes a word processor, a spreadsheet program, and presentation software, and has more than 100 million downloads on Google Play, also offers simple features for those who want to create spreadsheets and PowerPoint slides.
Google Drive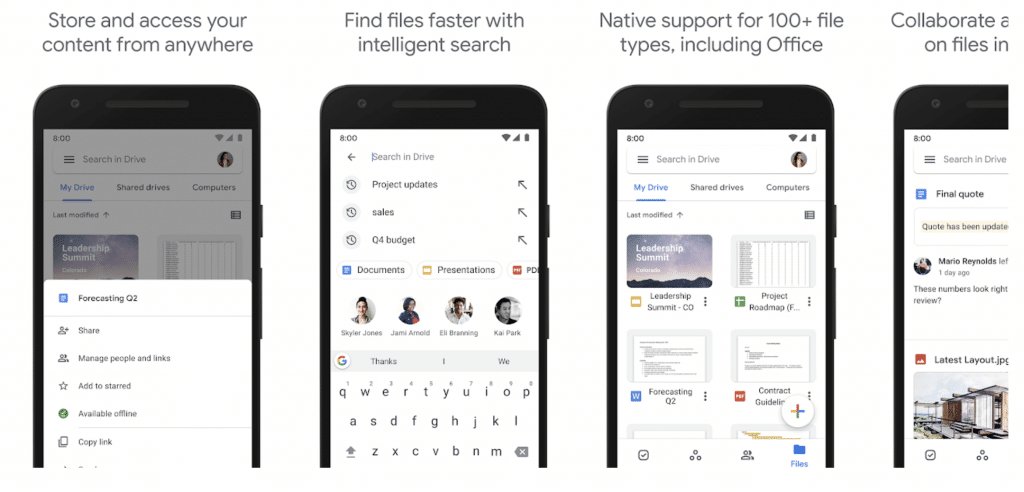 Google Drive is one of the most popular office apps among both iOS and Android users as it provides a bunch of different office apps like Google Docs, Google Spreadsheets, and Google Slides as well as Google Drive. You can store all your documents in one Google Drive account and reach them anytime you need to view or edit. You can also share your files with others to collaborate and real-time editing. It is – and all included apps like Google Docs – free up to 15Gb space.
---
Also Read: Best Writing Apps for Android
---
Docs to Go
Last in our list of the best free Android office apps is Docs to Go, a highly popular office app that allows users to view, edit, and create Microsoft Office files and view Adobe PDF files on their Android smartphone and/or tablet. It also provides features including device synchronization, multiple file save, and a technology retaining original document formatting of edited files. Celebrating its 15th year, Docs to Go has been downloaded over 40 million times on Google Play.