Endless runner games are one of the most popular genres among mobile game categories. Popularized by legendary games such as Temple Runner and Subway Surfers, this category includes endless running games with many different themes and atmospheres. In this article, we have brought together the best endless runner games available on Android and iOS platforms.
The Best Endless Runner Games
Sonic Dash
Sonic, one of the ancestors of the early game world in the platform genre, together with Mario, brings entertainment to mobile players in three dimensions with the mobile game Sonic Dash. Inspiring the mechanics and overall styles of endless platform games like Subway Surfers, Sonic offers a unique endless runner experience with the world's most recognizable blue hedgehog.
Sonic Dash, which has very satisfying graphics, detailed maps and customizations, also hosts many playable characters besides our famous blue hedgehog Sonic. The game, which also includes enemies from other Sonic games, offers the classic Sonic experience in three dimensions and endlessly.
Crossy Road
In Crossy Road, a very popular arcade endless runner with more than 200 million users, you will try to keep your character Chicken alive as long as possible and collect new characters. In the game which has a very simple gameplay, you will encounter cross roads, train tracks, and rivers.
---
Also Read: The Best Retro Games for Android
---
Alto's Odyssey
Alto's Odyssey is a production that can compete with almost all games on the mobile platform in terms of the experience it provides to the players.
Without customizations and a sense of competition, endless runner games can get boring after a while. But Alto's Odyssey manages to keep the excitement of the player fresh in every run.
Alto's Odyssey on the App Store
---
Also Read: The Best Offline Games for iPhone
---
Temple Run
Temple Run, one of the ancestors of the endless runner games on mobile platforms and encouraging a generation to buy an iPhone, is also one of the best endless runner games with its very classic structure. In Temple Run, which has an atmosphere similar to Indiana Jones movies, we try to get the highest score in the endless run where we escape from the Demon Monkeys after us.
While trying to continue this endless run for the longest time, it is of great importance to collect the gold found on the way. The gold we collect helps us to buy some features later.
---
Also Read: 10 Most Addictive Android Games
---
Minion Rush
One of the first things that come to mind when it comes to endless runner games is the competitive element that the games bring. Events held at regular intervals also help maintain this competitive structure. The sense of competition is kept alive with international events, themes, and many similar events that are constantly held in Minion Rush.
Minion Rush, which hosts many details from the universe of the movie in which we play with the characters of the worldwide popular movie Minions, is a game you should not miss if you are a fan of Minions movies and the endless runner genre.
---
Also Read: The Best Offline Games for Android
---
Agent Dash
Together with the Agent Dash game, we are experiencing all the mechanics we enjoyed in Subway Surfers, this time in a different atmosphere and with different characters. In Agent Dash, where we infiltrate the enemy's territory as a secret agent, you have to run non-stop and escape from the traps set by the enemy. In this game, which has both run and battle mechanics, we can defeat the enemies we encounter with the ammunition we collect on the road.
Agent Dash, which has high action and excitement, manages to be a pleasant rival to Subway Surfers with its gameplay mechanics close to Subway Surfers and the different elements it adds to these gameplay mechanics.
Rail Rush
Endless runner games with certain concepts and customizations have become very popular on mobile, especially after Subway Surfers became a legend. Rail Rush is one of the fun platform games that follows this school. This time, the mechanics of this game, which we run in underground mines instead of subway stations, are almost the same as Subway Surfers.
While trying to take our train the longest distance by maneuvering to the right, left, up and down, we can collect the eggs that appear and unlock surprise features. Home to 18 different characters, 10 different worlds, and secret sections, Rail Rush is one of the best endless runner games for Android and iPhone. 
---
Also Read: 19 Mobile Games With Best Graphics
---
Subway Surfers
In Subway Surfers, one of the best endless runner games for Android and iPhone, your goal is to help Jake, Tricky, and Fresh to escape from the grumpy Inspector and his dog. With more than one billion downloads, fun and simple gameplay, colorful graphics, Subway Surfers will allow you to feel the excitement and competitiveness of endless runner to your bones.
Subway Surfers on the App Store
Jetpack Joyride
Jetpack Joyride is an endless runner game that stands out for its fun and gameplay variety. The game, which pushes the players to earn more and reach the longest time with its remarkable customizations, is very similar to Subway Surfers in this respect.
Jetpack Joyride, which keeps the excitement and competition in the game alive with new themes and missions, is an indispensable game for Arcade endless runner game lovers.
Jetpack Joyride on Google Play
Jetpack Joyride on the App Store
Blades of Brim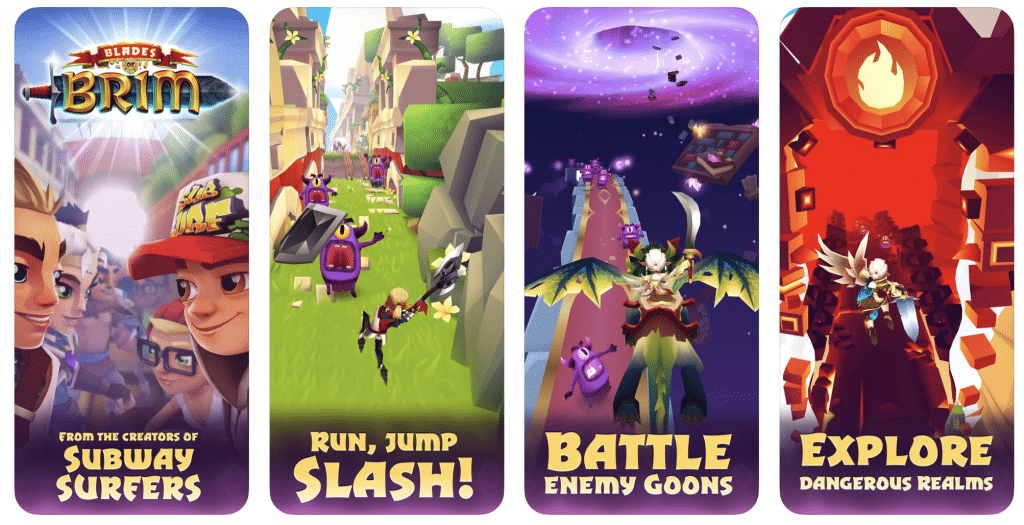 Blades of Brim, another one of the best endless runner games from the creators of Subway Surfers, adds many cool new gameplay mechanics on top of Subway Surfers gameplay mechanics. In Blades of Brim, where we try to run and defeat the monsters, there are many characters, weapons and pet creature customizations that we can summon.
Combining Subway Surfers experience with fighting, making combos and different atmospheres, Blades of Brim manages to offer players a unique platform game experience. For this reason, Blades of Brim manages to remain a game similar to Subway Surfers, while at the same time it allows us to experience different gameplay styles.
Blades of Brim on the App Store
---
Also Read: The 10 Best Arcade Games for iPad
---
One Epic Knight
If you're bored of not being able to show your limits to the enemies running after you while playing Subway Surfers or not being able to break through the obstacles, One Epic Knight is the game for you. As the name suggests, we play a knight in One Epic Knight, where we go on an endless run in medieval-themed dungeons.
With the weapons and other objects we collect on the way, we can eliminate the enemies in our way or demolish the challenging obstacles. Of course, it is up to you whether or not to do all these. If you want, instead of defeating the enemies, you can escape in other ways. Combining the mechanics of Subway Surfers with a brand new gameplay, One Epic Knight is a game worth checking out.
One Epic Knight on Google Play
One Epic Knight on the App Store
Super Mario Run
You'll run and jump in style to save Princess Peach from Bowser's clutches in Super Mario Run, which lets you play the cult Super Mario one-handed on mobile. In the game, you need to clear the 24 exciting courses to rescue Princess Peach from Bowser, waiting in his castle at the end. There are many ways to enjoy the courses, such as collecting the 3 different types of colored coins or by competing for the highest score against your friends.
Super Mario Run on Google Play
Super Mario Run on the App Store
---
Also Read: The 12 Best Medieval Games for Android
---
Crash Bandicoot: On The Run!

The game, where you will encounter the iconic Crash Bandicoot characters such as Scorporilla, Nitrus Brio, Nina Cortex, and Dingdile again after years, invites you to a breathtaking adventure where you can find the enemies on the island and unlock the weapons to reach freedom.
Crash Bandicoot: On the Run! on Google Play
Run Forrest Run
In Run Forrest Run, the official game of Paramount's legendary movie Forrest Gump, you will guide Forrest on his trip and take control as he sets off from the humble countryside of Alabama, along the famous Route 66 and beyond. In the game, which also has a multiplayer mode, you will collect coins while trying to avoid obstacles, as in other games of its kind.
Run Forrest Run on the App Store
Run Forrest Run on Google Play