Many of today's mobile games require WiFi, even if it is a single player game, and this can be frustrating sometimes. We may need to play games on our phones to spend time especially in situations where we are without internet connection.
Today, with the developing mobile game world, there are many different mobile games that we can play without requiring WiFi. In this list we have compiled for you the best offline Android games that don't require WiFi.
---
Also read: The 6 Best MOBA Games for Android
---
Eternium 
Price: Free
Eternium is a game that can become an indispensable game for role-playing game lovers. If you love Diablo games and still play, you can think of Eternium as a kind of mobile version of the popular Diablo games.
Eternium, which has three different worlds and many tasks within these worlds, is one of the best role-playing games on mobile platforms and one of a few freemium RPGs that you can play without internet connection.
Google Play: Store Link
Alto's Odyssey
Price: Free
In Alto's Odyssey, which has a very magical atmosphere, you wear your snow skis and go on a long journey in the sands of the endless desert.
In this game, which is a side-scrolling infinite runner game, the main attraction will be the Indie game atmosphere, rather than the gameplay. The game experience in Alto's Odyssey, which consists of randomly generated episodes, is always fresh and full of excitement as when you opened the first game.
If you want to remove ads or buy coins for skin customization in this free offline Android game, you can pay for in-app purchases.
Google Play: Store Link
---
Also Read: The 12 Best Open World Games for Android
---
Crossy Road
Price: Free
In Crossy Road, developed by Hipster Whale, your goal is to take your hero as far as possible by keeping it away from the dangers it will encounter in traffic.
At the beginning of the game, you try to protect your chicken, which is your first character, from the crashes of cars and the sudden movements of the trains, while trying to pass it over the logs moving left and right on the river sides. While moving with your hero, the fine details in the game, such as hearing the music playing in some cars passing by, attract attention.
The Android game, which doesn't require WiFi, attracts attention with its extremely simple gameplay, 8-bit style-sized smooth graphics and excellent sound effects.
Google Play: Store Link
Sonic Dash
Price: Free
Combining classic platform running games with 3D graphics and endless mode, Sonic Dash is a non-monotonous game with various level structures and various characters from the Sonic universe.
Sonic Dash is an enjoyable platform game that you will open in public transport, in the car or while waiting for a turn and try to break the record in endless mode.
Google Play: Store Link
---
Also Read: The 13 Best Multiplayer Games for Android
---
Earn to Die 2
Price: Free
In Earn to Die 2, a 2D platform game, instead of running with your character and completing missions like in classic 2D platform games, you jump into vehicles and crush zombies.
Earn to Die 2, one of the rare zombie games that can be played without the internet, is a game with a high rate of addiction with a variety of episodes and vehicles.
Google Play: Store Link
Monument Valley 2
Price: $4.99
Praised and awarded by many game critics, Monument Valley 2 is a very successful Indie game with its Journey-like visuals and atmosphere. Based on the fascinating complexity of architecture and geometry, Monument Valley 2 can qualify as a platform / puzzle game.
Google Play: Store Link
Plague Inc. 
Price: Free
In this game that you can play offline on your Android device, you are trying to produce a new type of virus and infect the whole world.
While you are trying to develop the virus you produce very comprehensively and keep it alive, the countries of the world also manage vaccination studies and quarantine practices to combat the virus.
Google Play: Store Link
Smash Hit
Price: Free
Smash Hit, which attracts the appreciation of the players with its different graphics and atmosphere, especially in the days when mobile games are not as common and as much as today, is still a preferred game today.
You try to progress by breaking the glass obstacles with marbles in this offline Android game, which does not have level and level logic, and when you die, you start all over again.
Google Play: Store Link
Old Man's Journey
Price: $1.99
Old Man's Journey, a story-oriented Indie game, almost imprisons you in its own world with its peaceful story, episode designs with enchanting atmosphere and unique music. You witness the life adventure of an old man in Old Man's Journey, which has won more than 17 international awards.
With its hand-drawn episodes and peaceful atmosphere, Old Man's Journey offers players an escape from real life for a few hours.
Google Play: Store Link
---
Also Read: The 12 Best High Graphics Android Games
---
BADLAND
Price: Free
With more than 40 million players worldwide, Badland is an Indie game with quite interesting graphics and episode designs. You are trying to get your little creatures through challenging obstacles on the 2D platform in Badland, which has awards on many platforms.
You can design your own levels and fight with your friends in Badland, where you can also play multiplayer if you want.
Google Play: Store Link
Real Racing 3
Price: Free
Real Racing 3, one of the best racing games on the mobile platform, which has not fallen from the "Editor's Choice" list in the Play Store for a long time, offers players a very realistic driving experience, as its name suggests.
You will not want to leave the tracks easily in this game, which includes themes from organizations such as Formula 1 and various cars from 10 automakers. It is worth noting that Real Racing 3 has a download size of 38 MB, as well as a large download in the game.
Google Play: Store Link
---
Also Read: The 5 Best Android Racing Games
---
Bloons TD 6
Price: $4.99
Bloons TD 6 is a 3D monkey tower defense game where you craft defense from a combination of towers, upgrades, Heroes, and activated abilities.
Having more than 49 original maps, 21 monkey powers, and over 100 meta-upgrades, Bloons TD 6 is among the best offline games for Android with its gameplay and fun graphics.
Google Play: Store Link
Kingdom Rush Origins
Price: $2.99
Kingdom Rush, one of the best tower defense games ever developed, features maps with different themes such as mysterious elven forests and ancient metropolis ruins.
In this exciting prequel, you command your elven army and defend mystical lands from sea serpents, evil sorcerers, and wave after wave of gnoll tribesman, all with the help of brand-spankin' new towers, heroes, and spells to fend off every last baddie.
Google Play: Store Link
Hill Climb Racing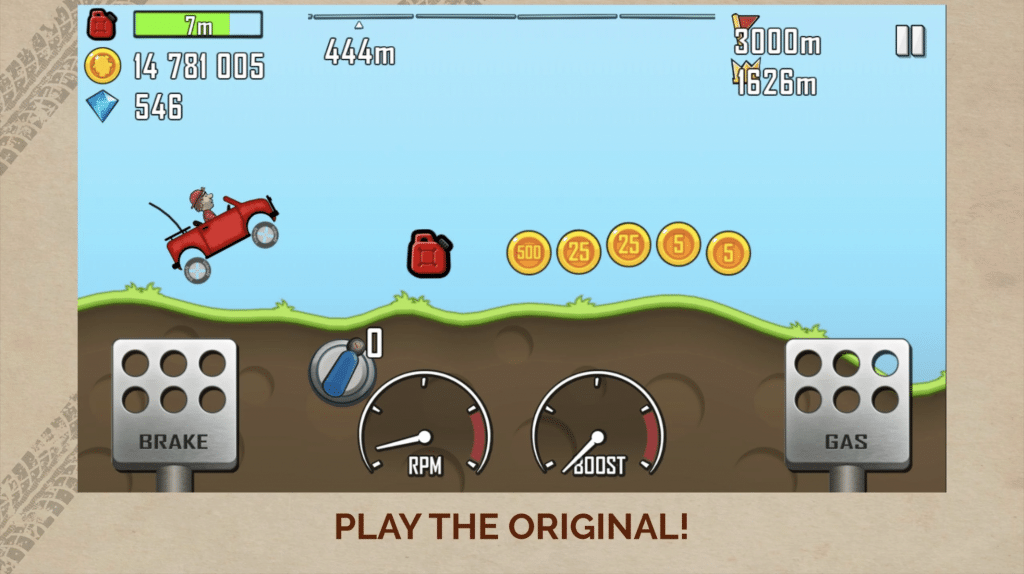 Price: Free
It is a widely popular 2D physics-based racing game developed by Fingersoft. In this offline Android game, you'll face challenges of unique hill climbing environments with more than 29 vehicles and over 28 stages.
You can upgrade your car by improving its engine, suspension, tires and more, and you can switch to the Garage mode to build and drive your dream vehicle with custom parts.
Google Play: Store Link
Shadow of Death: Darkness RPG
In Shadow of Death, where you can play offline on your Android device, you enter dark dungeons with a standard hero that the game provides. By completing the points on the maps, you contract experience points, increase the level of your character and improve his abilities.
The abilities of characters add an epic feel to the game, compared to the combos. At the same time, the sound effects and the character's tones are very good.

Google Play: Store Link