In the past, astrology consisted of small and pleasant information on the last page for most of us, but over time, the interest in this field has developed rapidly from special booklets to detailed information explained over the pages. Astrology, which has a deep-rooted and mysterious past, has an effective place in our lives with new doors being discovered every day. Especially in this uncertain process we live in, the value of every piece of information received has caused us to be more interested in astrology, which also offers clues about the future. The idea that everyone consisted of 12 zodiac signs, which was approached with a little disdain before, started to get rid of the restricted area as more information became available.
Mobile apps used for almost everything, together with technology, now offer a wide area with different approaches, including astrology. The best astrology apps in this list that you can use, from love compatibility to your personal roadmap, allow you to have an idea about many issues while bringing the sky close to you.
---
Also Read: The Best Stargazing Apps
---
The Best Astrology Apps
AstrologyZone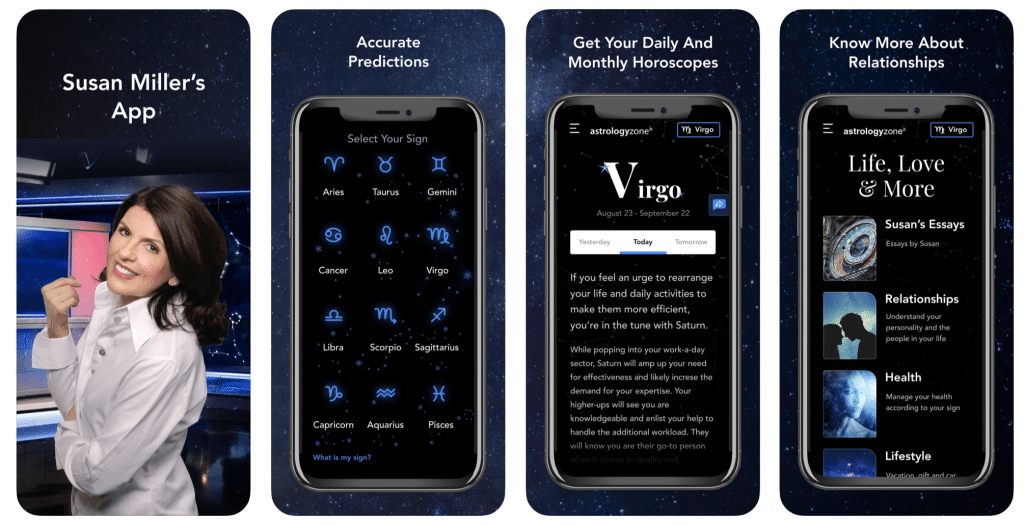 AstrologyZone is the app of Susan Miller, one of astrology's world-renowned names. As one of the best daily horoscope apps, AstrologyZone, which proceeds through daily and monthly readings with yesterday, today, and tomorrow's predictions, gives information about daily horoscopes for all 12 signs a day, plus Susan's highly popular detailed monthly horoscope for 12 signs.
If you want to get more detailed insights to plan your week, you can consider purchasing its paid version (costs $4.99 for one month, $12.99 for 3 months, or $49.99 for a full year). In the Premium version, you'll find more detailed insights to plan your week, key days analysis, and Susan's articles.
AstrologyZone on the App Store
The Pattern
As one of the best horoscope apps, The Pattern provides a wide range of information about your personality using your birthday and time, and also allows you to see your relationship compatibility with the feature called "bond", which you can use for both romantic and friend relationships.
Since it also has interactive content, you can get together with people who share similar characteristics with you, and you can create a connection by answering the deep questions asked by the app. In addition, The Pattern, which takes note of important cycles for you, tells you when you may experience changes in your life or which periods are critical.
It gives a deep analysis that even the famous Channing Tatum admits is frighteningly accurate. The Pattern is not only great for compatibility analysis but also shows you how you behave in life, work, and family matters. It provides worldwide predictions as well as comprehensive behavioral cycles you may be experiencing.
---
Also Read: The Best Apps for Couples
---
Sanctuary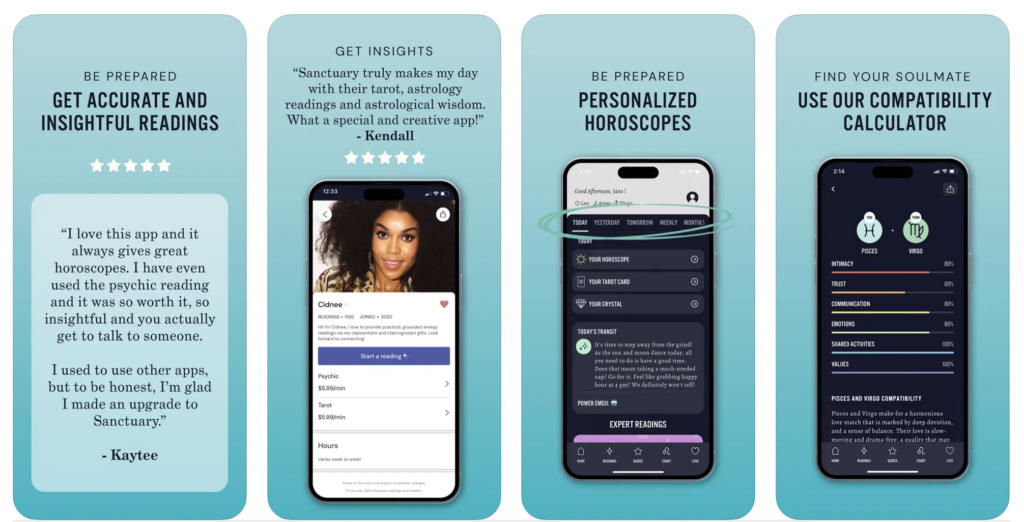 Next in our best astrology apps list is Sanctuary, a daily horoscope app that differs from many other astrology apps with its interactivity. The biggest difference of this app is that you can get in touch with real astrologers, tarot readers, and psychics.
In addition to astrologers who make special comments for you, there is a digital library where you can access daily horoscopes, weekly tarot readings and more information.
Having the motto "Get daily personalized horoscopes, tarot & psychic readings from a real astrologer, not an algorithm!", Sanctuary's Instagram account, which consists of many enjoyable content, is followed by 1.3 million people.
Time Nomad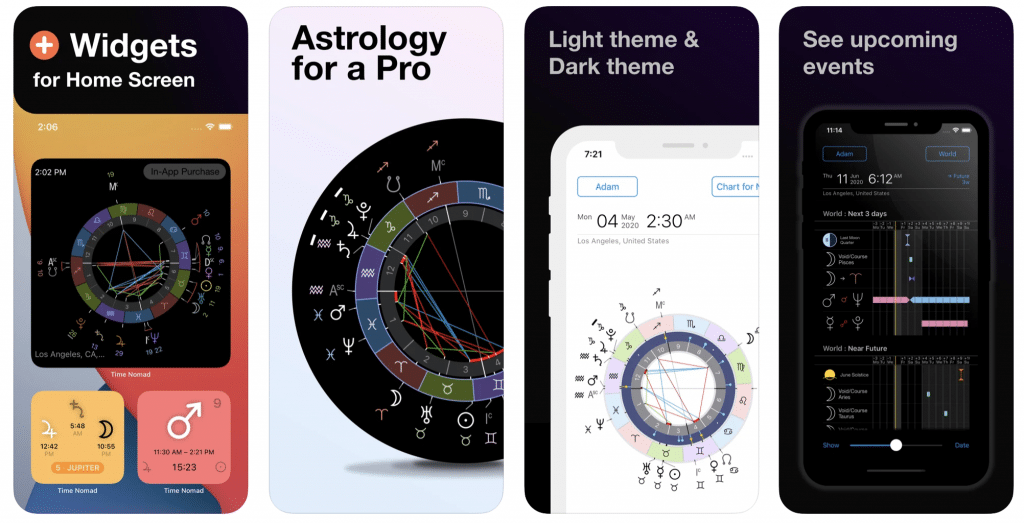 As one of the best astrology apps, Time Nomad provides real-time astrological charts, transits, synastry, progressions, fixed stars and much more.
The working mechanism of Time Nomad is based on your birthday and time as most of the astrology apps. If you know the information, you can look at the charts of more than one person, and the app does not require you to register while sharing information such as the location of the planets and their effects on your chart, on a more instructive level.
It is only available on the App Store and it offers different home screen widgets such as Current Astrological Chart widget and Phase of the Moon widget.
---
Also Read: The Best Meditation Apps
---
Co-Star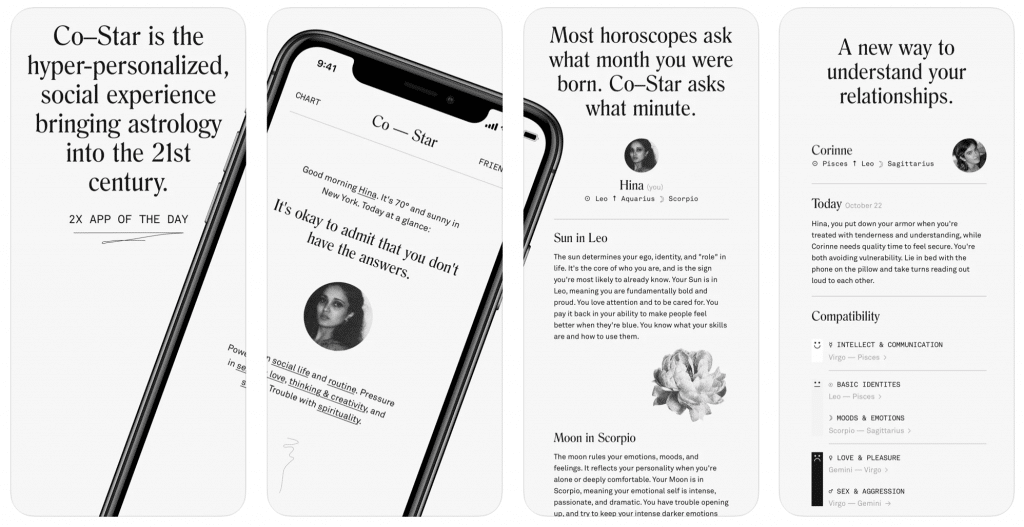 Co-Star is one of the best astrology apps with a stylish, minimalist design and detailed personal analysis.
The app, which progresses with your birth information, informs you about planetary movements or eclipses and shares what this means for you. Although it contains slightly more negative comments than The Pattern, it also provides information on how you can increase your chances and protect yourself.
Also a bit of a social platform as you can add friends and see and track their zodiac signs, Co-Star is a very ambitious and very popular daily horoscope app that says it offers highly personalized real-time updates and analysis based on planetary movements.
---
Also Read: The Best Note Taking Apps
---
The DailyHoroscope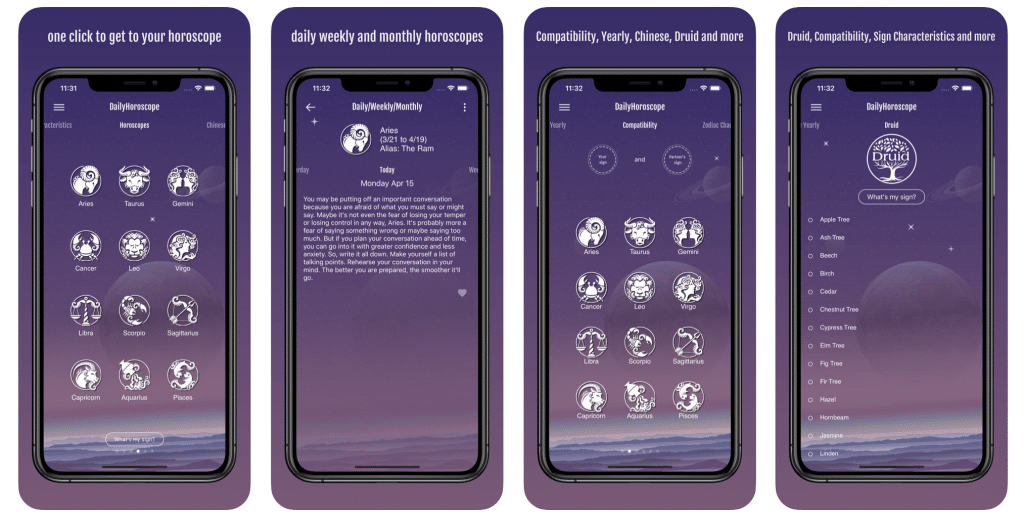 With more than 10 million users worldwide, The DailyHoroscope is one of the best daily horoscope apps which is completely free and easy-to-use.
It is a basic horoscope app that provides daily, weekly, and monthly horoscopes as well as zodiac sign compatibility horoscope, Chinese yearly horoscope, and more. It is especially ideal for beginners.
The DailyHoroscope on the App Store
The DailyHoroscope on Google Play