Mobile games have become the most demanded gaming platform in recent years, surpassing PC and console games. As the players see that the graphics and story quality they find in PC and console games are also accessible on their phones, and very successful productions have been released in almost every genre, mobile games have started to become the first choice.
Since the earliest known mobile game, a variant of Tetris on the Hagenuk MT-2000 in 1994, the emergence of different genres and different highly successful games in those genres have led to a continued increase in mobile gaming statistics as well. Time spent in mobile games, global and country-based downloads, in-game revenues and top charts have expanded over time, and although there are occasional decreases, the increase in all these data continues.
If you want to take a closer look at the developments in the mobile game world on the basis of statistics, here are the latest mobile gaming statistics…
Consumer Spending and Download Stats on Mobile Games (2023)
According to data.ai and IDC's predictions, mobile games will account for more than half (56%) of all gaming-related spending globally in 2023.
During the first three months of 2023, consumers downloaded 1.2 billion mobile games weekly and spent an average of $1.63 billion on them.
| | |
| --- | --- |
| Year | Annual Consumer Spending on Mobile Games |
| 2022 | $109.51 billion |
| 2021 | $116 billion |
| 2020 | $100.46 billion |
| 2019 | $85.76 billion |
| 2018 | $73.79 billion |
The three countries that contributed the most to consumer spending on Google Play games during the first three months of 2023 were the United States, South Korea, and Japan. On iOS, the US, China, and Japan had the best results, while Taiwan, South Korea, and Japan had the fastest growth.
Mobile game downloads increased by 23% in January 2023 compared to Q4 2022 and 10% above the 2022 average as a whole.
The amount spent on gaming app install ads worldwide last year was $26.7 billion, with $12.2 billion of that amount coming from the U.S. market.
In 2022, 782 deals totaling $55.7 billion in deal value were made in the video game business, a decrease of 24.9% from 2021.
The year-over-year decrease in mobile gaming sessions in 2022 was 17%, with a bottoming out period from September to December. Sessions, however, are rebounding, with January 2023 data 11% higher than Q4 2022. (Adjust)
Sessions were on average shorter globally in 2022, lasting 30.33 minutes as opposed to 31.5 minutes in 2021. Asia Pacific had the longest sessions on average, at around 34 minutes.
Country-Based Mobile Gaming Statistics (2023)
Genre-Based Mobile Gaming Statistics (2023)
During the last quarter of 2022, downloads of hypercasual games from the Play Store and the App Store fell by 24% year over year to 2.7 billion. They received 12.3 billion downloads overall for the year, which is a 10% decrease from 13.7 billion in 2021.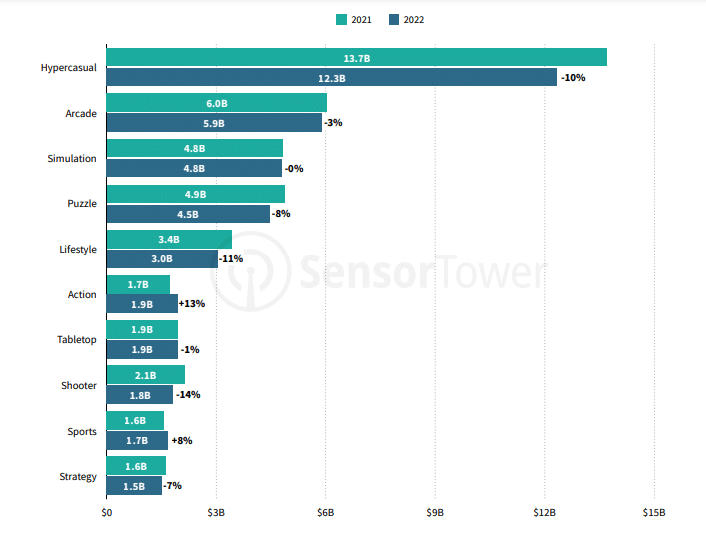 Paid competitive gaming (PCG) has been designated as the gaming industry's fastest-growing section, expanding six times more quickly than the overall market. The market is anticipated to increase at a compound annual growth rate (CAGR) of 31.9% from 2021 to 2024, reaching $16 billion. (PocketGamer)
With an average of $10.3 spent by users per device on the iOS app store in 2022, Japan took the top spot. South Korea came in at $7.1 and Singapore came in at $8.1 after that. Consumers in South Korea outspent those in Japan and Australia on Google Play, spending an average of $11.2 per device in South Korea, $9.8 in Japan, and $5.3 in Australia. (Data.ai)
Top Grossing Mobile Games
Top Grossing Mobile Games on the App Store (2022)
Top Grossing Mobile Games on Google Play (2022)
| Mobile Game | Annual Game Revenue |
| --- | --- |
| Coin Master | $521 million |
| Candy Crush Saga | $502 million |
| Lineage W | $370 million |
| Genshin Impact | $337 million |
| Roblox | $336 million |
| Pokemon GO | $321 million |
| Lineage M | $239 million |
| Puzzles & Survival | $232 million |
| Evony: The King's Return | $207 million |
| Fate / Grand Order | $206 million |