Games market intelligence firm Niko Partners has released a new report forecasting the state of the game industry in Saudi Arabia, Egypt and the United Arab Emirates in the near future.
According to the MENA-3 Games Market Report, these countries had a total of 67.4 million gamers, and saw $1.79 billion in games revenue in 2022.
In 2026, the company expects the number of gamers in the region to reach 87.3 million, and the games revenue to rise by 56% to $2.79 billion.
The growth will be mainly driven by mobile gaming, public and private sector investment and esports, Niko Partners said, adding that it will ''likely to catapult the region alongside global esports giants such as Singapore and China''.
Currently, 73% of gamers in the MENA-3 region engage with esports through various ways, such as watching content, playing games or participating in competitions.
Per report, the countries will have different contributions to the growth. While Egypt currently has the highest number of players and is the region's fastest growing market, Saudi Arabia has the highest games revenue, and the United Arab Emirates has the highest average revenue per user (ARPU).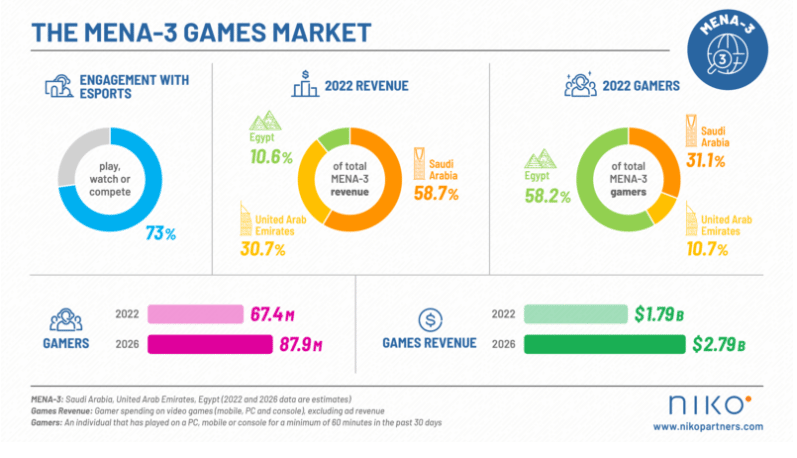 According to another report by Niko Partners, India is slowly closing in on China in the Asian mobile games market.