While China continues to be the leader of the mobile gaming industry, India is narrowing the gap with each passing day, according to a new PocketGamer.biz report citing data from Niko Partners.
One of the signs showing India's growing competition is that the country has now the fastest growing gaming market in Asia in terms of average revenue per unit (ARPU), gaming revenue,and also the number of players. Per Newzoo, the country currently has 396.4 million PC and mobile gamers who contribute $704.5 million to PC & mobile titles. While PC gamers also tend to play on mobile and vice versa, average weekly mobile playtime currently stands at 14.1 hours.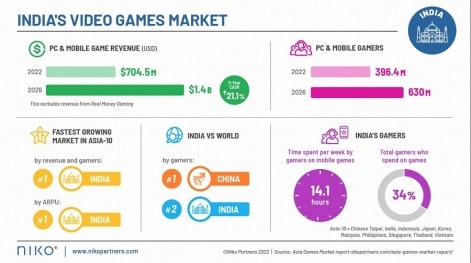 But China is still well ahead with a total gaming revenue of $8.2 billion. India, on the other hand, is expected to hit $1.4 billion by 2026, which suggests that there won't be a close-run between the countries very soon. However, India's rapidly growing player count could help it easily outpace that of China, and then significantly increase its revenue by monetizing these gamers.
---
Also Read: Global games market to decline 4.3% to $184.4bn in 2022 –Newzoo
---
According to PocketGamer.biz, the main factor for India's rise in the gaming ecosystem is that it has more lax regulations when compared to China. While the Indian government has also banned dozens of games like Garena's Free Fire: Illuminate, PUBG Mobile, and also its Indian version Battlegrounds Mobile India (BGMI), it's regulations are still more transparent and stable compared to those of China which has been heavily cracking down on online gaming, the report suggests.
China slowed down its game approval process last September, just a month after a state-owned newspaper called online gaming ''opium for the mind''. The approval freeze was as a result of the country's efforts to make sure that gaming companies were following its rules that now require them to limit playtime for minors to 3 hours a week. 
---
Also Read: China has resolved game addiction among minors, top industry body says
---
While the approval freeze came to an end earlier this year, China still requires gaming companies to get licenses to be able to offer their titles to users in the country. According to a recent report by CNG, the number of games banned in the country grew 89% during the third quarter of this year, while its mobile gaming revenue dropped 19% Y/Y to $8 billion.