While the mobile gaming industry keeps facing various challenges including Apple's IDFA changes and the post-pandemic global economic slowdown, some game categories have been impacted more severely than others.
According to Sensor Tower's new State of Mobile Gaming 2023 report, the genres that have suffered the most in recent years are Hypercasual, Shooter and RPG.
Despite becoming the fastest growing genre by downloads during the pandemic, the Hypercasual category couldn't maintain the massive success it had in recent years and its downloads have continued to decrease during the post-pandemic era. 
Per report, Play Store and App Store downloads of Hypercasual games dropped by 24% year-over-year to 2.7 billion during the last quarter of 2022. Throughout the year, they garnered a total of 12.3 billion downloads, down 10% from 13.7 billion in 2021.
But still, Hypercasual was the No.1 genre of 2022 by downloads, followed by Arcade (5.9B), Simulation, Puzzle (4.5B) and Lifestyle (3B) respectively, all of which also rounded out the Top 5 in 2021.
Unlike most of the other categories, downloads of Action games rose 13% to 1.9 billion, largely boosted by successful titles like Shooter.io and School Party Craft.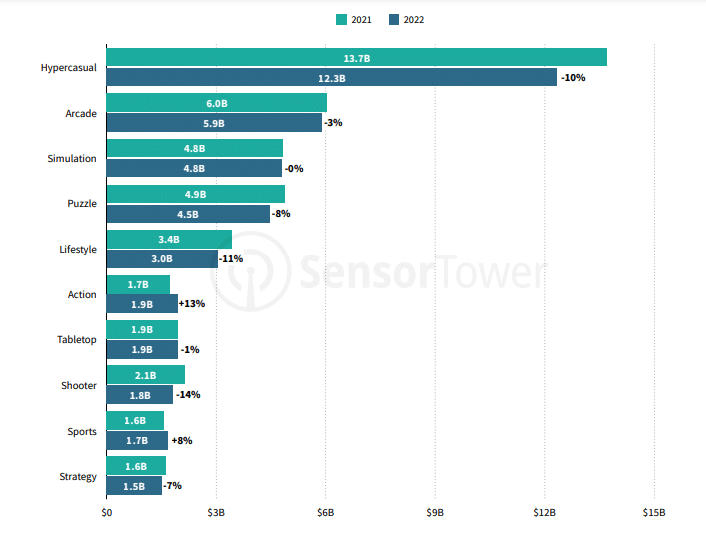 The report also revealed that while Hypercasual downloads dropped by over 1 billion in 2022, Hybridcasual games, which combine Hypercasual's easy gameplay with Midcore and Casual games' retention and monetization features, saw a 13% Y/Y growth.
In 2022, Hybridcasual titles saw a total of 5.1 billion App Store and Play Store downloads, and $1.4 billion in global revenue.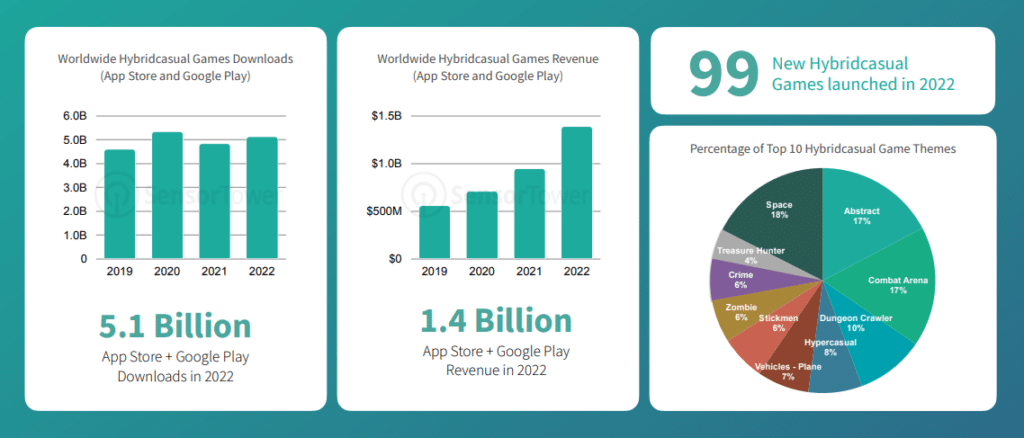 In addition, downloads of Exclusive Access games, like Netflix's new video games that are only available to its subscribers, also saw a 54% Y/Y growth in downloads.
Netflix's growing catalog of games generated a total of 24.6 million installs last year, according to the report.