Paris based video game firm Voodoo was the top hypercasual game publisher by app downloads in the third quarter of 2020 according to recent Apptopia data and Google was the top mobile publisher worldwide for September 2020 according to Sensor Tower's Store Intelligence platform.
---
Mobile app industry keeps growing at a great speed as more and more people from all around the world are turning to mobile apps and games to keep themselves entertained and occupied during the ongoing pandemic.
According to App Annie, weekly mobile game downloads hit 1 billion worldwide with a 15% year-on-year growth and monthly time spent in apps jumped 40% to 200 billion hours while consumer spending surpassed $27 billion during the second quarter of 2020.
According to the latest report of Apptopia, French mobile game firm Voodoo became the top hyper casual game publisher with over 529 million installs in Q3 2020, generating 105% more downloads than Lion Studios, the second name in the list with around 258 million installs.
Lion Studios was followed by SayGames with 202 million, Crazy Labs with 157 million and Amanotes with 139 million respectively.
While the second half in the list generated similar amounts of downloads, there is a drop off after Rollic Games according to the report. At the 11th place in the list, Kwalee generated around 63 million installs during the third quarter of 2020.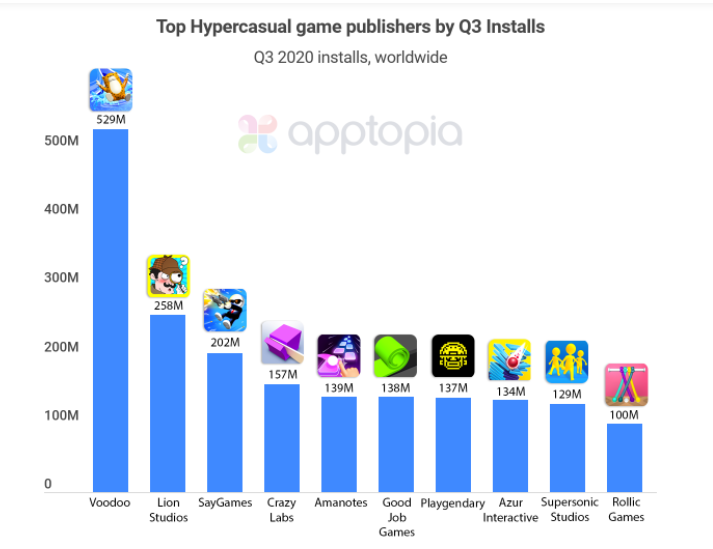 While Voodoo was the top hypercasual publisher by downloads during Q3 2020, Vietnam-based Gamejam Co. was the fastest growing hyper casual game publisher with a 1314% y-o-y increase in downloads.
In the meantime, Rollic Games also observed an impressive growth with a %444 increase in downloads in the third quarter of this year. Zynga recently closed the acquisition of the Istanbul-based gaming studio.
Rollic Games was followed by HOMA Games, BoomBit and Azur Interactive, with YoY growth rates of 337%, 261% and 101% respectively.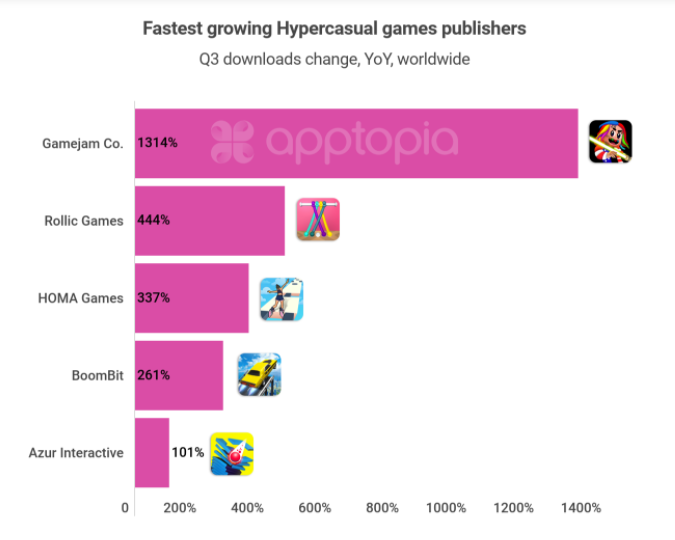 Google Was The Top Mobile Publisher By Downloads In September 2020
Another data from Sensor Tower shows that Google became the top mobile publisher worldwide in September 2020, generating 294.3 million app downloads with a 20% YoY increase.
Google was followed by Facebook with over 204.8 million downloads while Voodoo came in No.3, AppLovin in No.4 and Bytedance in No.5.
The second half of the list includes Microsoft, InnerSloth, Outfit7, Crazy Labs and InShot.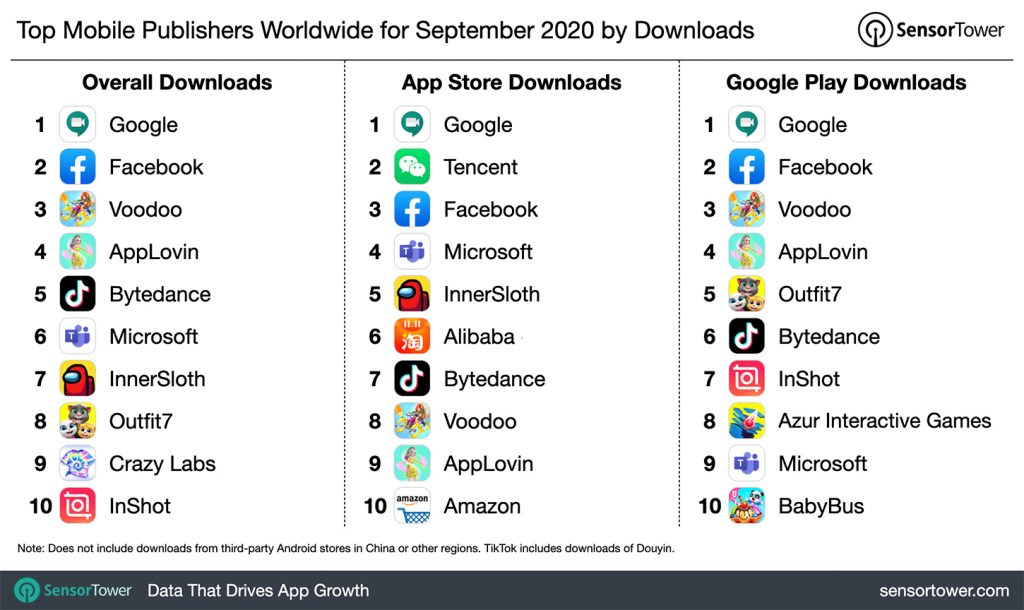 The inclusion of InnerSloth in the list is largely thanks to its rising multiplayer social deduction game Among Us which recently surpassed 120 million lifetime downloads with a 655% monthly increase and generated $11 million from user spendings.
In September 2020, Among Us videos on Youtube were viewed over 4 billion times as shared on Youtube Trends.