Among Us videos on Youtube were viewed over 4 billion times in September, according to a recent article shared on Youtube Trends.
---
Among US, a highly trending multiplayer social deduction game developed by US-based game studio InnerSloth, keeps climbing the charts on the app markets and growing its audience at a great speed.
As we mentioned in a previous article, the game recently hit 120 million lifetime downloads and surpassed $11 million in user spendings.
---
Also Read: Among Us Sees 655% Increase In Downloads & Hits 120 Million Global Installs
---
As well as on the app markets, Among Us has also gained a great deal of popularity on video streaming platforms including Youtube. A recent article shared on Youtube Culture & Trends shows that Among Us-related videos on the platform hit 4 billion views during the last month.
While the US users accounted for 18.7% of the total views; South Korea, Indonesia, Brazil and Argentina also showed rising interest in Among Us videos.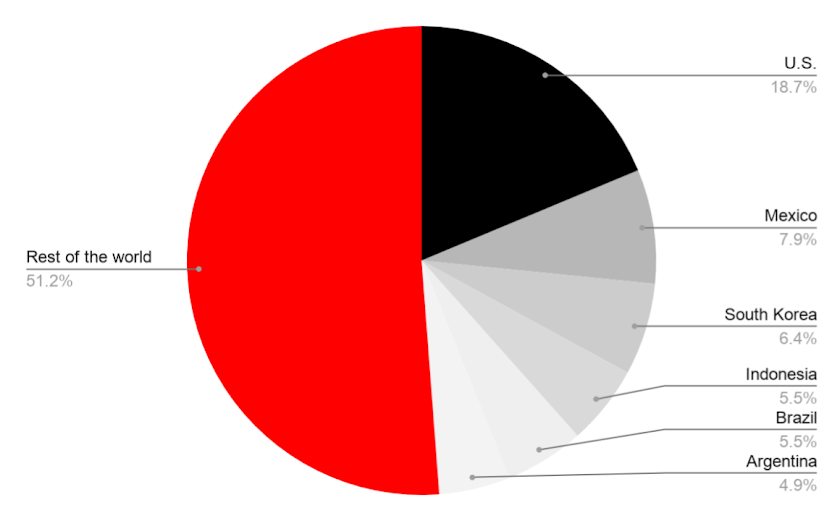 Gameplay videos make up the majority of Among US videos being uploaded to Youtube. However, there are also other types of videos regarding the game including animation videos which accounted for 6% of the total views generated last month, memes, songs, DIY videos and more.
According to Youtube, while the majority of Among US videos have been uploaded by smaller creators, there are also many world-famous Youtube Creators with big audiences that shared content about the popular game.