What is Twitter?
Founded in 2006 by Jack Dorsey, Evan Williams, Noah Glass, and Biz Stone, Twitter is a very popular microblogging and social networking platform where users are communicating and staying connected via quick messages and interactions.
Twitter is generally used for sharing thoughts and information with a big audience, keeping up with local and global news, following celebrities and brands, and for following and communicating with friends. Used by millions of people around the world daily, the easy to use platform has become a one stop shop for millions of people from different countries, languages, cultures, and views.
Twitter is also a great channel for both small and large businesses for marketing to increase their brand awareness and to let their audiences get in touch with them in seconds. Via Twitter, brands and businesses share their important updates and company or customer-related news, answer their audience's questions, and even watch closely their competitors to create a competitive advantage.
P.S. In October 2022, Elon Musk completed Twitter's $44 billion acquisition, making the company private. Musk rebranded Twitter to X in July 2023.
Twitter Usage Statistics (2023)
𝕏 monthly users reach new high in 2023 pic.twitter.com/trqLGBEvvA

— Elon Musk (@elonmusk) July 28, 2023
| | |
| --- | --- |
| | Monetizable DAUs |
| November 2022 | 253.8 million |
| Q2 2022 | 237.8 million |
| Q1 2022 | 229 million |
| Q4 2021 | 214.7 million |
| Q3 2021 | 209.3 million |
| Q2 2021 | 204 million |
| Q1 2021 | 197.6 million |
| Q4 2020 | 190.9 million |
| Q3 2020 | 187 million |
| Q2 2020 | 186 million |
| Q1 2020 | 166 million |
| Q4 2019 | 152 million |
| Q3 2019 | 145 million |
| Q2 2019 | 139 million |
| Q1 2019 | 134 million |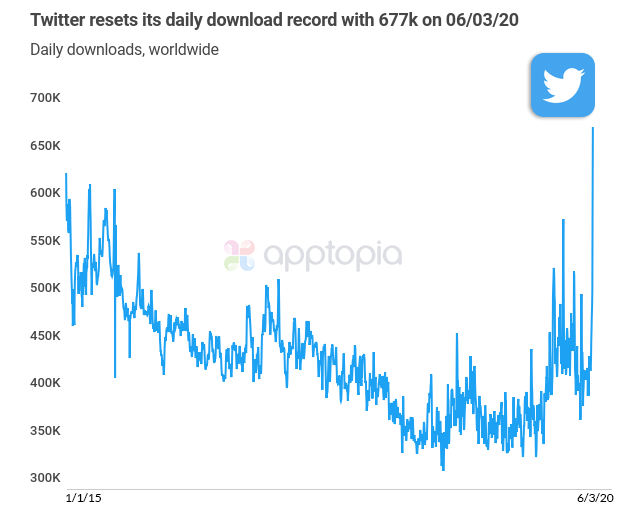 Twitter Revenue Statistics (2023)
| | |
| --- | --- |
| | Twitter Revenue |
| Q2 2022 | $1.18 billion |
| Q1 2022 | $1.20 billion |
| Q4 2021 | $1.57 billion |
| Q3 2021 | $1.28 billion |
| Q2 2021 | $1.19 billion |
| Q1 2021 | $1.04 billion |
| 2020 | $3,71 billion |
| 2019 | $3,46 billion |
| 2018 | $3,04 billion |
| 2017 | $2,44 billion |
| 2016 | $2,53 billion |
| 2015 | $2,22 billion |
| 2014 | $1,40 billion |
Frequently asked questions about Twitter
What is a tweet?
A tweet means any message posted on Twitter that can be an image, a video, a text, a link, a gif, or a poll. Users can create tweets, that should include up to 280 characters, and post it immediately or schedule it for a later time. A user has a limit of 2400 tweets per day and retweets are counted as tweets.
A user can choose who can reply to their Tweets, following a recent feature Twitter announcement Using the feature while tweeting, before sending it, users have 3 different options to choose who can reply including Everyone, People you follow, and Only people you mention.
It is also allowed to delete any Tweet at any time but users can only delete their own tweets. Tweets should be deleted one by one, meaning there is no way to delete multiple tweets at a time. A deleted tweet is removed from the user's profile, Twitter's search results, the timeline of any accounts that follow the user, and from the retweets. However, if another user has copied and pasted part or all of a tweet into his/her own tweet, it is not removed.
Twitter also rolled out a new feature called Quote Tweets that enables users to see when someone else retweets their tweets with a comment. The feature is located between ''Retweets'' and ''Likes'' labels.
What is retweet?
A retweet is re-sharing a Tweet enabling users to share a tweet that they like quickly with their followers. A retweet is also known as "rt" on Twitter. A retweet looks like a normal tweet with a Retweet icon
next to the name of the person who retweeted the tweet. Users can see Tweets people they follow have retweeted and quote tweeted in their Home timeline. However it is not allowed to see retweets and quote tweets from accounts blocked.
It is allowed to turn off retweets for a specific account by selecting "Turn off Retweets" from the account profile page by clicking the gear icon or the overflow icon.
A retweet can be undone by clicking on the Retweet icon in the tweet. If there is a lock icon next to someone's name on the profile page on his or her tweets, it means it is not allowed to retweet his or her tweets.
What is dm in Twitter?
A dm, also known as direct message, is a private message sent directly to a Twitter account from another Twitter account. A direct message, or dm, does not appear on public profiles and only the receiver can see and read the message.
A direct message can be sent to one single person or to a group of people who follows you. In group conversations, users are allowed to add other users from their followers. However it is restricted to send a direct message to a person you block.
When a direct message (DM) is deleted, it is only removed from the account of the user who deleted it.
The limit is 1,000 direct messages sent per day.
What are Twitter lists?
A Twitter list is a curated collection of Twitter accounts that users are allowed to create by their own or follow Lists created by others. A Twitter list can be shared, edited, and deleted. Users can add and remove lists to their home timelines, follow other people's lists, view tweets from lists, and report a list.
What is a hashtag on Twitter?
Adding a "#" to the beginning of a word or a phrase creates a hashtag. Using hashtags in a tweet makes it linked to all other tweets that use the same hashtag and it increases the opportunity of a tweet to be seen, retweeted, liked, and replied by more people following the hashtag.
There are some popular hashtags including #tuesdaymotivation, #photography, and #funny. Single users and businesses prefer using hashtags to increase their tweets' impressions and maximize the interaction. What important while using hashtags is relevancy with the tweet's content.
What is Tweetdeck?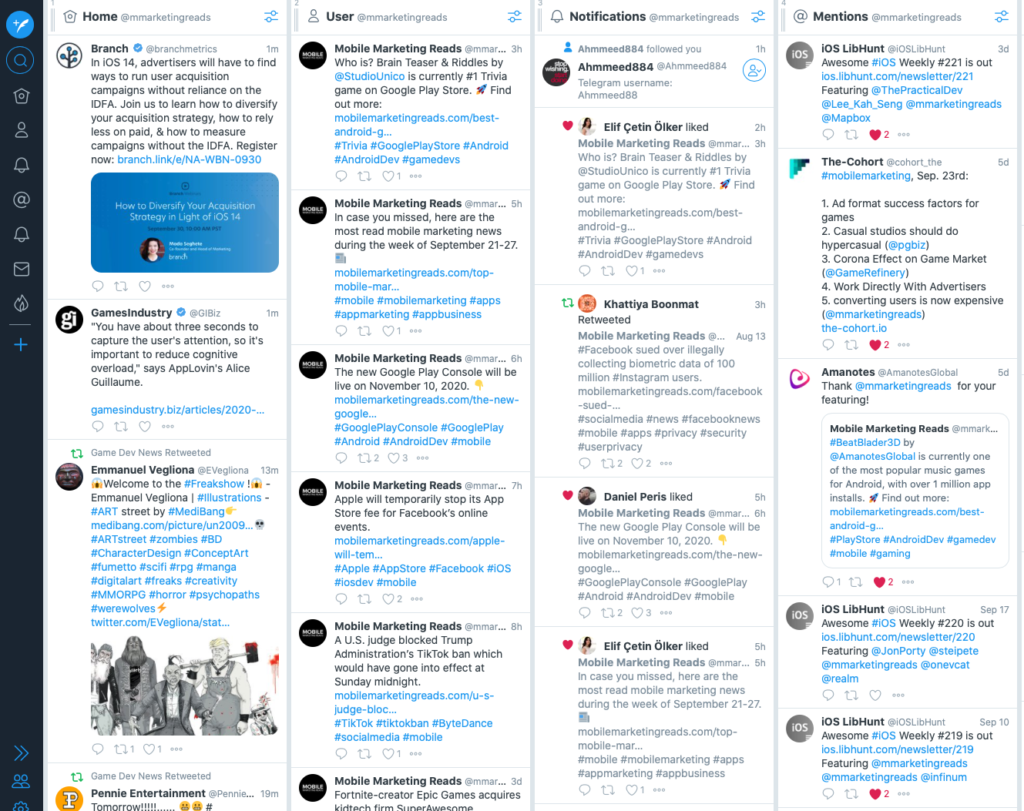 A Tweetdeck is a dashboard provided by Twitter, letting users to view and manage multiple timelines in one interface. It is a free to use dashboard where users can pick their favorite timelines like Followers, Mentions, Messages, Home page, user profile, and more, and see them in a single page without having to leave any page.
What does embed tweet mean?
Embedded Tweets are tweets added to a page or website from Twitter. Embedded tweets look the same as tweets in Twitter. Users can click on an embedded tweet to be redirected to the original tweet page in Twitter in order to interact with the tweet via retweet, reply, or like. Every tweet has an embed code that users can copy and paste into their webpages.
What happens when you block someone on Twitter?
When you block someone on Twitter, the account you blocked can't follow you and you also can't continue following that account. A blocked account doesn't get a notification when you block it but if the blocked account visits your profile and tries to see your tweets, it will see that you've blocked.
Blocked accounts can't view or find your tweets, send DMs (direct messages), view your followers and following lists, add you to a Twitter list, or tag you in a photo.
What is a pinned tweet?
A pinned tweet is a static tweet staying at the top of your profile. When someone visits your profile, he/she first sees your pinned tweet at the top of your feed. You can only pin one tweet at a time to your profile.
Pinned tweets are mostly used to show the most retweeted, liked, or replied tweet or to show the newest tweet to new followers in order to get more interaction.
What is my Twitter url?
After signing in to your Twitter account, if you have any, you need to go to the 'Profile' section and copy the web address in your browser's address bar. Your Twitter URL will be something like: https://twitter.com/mmarketingreads
Your twitter username is what you see under your Twitter name in the Profile section, starting with @ sign. Your Twitter username should be something like @mmarketingreads