Twitter has just broken its daily download record as people are using the platform actively to share information and stay informed about the ongoing protests over George Floyd's death and the Coronavirus Pandemic.
According to the data by Sensor Tower, mobile app store intelligence firm, Twitter hit more than 1 million downloads on last Monday (June 2), breaking its daily download record since at least 2014 when Sensor Tower started recording app store data.
Twitter was also downloaded around 1 million times last Tuesday (June 3). Although the figures were in a downward trend on Wednesday, its US downloads in the last week were higher than they had been in the last 4 years.
In the meantime, another mobile app store intelligence firm Apptopia shared its insights on the microblogging platform's app downloads during the protests and COVID-19.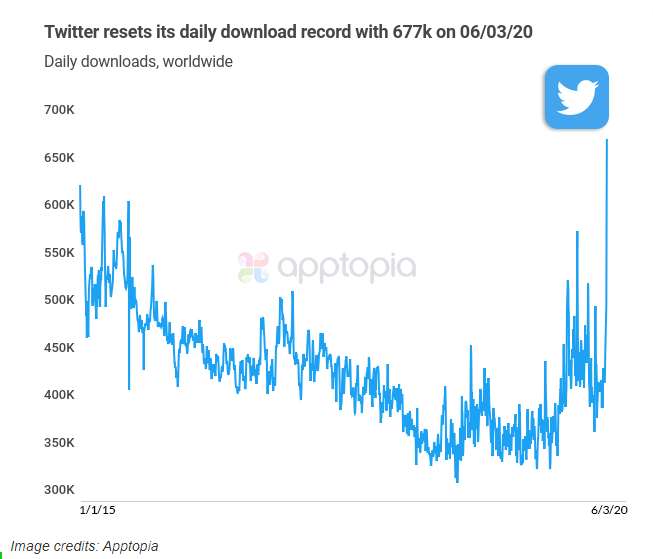 According to Apptopia's data, Twitter broke its daily download record on last Wednesday, hitting 677,000 global downloads and 140,000 US downloads.
While there are obviously many differences between the data of Sensor Tower and Apptopia, both firms agreed that the mobile app of Twitter had its largest week ever.
By the way, Twitter has not yet released any information about its app's downloads in Q2 2020. However, the number of its monetizable daily active users (mDAU) was 31 million in Q4 2019 and reached 33 million in Q1 2020.