Founded in 2016, Mastodon, a free and open source social media platform based in Germany, is quite similar to Twitter. You can follow users, like and share their posts, and interact with other users in this way. It provides services through both mobile and web.
It is operated by a non-profit organization led by its founder, Eugen Rochko, and is crowdfunded. It is also a free and ad-free platform.
Unlike Twitter, Mastodon includes a distributed social network where users register on individual servers or nodes, each with their own theme, rules, language and moderation policy. In other words, to use the platform, the first thing you need to do is on which server you want to create your account. According to the information shared by the company, each server is operated by a different independent organization or individual, and auditing policies may differ.
Following the acquisition of Twitter by Elon Musk and Musk's announcement that a monthly fee will be charged from approved accounts, Mastodon has become one of the best Twitter alternatives for users looking for another platform.
Defining itself as a "social networking that's not for sale", Mastodon was built on web protocols so that it can speak with any other platform that implements ActivityPub. With this, users get get access to a whole universe of social apps, Mastodon says.
Mastodon User Statistics
Between October and November 2022, Mastodon jumped from approximately 300K monthly active users to 2.5 million. (Mastodon)
In the first week of November 2022, decentralized social network Mastodon has reached over one million monthly active users as more people are joining it to find an alternative to Twitter. Considering that Twitter has 253.8 million daily users, there is actually a long way to go. However, this seems like a good start.
The Mastodon platform hit the highest number of downloads ever in a single day, with 34,000 new downloads on both iOS and Android, just 3 days after Twitter's acquisition, on Saturday, October 29.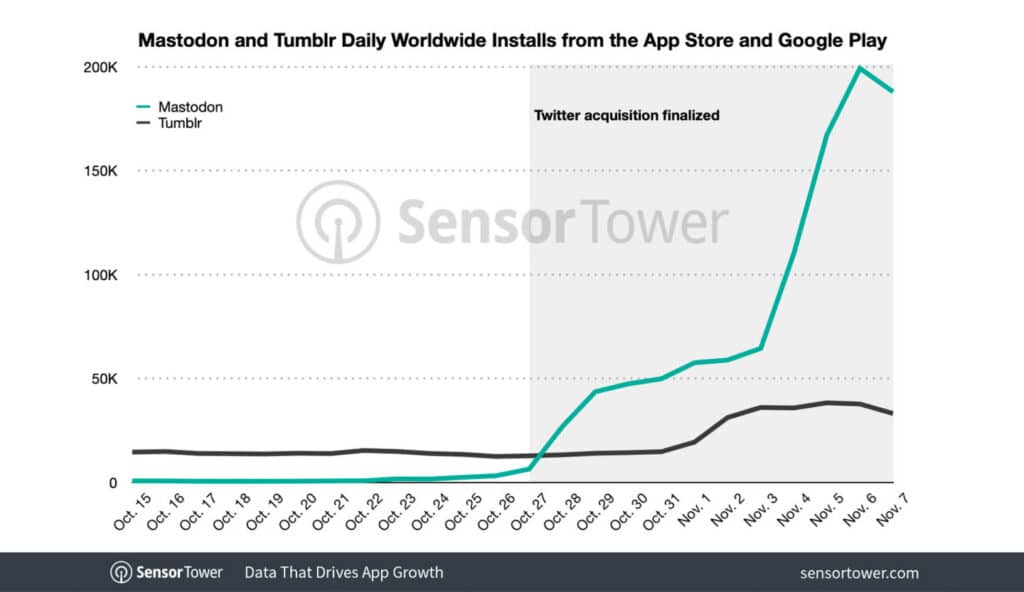 According to a report from Sensor Tower, Mastodon had 322,000 additional downloads in the United States between October 27 and November 7. It had 3,000 in the preceding twelve days, which is 100 times higher than this. Meanwhile, its global installs rose 657% to 1 million, up from the 15,000 it saw before the acquisition of Twitter. In addition, the number of downloads for third-party Mastodon apps like Tootle and Metatext increased globally from 1,000 to 19,000 and 7,000 downloads, respectively.