LG Ad Solutions' new "The Connected Gamer" report revealed that over two-thirds of connected TV owners in the United States engage in video gaming, and those gamers are more likely to subscribe to streaming services, including both free and ad-supported ones (FAST), than the overall population of CTV owners. (via MediaPost)
For the study, the company conducted a survey in March with 709 adults who live in the United States, have a connected TV, and play games using their video game consoles.
Among all the streaming services included in the study, the majority of gamers said they prefer Discovery+, which mainly focuses on science and technology-related content. It was followed by Apple TV+, Disney+, Peacock, Paramount+, YouTube Premium / YouTube TV, HBO Max, Hulu / Hulu Live, Netflix, and Amazon's Prime Video respectively.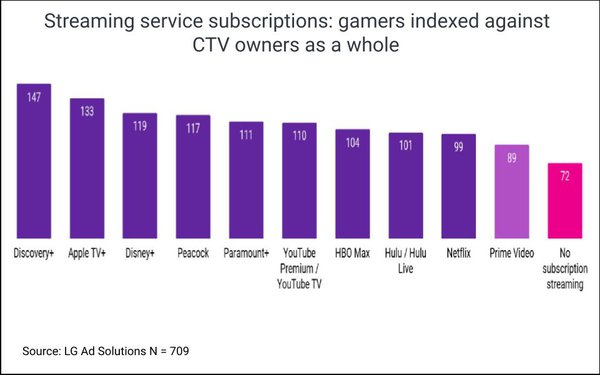 According to the report, 63% of gamers dedicate a minimum two hours per week to watching free streaming apps, in contrast to 51% of all CTV owners. In addition, over a third of them spend two to five hours every week, compared to 27% of all CTV users. Meanwhile, merely 27% of them watch less than two hours per week, while the rate for all CTV owners is 50%.
When it comes to advertising, 80% of gamers were found to have more tendency towards viewing advertisements that align with their interests, compared to 73% of CTV owners. Correspondingly, 76% of them are more likely to prefer ads that align with the type of streaming content they consume, compared to 63% of CTV users.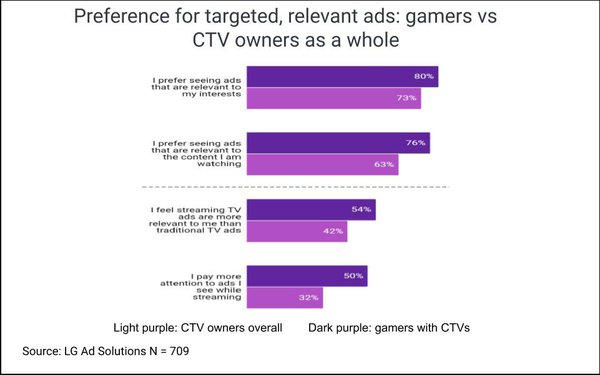 The report also provides demographic insights into the gamers that participated in the survey. The highest percentage of console gamers (79%) belongs to individuals between the ages of 30 to 44. They were followed by those aged 18 to 29 (74%) and 45 to 60 (63%), while the gamers over the age of 60 comprise the smallest proportion (32%).
Among female participants, 58% said they are console gamers, with one in five of them playing games on a daily basis, and 67% playing for more than four hours every week. Meanwhile, 61% of female gamers are more likely to prefer streaming services that include ads, and 45% show more interest in ads while streaming compared to ads that appear on cable/satellite TV.  
---
Also Read: Consumers turning to ad-supported streaming services -TiVo
---
Among all the gamers, 71% prefer to play video games on their mobile devices, and 64% prefer using their video game consoles. Additionally, merely 23% said they use gaming consoles to stream video, while 55% prefer their smart TV apps instead.
Furthermore, LG Ad Solutions also sheds light on how gamers usually discover new titles to play. According to the report, 51% of gamers usually check out their family and friends' recommendations, 48% use social media platforms, 44% pay attention to online video ads, and 42% rely on TV/streaming ads. Meanwhile, only 16% of them prefer checking out their TV home screen for game recommendations, which suggests that it could be a good strategy for game marketers to further utilize this channel.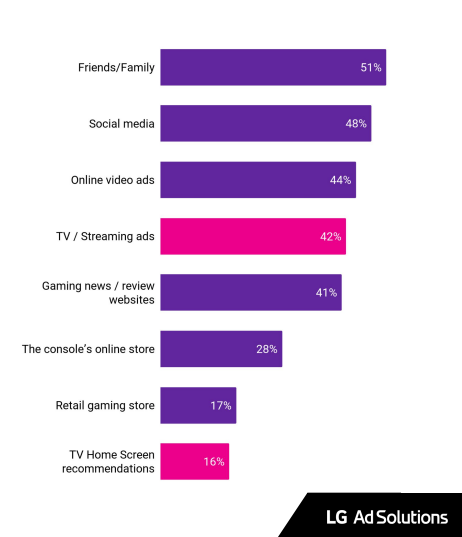 Lastly, LG also found that 53% of gamers prefer playing video games using other devices while watching TV (vs. 48% of all CTV owners), half of them prefer shopping (vs. 39%), and a quarter of them like to stream other content simultaneously (vs 19%).