TiVo's new Q4 2022 Video Trends report revealed that while video streaming service usage reaches new heights, more consumers are switching to ad-supported platforms.
According to the report, for which the company surveyed 4.493 adults in the United States and Canada, the average number of services used by consumers rose to 11.6 in the last quarter of 2022, up from 8.9 in the Q4 2021.
63.5% of consumers participated in the survey said that they currently watch one or more advertising-based video on demand (AVOD) services like Pluto, Peacock and Roku Channel, up from 60% in the previous year.
When asked why they prefer such services, 66.4% said that it's because they're free, and 30% said they're not worth paying money for but they're okay with watching ads for them.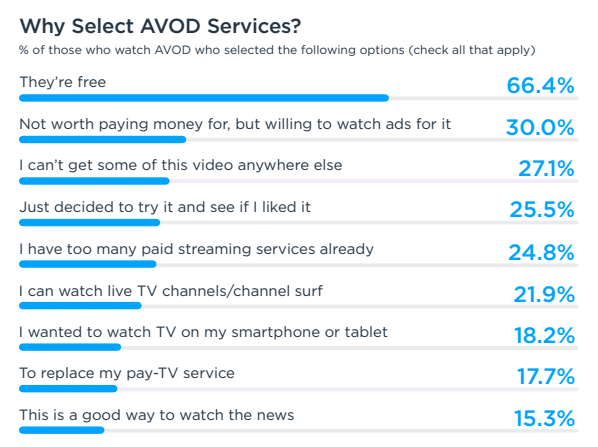 TiVo also posed the question of whether other viewers were open to watching ads in exchange for free or more affordable video content.
60.3% of them said that they are ''ad-tolerant''and 13.6% said they are in favor of ads, while 26.1% said they are ''ad-averse'', or not very fond of watching ads, in other words.
Among all the generations, Millennials were found to be the most ad-averse (34.8%) and least ad-tolerant (50.9%) ones.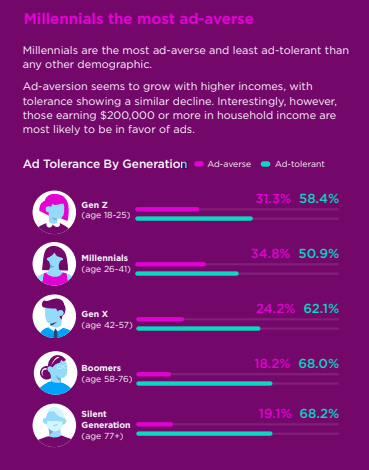 On the contrary, they are also the ones with the highest average number of ad-supported subscriptions (5.2), which also saw the highest growth (83.3%) from the previous year.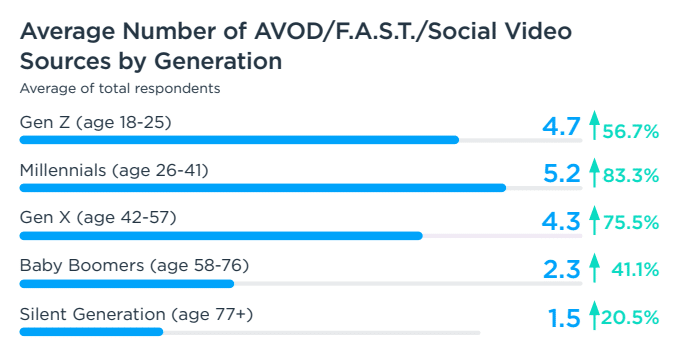 When it comes to interactive ad usage, 30% of respondents said that they used their smartphone to scan a QR code they had seen in a TV show or commercial, 25.4% said they clicked on an interactive commercial on their smartphone or tablet, and 17.4% said they tried interactive game elements or a demo they encountered in a video game advertisement.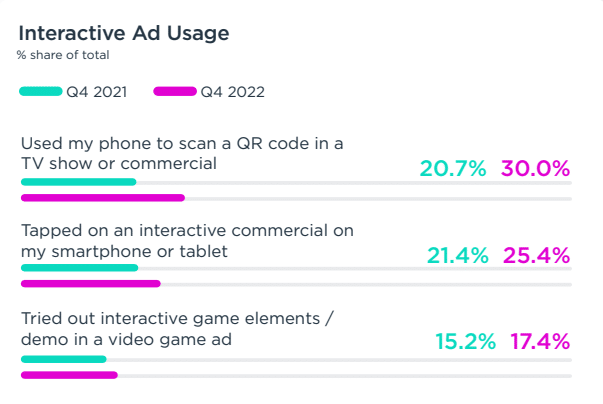 While ad-supported video streaming services are getting more common and rising ad engagement rates seems promising for advertisers, consumers' loyalty to these services still remains a question.
Out of all the respondents, 31.5% said that they use a service for only 3 months, that's up from 24.3% in the second quarter.
SVOD churn rate is also on the rise too. While 34.4% of consumers subscribed to a new SVOD service in the second half of 2022, 26.6% cancelled a subscription at the same time.
Among all the services, Netflix has the highest churn rate of 27.73%, followed by Hulu (9.1%), Amazon Prime Video (8.4%), Apple TV+ (8.1%), Paramount+ (5.9%), Disney+ (5.8%), HBO Max (4.7%), and Discovery+ (3.8%) respectively.
21.7% of respondents cited rising prices as the reason for their cancellation, while 14.3% said they weren't using them enough.
Meanwhile, around 20% of respondents shared their plans to switch to the new ad-supported tier of Netflix or Disney+.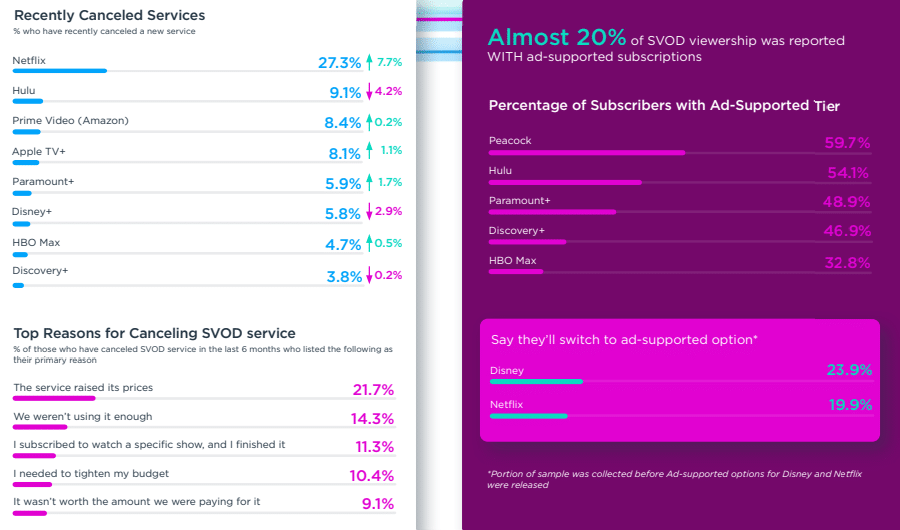 You can check out TiVo's report for more details, and MMR for more trends & reports like this.