Streaming giant Netflix announced on Thursday that it'll launch its ad-supported tier named ''Basic with Ads'' for $6.99 per month starting in November.
With the new plan, subscribers will be able to use the platform for nearly $3 cheaper than Netflix's Basic plan. They will be shown an average of 4-5 minutes of ads every hour, which will appear before and during shows and movies. 
Netflix will provide advertisers with targeting options by country and genre so that they can reach their target audience. They will be able to choose what content they don't want their ads to be shown on. The company also announced an audience measurement partnership with Nielsen, which will start offering data in 2023. In addition, DoubleVerify and Integral Ad Science will offer ad verification solutions.
For Basic with Ads subscribers, the maximum video quality will be limited to 720p/HD. In addition, some movies and shows on the platform won't be included in the new cheaper tier because of licensing rights, the company said in a blog post. 
During the press call, of which you can find the video below, Netflix COO Greg Peters said that almost 5% to %10 of Netflix content won't be available to subscribers at launch, but that they will work on decreasing that number. 
The new subscription plan will be rolled out in 12 markets next month, including the United States, United Kingdom, Canada, Brazil, South Korea, Japan and more. The pricing will differ across the countries. For example, while subscribers in Germany will pay €4.99 per month, the plan will cost €5.49 to those in Italy.
Here's the pricing for all the countries where Basic with Ads tier will be launched in November: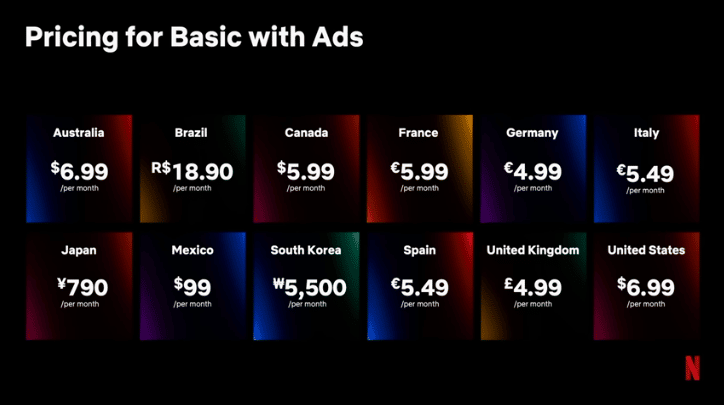 Netflix first unveiled its ad-supported tier back in April, just after losing 200.000 subscribers in the first quarter of this year. It also lost nearly 1 million users in the second quarter, and now plans to lure more users to its platform and keep the existing ones with its new tier, for which it partnered with Microsoft in July.
"We at Netflix have a huge opportunity ahead to grow our unit and to attract more subscribers. And part of that is having a wide range of pricing plans," Greg Peters said yesterday.
While he didn't say the number of customers expected to sign up for the new tier, Netflix forecasts that it'll lure 40 million subscribers by the end of 2023, the WSJ recently reported.
Earlier this year, Disney, which recently raised its prices after surpassing Netflix in the number of users, also announced its cheaper ad-supported plan which will be available in December. The plan will cost $7.99 per month, $1 more than Netflix's new tier. 
In addition, HBO Max and Discovery+ will also start offering ads next year when they will be merged into a single platform.
Below you can watch Netflix's press call where it introduced the new Basic with Ads plan.