According to Tapjoy's Modern Mobile Gamer 2022 Report, 50% of today's mobile gamers prefer ad-supported games over pay-to-play games or those based primarily on in-app purchases. 
Tapjoy says the report shows how attitudes towards mobile gaming, in-app advertising, and in-app purchases have evolved over the last five years. Whereas just 21% of mobile gamers said they favored ad-supported mobile games in Tapjoy's 2017 survey, 50% of today's mobile gamers say they prefer the ad-supported model over pay-to-play games or those based primarily on in-app purchases, an increase of 138%.
The company's survey of more than 9,000 mobile gamers also found that mobile gamers play 10+ hours a week, on average. In fact, 57% say they play more mobile games than they did five years ago, with the biggest increase being among parents (68%).
While 49% of respondents said they play mobile games several times a day, parents (58%), Gen X (54%) and women (52%) are most likely to play this often.
Puzzle is now the top mobile game genre among all age groups, with 55% of respondents calling it their favorite.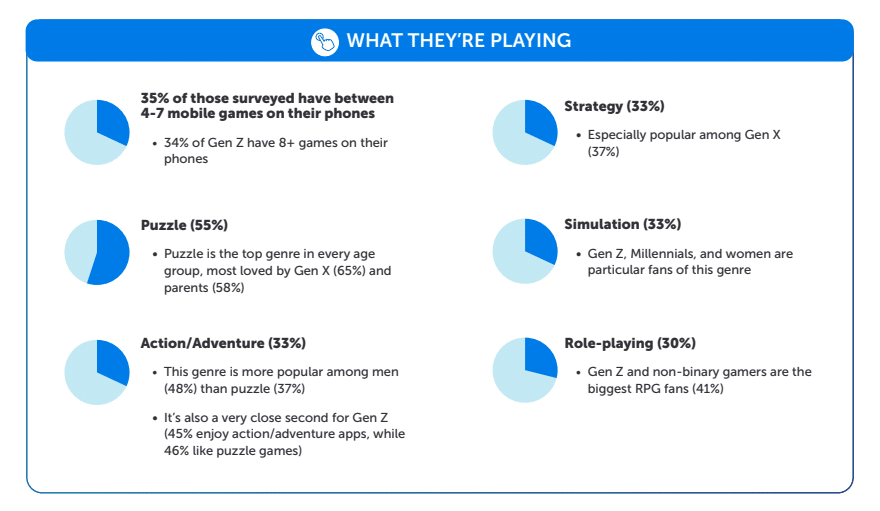 60% of respondents discover new mobile games via ads in other games, making it by far the most popular way to discover new apps.
Rewarded video ads remain the top ad type among mobile gamers (preferred by 53% of players), while support for other ad types is growing; Survey ads have increased in popularity from 8% in 2017 to 17% in 2022) and Playables increased from 9% in 2017 to 16% in 2022.
When it comes to data privacy, 43% of mobile gamers say they are open to app tracking, citing trust in the app developer as the top reason for opt-in. Meanwhile 39% say they never opt into data tracking on iOS, and the remaining 18% were not sure.