52% of mobile gamers said they find mobile gaming ads memorable, according to a new ad study from the world-renowned game developer Zynga. 
Zynga and the National Research Group conducted a 20 min survey with 1,218 total participants in the U.S. and based on their responses, the report also found that 48% find mobile gaming ads more interesting than social media ads and 71% find in-game ads more interesting than TV ads. 

41% of the participants said they looked for more information about the product after seeing an ad while nearly 31% said they purchased that product.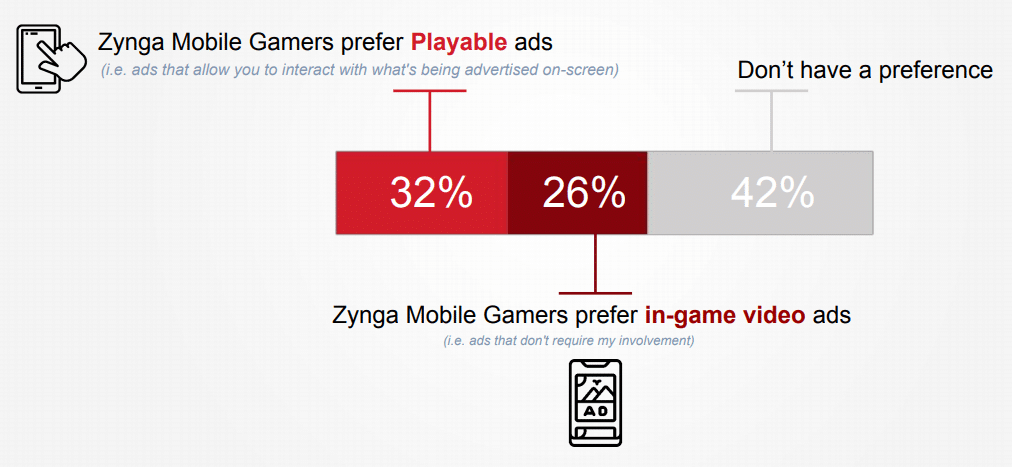 Meanwhile, 32% of gamers prefer playable ads and 2 in 3 want to get in-game rewards in exchange for watching in-game ads. 
"Compared to non-mobile gamers, our players were found to be more interested in seeing brand ads and were more likely to take action by researching and purchasing a variety of products and services," said Gabrielle Heyman, Zynga's Head of Global Adv Sales. "The secret recipe for brands to unlock this power is to focus on native ads. Our players are willing to trade attention for rewards, preferring both rewarded video and our custom Playables over other ad experiences."
The report also shows that 18% of Zynga Mobile Gamers are more likely to go to the movies and 12% are more interested in tech product ads, 22% of them show more interest in gaming device ads and 28% in mobile app ads.
In addition, 81% of them said they play mobile games to escape from reality, 65% said they want to accomplish something and 61% said they play to feel a sense of control.
Lastly, 56% said they played more mobile games in 2020 and 58% of the participants said they engage in mobile games to feel connected to their family and friends in 2020. 
"It's important to continue driving services that players find engaging and can help connect millions of people around the world," said Scott Koenigsberg, Zynga's Senior Vice President of Central Product Management. "This study showcases the growth of mobile games and their increasing importance in the hearts and minds of consumers. Brands are following suit, utilizing our unique advertising platform to effectively convey their messages to consumers."