Snapchat is one of the most popular social media platforms today. Although it has lost its popularity a little bit in recent years, 203 million users are still actively using it on a daily basis.
Have you ever wondered how Snapchat, the owner of the Stories concept which is now available in almost every social media platform, was founded?
The Story Of Snapchat
The story of the popular social media app Snapchat begins with a collaboration of three young people: Bobby Murphy, Reggie Brown and Evan Spiegel.
Unlike other entrepreneurs, Spiegel did not lead a poor life. His family had an above-average wealth. For Evan Spiegel, the turning point in his life was his choice of university. He followed in his father's footsteps and started studying at Stanford University. During his college years, he met Bobby Murphy and Reggie Brown.
These young people also attempted to build some other mobile apps before Snapchat. Evan and Bobby made a mobile app called Future Freshman but it didn't become popular enough.
Later, Reggie invented the concept of photography app that removes photos after they are shared. This idea attracted the attention of all three young people and they started developing it. Then they named it Picaboo.
Picaboo 2011 was released in July on the iOS App Store. Over time, the application became more popular and the number of users increased non-stoppingly. But then they noticed a problem. Users could take screenshots of the photos shared on the application. To solve the problem, they came up with a clever idea and the application started sending notifications to the Snap owner when a screenshot was taken.
In September 2011, Spiegel and Murphy renamed the application as Snapchat. And in May 2012 Spiegel published Snapchat's first blog post.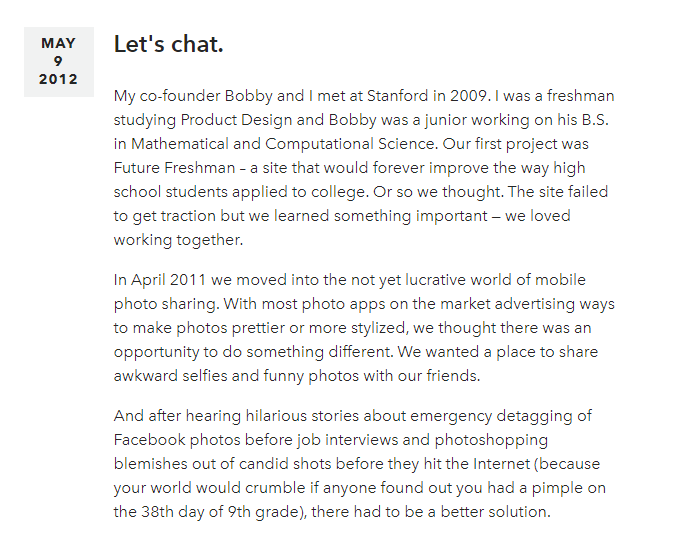 The application kept becoming more and more popular, and in October 2012 Snapchat's Android application was released in the Google Play Store. This expanded the audience that the application addressed. At the end of 2012, a 10-second video recording feature was added to the application and users were sharing over 50 million snaps every day.
Here Comes The Stories
Stories feature was added to Snapchat application in 2013. This feature has attracted the attention of millions of users. Brands also began using Stories for their marketing activities. In the same year, Mark Zuckerberg offered to acquire Snapchat for $ 3 billion. But Snapchat's founders refused the offer.
In 2014, Chat, Our Story, GeoFilter and Snapcash features were released. In December 2014, Snapchat advertising was launched. Below, you can see the first ad published on Snapchat.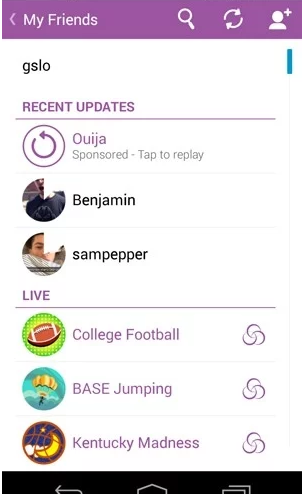 And Snapchat started 2015 with new features called Lenses, Tap to View and Discover.
At the end of 2015, according to the Los Angeles Times, users were watching 6 billion videos on social media application every single day. According to Bloomberg, this number reached 10 billion in April 2016. 
Snapchat continued to improve itself and added new features such as Memories. But in August 2016 Mark Zuckerberg decided to take revenge and the Stories-alike feature was published on Instagram. At first, the reactions weren't very positive. But over time, Insta-Stories became quite popular too. Now, more than 500 million users use Insta-Stories every single day.
This feature was later added to Facebook and Facebook Messenger applications. The Stories sections of these applications are also actively used by 300 million users every day.
Although this has slightly reduced the stats of Snapchat, the social media app continues to improve itself. As we said at the beginning of the article, the app still has 203 million daily active users per day.
Ladies and gentleman, this is the brief story of Snapchat. Let us know your opinions in the comment section below. Don't forget to check out our Mobile Marketing Blog and Mobile Marketing News pages to keep up with the mobile world!